Confidence continues waning trend of recent months by dropping 2.5 points in December, analysis from YouGov and the Centre for Economics and Business Research finds.
The latest figures show that the YouGov/Cebr Consumer Confidence Index dropped to 104.4 in December*, down 2.5 points on the previous month, hitting the lowest level since May 2013. Only once over the last half of 2018 did the headline metric rise month-on-month rather than fall.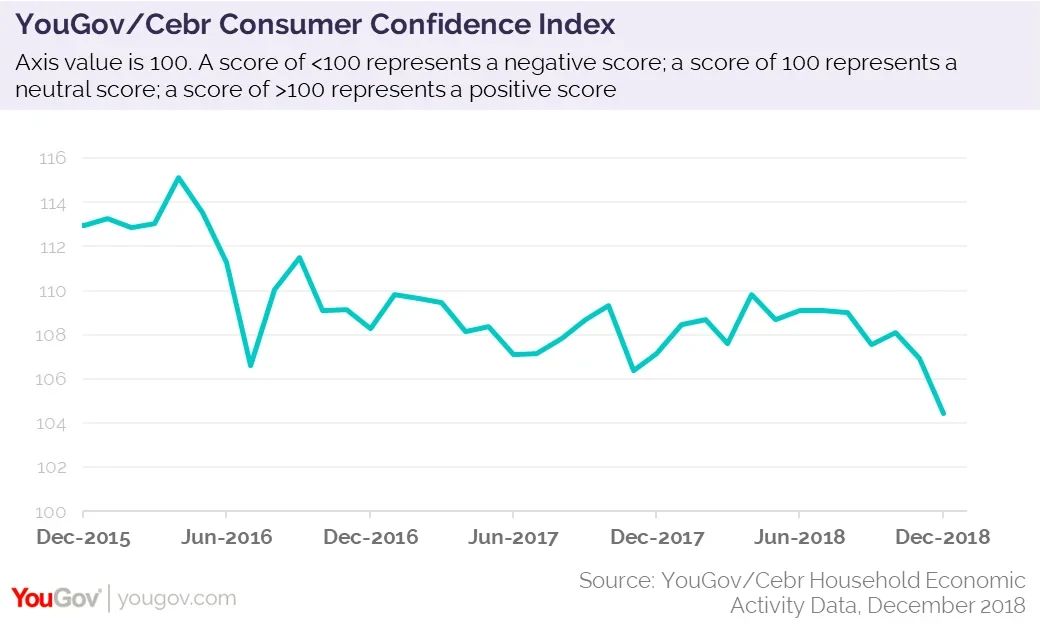 YouGov collects consumer confidence data every day, conducting over 6,000 interviews a month. Respondents are asked about household finances, property prices, job security and business activity, both over the past 30 days and looking ahead to the next 12 months.
All eight individual measures which make up the headline metric were down in December except one: business activity over the last month rose 2.8 points to 112.5. However, this could be influenced skewed by Christmas activity in the retail sector. Certainly, expectations on activity over the coming year in this area are not optimistic, slipping 2.4 points to 116.2 from November's data - the biggest monthly fall since July 2016 and the lowest result since December 2012.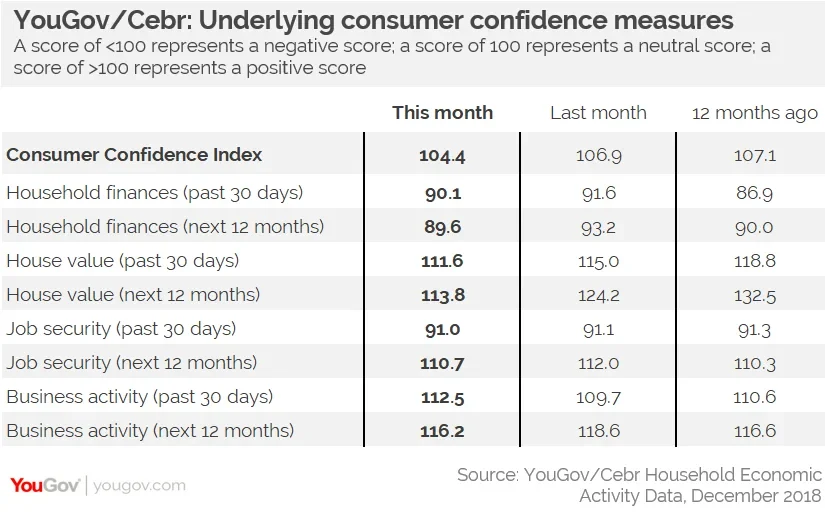 Despite relatively high employment rates in the UK, the perception of job security over the last month slipped 0.1 points to 91.0 - its lowest level since March last year. Expectations for the next 12 months in this area were more pessimistic, losing 1.3 points to 110.7.
House price perceptions over last month dropped 3.4 points to 111.6 - a low not seen since June 2013. Expectations over the next year fell dramatically by 10.4 points to 113.8, reaching a floor not breached since January 2013. A fall of that size hasn't been seen since July 2016 in the wake of the Brexit referendum itself.
Household finances over the last month also dropped 1.5 points to 90.1 and expectations over the next year are down 3.6 points to 89.6.
*December data includes responses from the first 14 days of the month. Data for the full month is included in historical months in future reports.