According to a sample of UK business and finance journalists, Aviva is the FTSE 30 company which delivered the best media engagement over the past 12 months. Around a quarter (24%) of the journalists polled by YouGov selected Aviva, with Lloyds Banking Group (15%) and HSBC (13%) in second and third places, followed by Barclays (12%) and RBS (12%) tied in fourth.
Financial services businesses lead the way, with a further 11% also selecting Prudential, showing how hard the sector has been working in trying to engage with journalists. In fact all seven of the financial services businesses in the FTSE 30 when the poll was completed feature in the top 10 as best performers.
The other three businesses to break into the top 10 include Tesco, Vodafone and BT Group who were each selected by 11% of the 100 journalists who took part in the poll, which was completed in August 2018. Journalists were able to choose as many of the top 30 firms as they wished. There is then a gap down to Sky and Standard Chartered at 9%, and then several firms coming in at 7%, including BP, Diageo and Unilever. No journalists at all selected Reckitt Benckiser, Glencore, Imperial Brands or CRH.
By contrast, the companies thought to have provided the poorest engagement were HSBC (12%), RBS (11%) and BT Group (9%). The best engager, Aviva, was only mentioned by 4% as having provided poor engagement. Other poor engagers include Glencore (7%), Barclays (7%) and Lloyds Banking Group (6%). Almost half (45%) of the journalists didn't feel any of the 30 firms had provided poor engagement.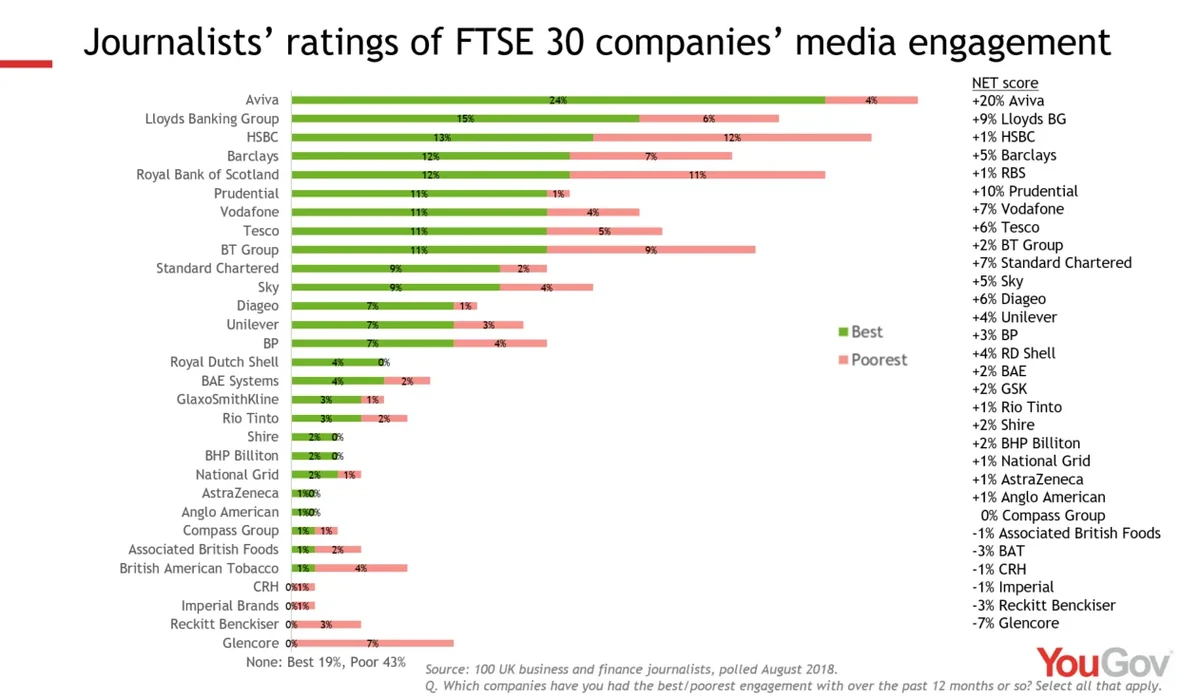 When taking away the poor ratings from the positive ratings we find that Aviva has the highest net score (+20%) whilst Prudential comes second (+10%) and Lloyds Banking Group third (+9%).
Aviva is the standout winner for journalists this year, providing engagement they perceive as being well above that of UK's other largest public firms. By contrast HSBC is the most berated with almost as many journalists thinking it has done poorly as has done well, so clearly some room for improvement as other banks such as Lloyds and Barclays have much better net scores.
Methodology: YouGov completed online interviews with 100 UK business and finance journalists drawn from across all types of media, with fieldwork run in August 2018.
Data gathered by using YouGov Reputation Research.
Image Getty.