Britons most likely to have had to cut back on eating out and luxury items
As the cost of living crisis continues to wrack the nation, a new YouGov RealTime survey shows that one in five Britons (21%) now say they have found themselves forced to make cut backs to their essential food item spending. The same number also say they've had to cut spending on household essentials like cleaning products.
In both cases, this figure is up from 17% in July.
Among the lowest income households – those earning less than £20,000 a year – 28% say they have been forced to reduce spending on household essentials and 29% have had to make cuts to their staple food budget.
In what areas have Britons been forced to cut household spending?
Less essential areas of spending top the list of what Britons have been forced to cut back on. At the very top is dining out, which one in three (32%) say they've had to rein in their spending. This is followed by "luxury items" on 31%, clothes and day trips – both on 29% – and holidays and takeaways at 28% each.
Spending on clothes and digital television subscriptions have seen the greatest difference since the last survey in July. In both cases, there has been a seven percentage point increase in the number of Britons who have been forced to cut spending in these areas – from 22% to 29% in the case of clothes and from 10% to 17% in the case of digital TV.
In what ways have Britons been cutting back?
The areas Britons are most likely to say they have had to cut spending on altogether are "luxury items" and holiday, with 13% saying so in both cases. Another 10% say they've had to end spending entirely on day trips, while 9% say the same of eating out, clothing, pursuing a hobby, or going to the movies.
Many Britons have found themselves forced to switch to cheaper alternatives. This is most likely to be the case when it comes to staple food items, which 16% of the public say they've had to do. A similar number say they've had to downgrade their toiletries and household essentials (15% in both cases), while 13% have gone downmarket with their non-essential food spending.
Another strategy some have been forced to pursue is to do some things less frequently. One in six Britons (16%) say they've had to spend money on petrol or diesel less often, implying they've cut back on driving. (As a percentage of drivers* this figure increases to 21%).
Similar numbers of Britons say they've been forced to dine out (16%) or get takeaways (14%) less frequently than before the cost of living crisis.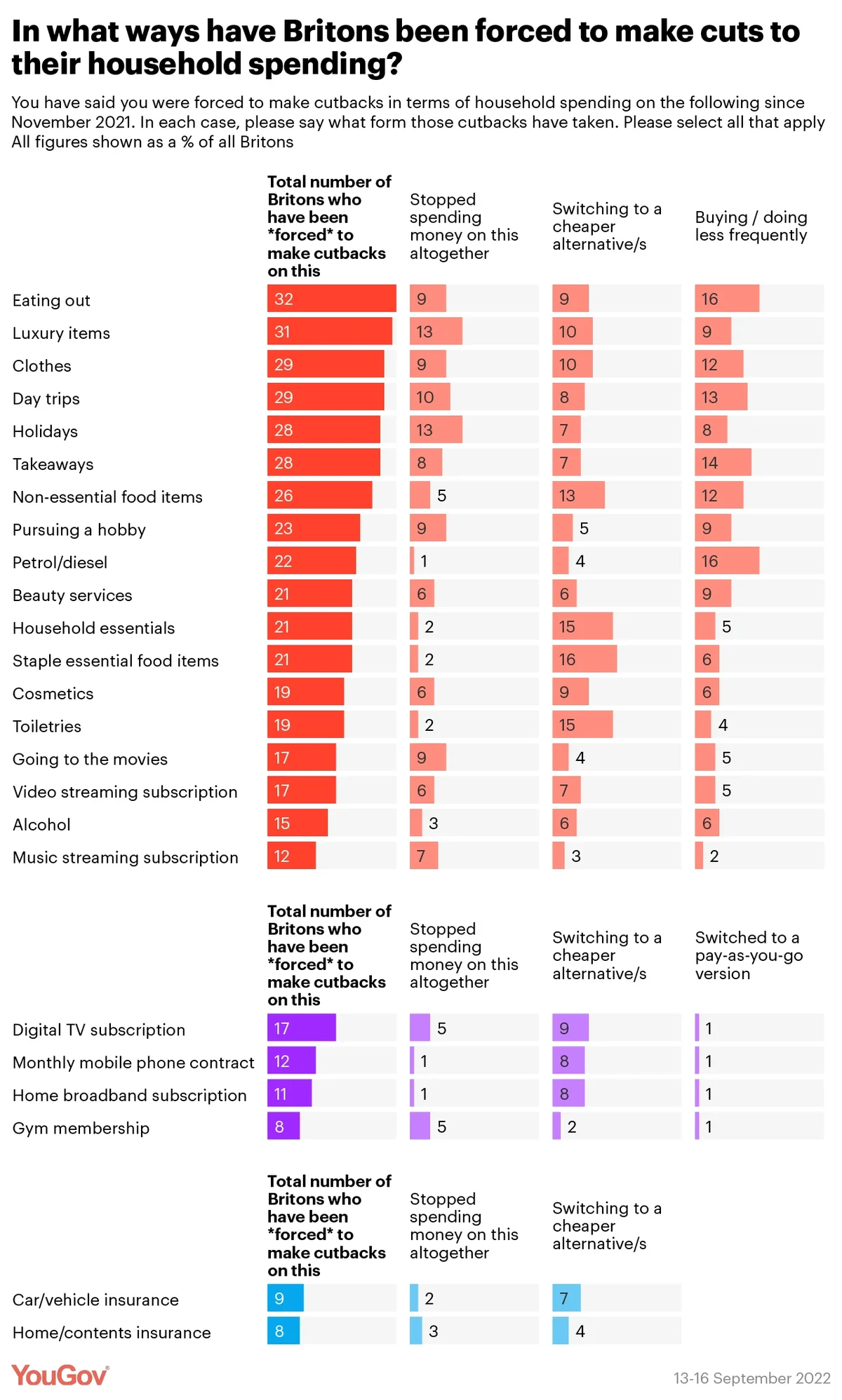 *Defined in this case by the proxy of those who ever spent money on petrol or diesel in the first place
Photo: Getty