Consumer confidence increases to 102.9 (+0.3) marking third month of gains
Households more inclined to say their finances will improve in next 12 months (+4.4)
Home value expectations rise by 1.6 despite Brexit and the end of the stamp duty break nearing
Business activity drops by -3.7, plunging it into red at 99.4
Outlook for businesses also falls by -1.0 but remains positive
Consumers continue to feel more confident. Hopes that household finances, house prices and job security will be stronger in a year push up positive sentiment despite the national lockdown, according to the latest analysis from YouGov and the Centre for Economics and Business Research (Cebr).
Any score above 100 means more consumers are confident than not, with January's figures at 102.9 signalling that Britons remain hopeful that the end of the pandemic is near. Confidence has been rising since May apart from a drop of -1.1 in October.
YouGov collects consumer confidence data every day, conducting over 6,000 interviews a month. Respondents answer questions about household finances, property prices, job security and business activity, both over the past 30 days and looking ahead to the next 12 months.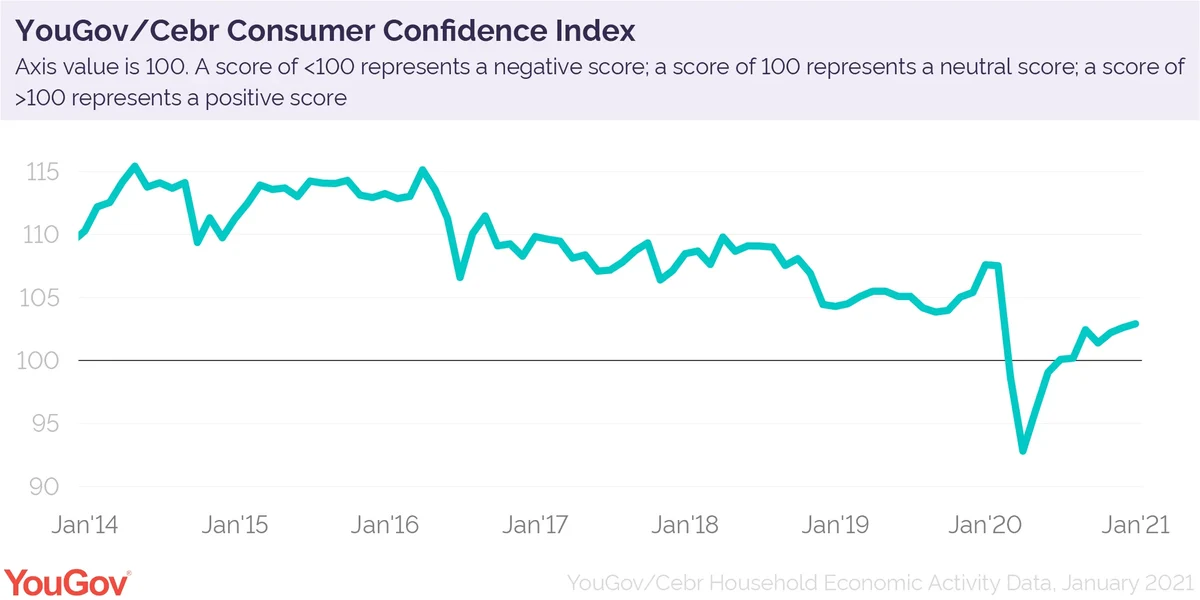 Households believing they will be better off financially in 12 months provide the largest boost to confidence in January. The metric is up by 4.4, but remains in negative at 95.8 – meaning more families still think their finances will worsen in the coming year. The metric for how households say their situation has changed in the past month fell by -0.4. But this is a small blip compared with the March lockdown, which prompted a -10.2 plunge.
Homeowners are increasingly convinced that the value of their property will be greater in a year, with the outlook rising by 1.6 to 113.1 in January. Despite numerous warnings that Brexit and the end of the stamp duty break could cool the market, the impact is yet to materialise. The number of homeowners who believe their property increased in value in the last month increased by 0.3 to 109.5. This increase coincides with reports that house prices rose at the fastest level since 2016 in December.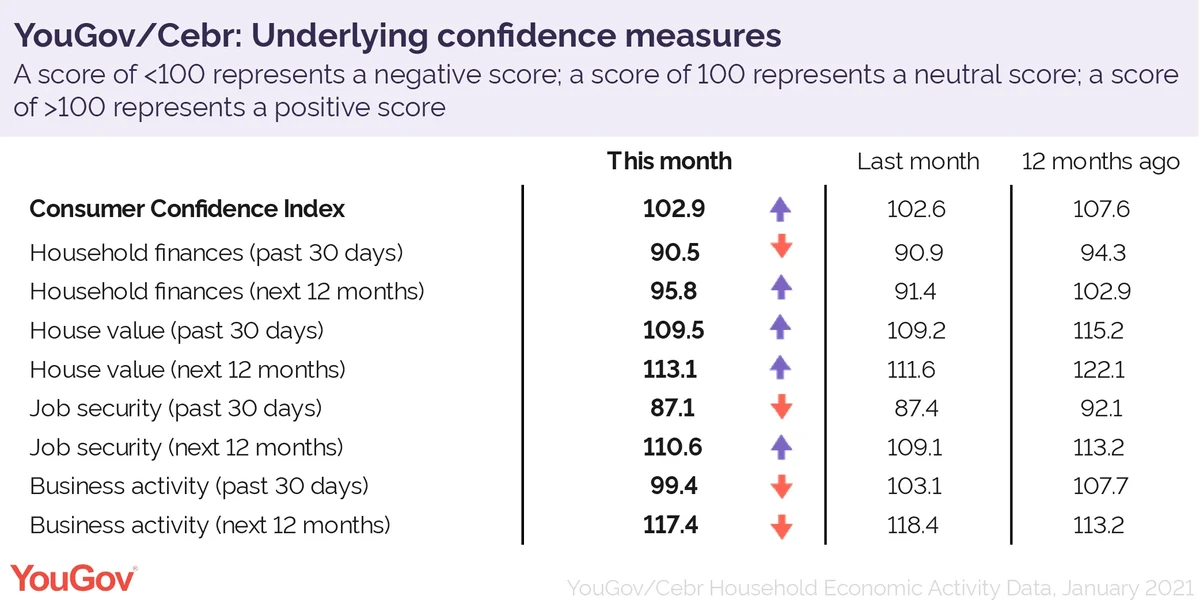 With the unemployment rate reaching a five-year high, job security figures fell by -0.3 in January to 87.1. This is still some way off the level before the pandemic hit in February last year (91.5), although it is higher than its lowest ebb of 81.8 in April last year. Many feel optimistic that the situation will improve over the next year, however, with the outlook for job security rising by 1.5 to 110.6.
The negative impact of another national lockdown is clear in the drop in business activity, which fell by -3.7 to 99.4 in January. The measure asks workers if activity increased or decreased at their workplace in the last month. While the vaccine rollout brings the end of the pandemic closer, fewer workers now believe activity will increase in the next year (-1.0) compared with when asked in December. But at 117.4, the index indicates that most still believe business will improve.
Additional research shows three quarters of Britons (76%) believe the UK economy will continue to shrink a year from now, while just shy of a quarter (23%) expect it to grow (22%) or boom (1%).
Darren Yaxley, Director of Reputation Research at YouGov, said:
"Even with a winter full of restrictions and another lockdown, consumer confidence rose again, albeit modestly, in January making it the third month in a row to see an increase.
"Understandably with so many shops shut and businesses closing, expectations for business activity both in the short term and long term are not good. But, driven by hopes that personal finances and home values will increase and that job security will be stronger in the coming 12 months, January's consumer confidence index offers some encouraging signs for 2021.
"However it's important to note that almost every metric is still lower than it was a year ago and with so many difficult decisions on the horizon, such as the end of furlough and a tough Budget from the Chancellor in March, and with so much resting on a successful vaccine roll-out, there is still likely to be lots of uncertainty in the minds of consumers."
Kay Neufeld, Head of Macroeconomics at the Centre for Economics and Business Research, said:
"Given the challenging start to the year with yet another national lockdown, it is encouraging to see that consumer sentiment is holding up in January as the Consumer Confidence Index increases by 0.3 on the month. The mandated shutdown of hospitality and leisure facilities as well as the closure of non-essential retail stores will almost certainly lead to a contraction in economic output in the first quarter of the year, which is reflected in the fall in the business activity scores.
"However, UK consumers seem to be taking solace in the fact that the national vaccination effort is running smoothly so far with a shot of a return to normality in the second half of the year. Moreover, the surprisingly resilient housing market is fuelling hopes that prices will continue to rise in 2021, leading to increases in the forward looking home value and household finances indicators."