Consumers are still reluctant to return to the high street, as COVID changes which clothes Brits buy and their shopping priorities
New YouGov data suggests the worst is yet to come for the high street. Half of Brits (53%) say the coronavirus outbreak has made them less likely to buy clothes in-store, including 30% who said "much less". Just a tiny minority (7%) report the opposite.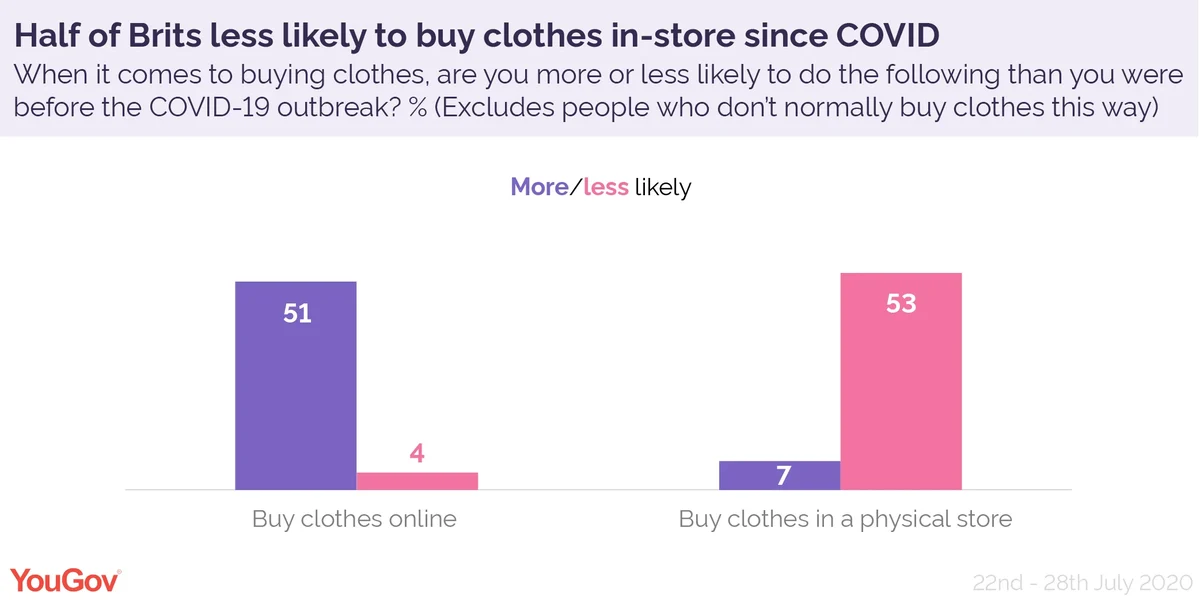 A similarly high number (51%) say coronavirus has made them a little (22%) or much more (29%) likely to purchase clothes online. Only 4% say there's now a slimmer chance of them shopping online.
Women are more likely (56%) than men (45%) to prefer purchasing clothes online and less likely to buy from physical stores as a result of the virus at 61% vs 45%.
While older people tend to be more anxious about their health, they are not adapting to shopping online at the same pace as younger Brits.
Three in five 18- to 24-year-olds (62%) are now more likely to buy clothes online, but this is only true for 45% of people aged 55 years and older. Among this age group, half (50%) are less open to buying clothes in-store, compared with 61% of 25- to 34-year-olds.
Brits are buying more loungewear and casual clothes
Months of staying home, restrictions on large events and international travel and many offices remaining shut have impacted what we buy. Over half of people who would normally buy formal clothes (55%) are less inclined to do so now. The same goes for consumers who would usually purchase swim- and beachwear (54%).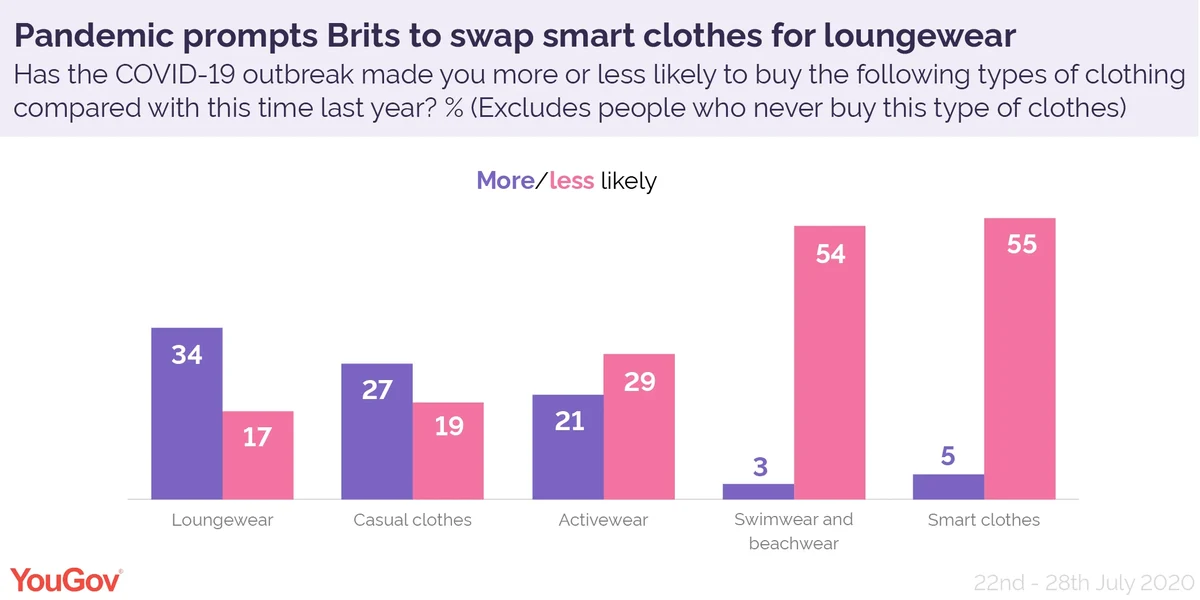 Many people took up running and other forms of exercise during lockdown. But three in ten Brits who normally purchase activewear (29%) said they were less likely to buy it this year, while a fifth (21%) were more likely.
Meanwhile, over a quarter of shoppers (27%) were keener than last year on buying casual clothes, while a fifth (19%) reported the opposite.
A third of people who use loungewear said the coronavirus outbreak had made them more likely to buy additional items – the highest increase. About one in six (17%) reported being less likely.
Social distancing and convenience have become more important
Over half of the public say the coronavirus crisis has made social distancing more important when buying clothes. But women are more conscious of it (66%) than men (47%).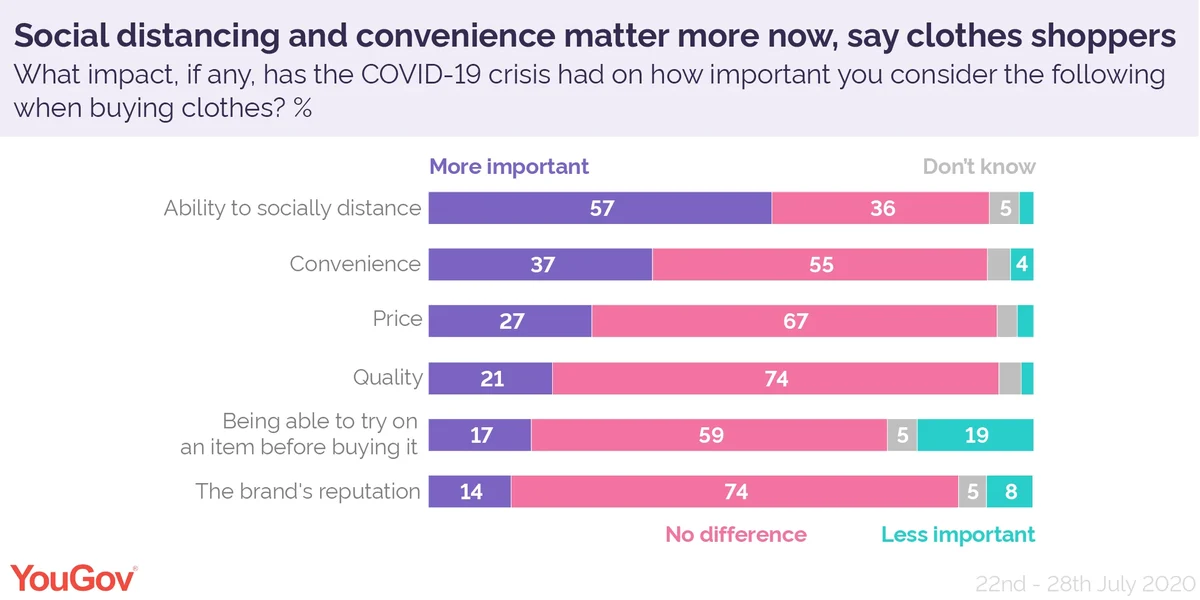 Convenience has also become a bigger priority for two in five consumers (37%). With many still working remotely, there is less reason to travel to city centres, meaning shoppers have to go out of their way to visit clothes stores.
A quarter of consumers (27%) say the pandemic has made price more important, as half of workers have lost some income since March.
One in five people also say the coronavirus outbreak has made them less bothered about being able to try on an item before buying it, but a similar figure say it has actually become more important (17%).
And while the coronavirus crisis shed light on workers' exploitation in UK factories, only one in seven Brits (14%) say a brand's reputation has become more important. In contrast, 8% say they now care less about it.