Homeware retailers reported record sales throughout lockdown, as Britons spent more time at home than ever, and decided to make their homes and gardens nicer. Previous YouGov data from April showed that one in ten households had ordered indoor furniture or homeware products online since lockdown began (10%) while 16% had bought outdoor furniture or gardening products.
In response to the increased demand for homewares, budget retailer Poundland has announced that it is launching a luxury homeware range named PEP&CO Home. The new collection will include homeware items such as photo frames, plant pots, ornaments, cushions, bath towels and throws, to allow shoppers to spruce up their homes on a budget price.
YouGov BrandIndex data shows that in the last 10 days, Poundland's Value scores among those that are intending to purchase homewares and soft furnishings in the next 12 months has increased from 12.9 to 24.3. Similarly Poundland's Quality scores among this group have also increased from -38 to -28.8.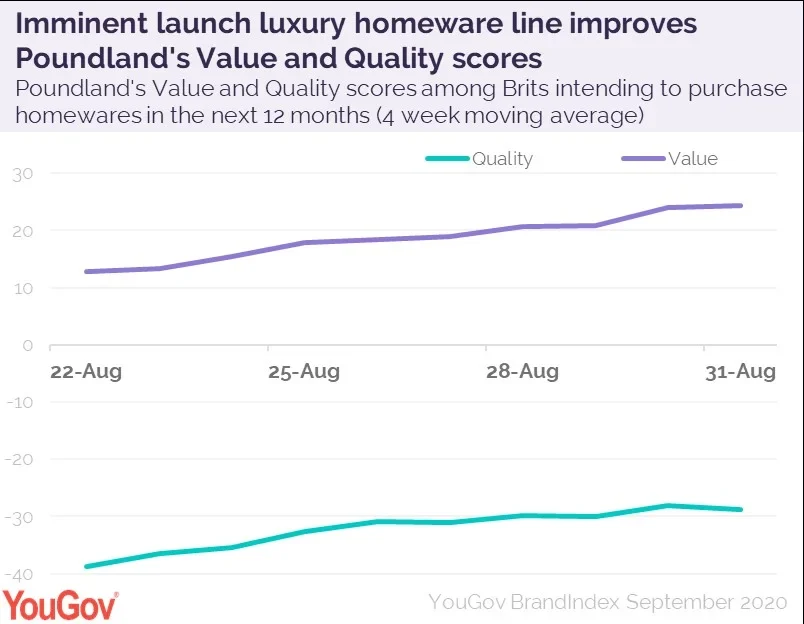 As Poundland prepares to enter the homeware market, how much of a threat is the value brand to competitors? YouGov Profiles data shows that more than two fifths of those who intend to purchase homewares in the next 12 months think Poundland represents value for money (44%). Slightly more think B & M Bargains is a value for money brand (47%), while 38% and just 15% think Dunelm and HomeSense are value brands respectively.
These stats show that B & M Bargains is Poundland's only contender for homeware customers when it comes to value for money. However, this isn't the case for quality. Dunelm is seen as the best place to purchase high quality goods by homeware customers (47%), followed by B & M Bargains (16%) and HomeSense (15%). One in 10 of those who intend to buy homewares in the next 12 months think Poundland represents good quality (10%).
In the last few days, consideration for Poundland has increased by 6 points among those intending to buy homewares in the coming year which bodes well for the launch of PEP&CO Home. However, while the appetite may be there for a budget luxury homewares brand, customers are just as equally interested in high quality products.
Learn more about YouGov BrandIndex here
This article previously appeared in CityAM