Many assumed that food delivery companies would benefit from the COVID-19 crisis, as nobody was allowed to eat in restaurants – but some of the biggest players have been struggling during the pandemic.
Just Eat is an exception. Over the first half of 2020, the company attracted a record number of new restaurants to its platform and saw major year-on-year revenue growth.
New YouGov data shows that the delivery app's UK Index scores – a measure of overall brand health calculated by taking the average of Impression, Quality, Value, Satisfaction, Recommend and Reputation scores – almost doubled over lockdown, rising from 4.7 on March 23rd to 9.1 by May 3rd. While this score has decreased since the Government allowed restaurants to reopen on July 4th, it remains higher than before the pandemic.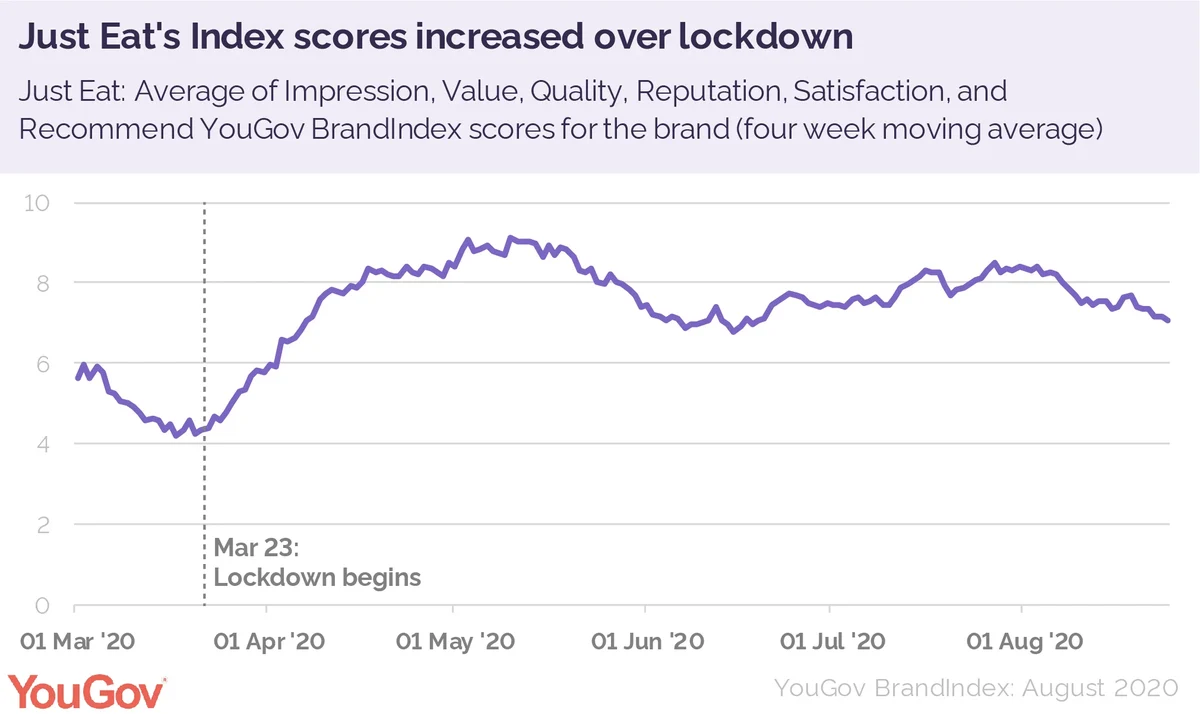 Over two months of lockdown, Just Eat's Purchase Intent scores (whether a brand is someone's first choice to purchase from) also rose from 7.1 to a peak of 12.8 (May 23rd), while Value scores (a net measure of whether consumers think the brand represents good or poor value for money) doubled from 2.9 to 7.1. (May 3rd).
Consideration scores (whether someone would consider purchasing from the brand in future) increased from 16.3 to 22.0 (May 20th) and Satisfaction scores (whether someone is a satisfied or dissatisfied customer) increased from 12.3 to 16.8 (May 23rd).
Just Eat has held on to some of these gains since restaurants reopened. Overall Index scores were at 7.4 by August 21st, and while Purchase Intent has also fallen from its peak, it hit 8.6 on the same day; higher than the beginning of lockdown. Across some metrics, customer opinion has even improved: Quality scores (a net measure of whether consumers think the brand represents good or poor quality) rose from 1.8 (March 23rd) to 5.3 (August 2nd).
If closing restaurants during lockdown made delivery apps more attractive to customers, it also gave them fewer options to choose from. As an older business with a more mature infrastructure and wider coverage across the UK, Just Eat may have been well-placed to benefit from the COVID-19 crisis.
This article previously appeared in City A.M.