What are the most important factors for those spending over £30 a month on their phone?
Love them or loathe them, smartphones are a staple tool of the modern world, and are becoming increasingly expensive, but which Brits are spending the most on their phone contracts?
Brits aged between 25 and 39 are the most likely to be spending large amounts on their phones, with 36% saying they spend upwards of £30 a month on their mobile phone bill. One in eleven of that age group say they spend £50 or more each month on their smartphone.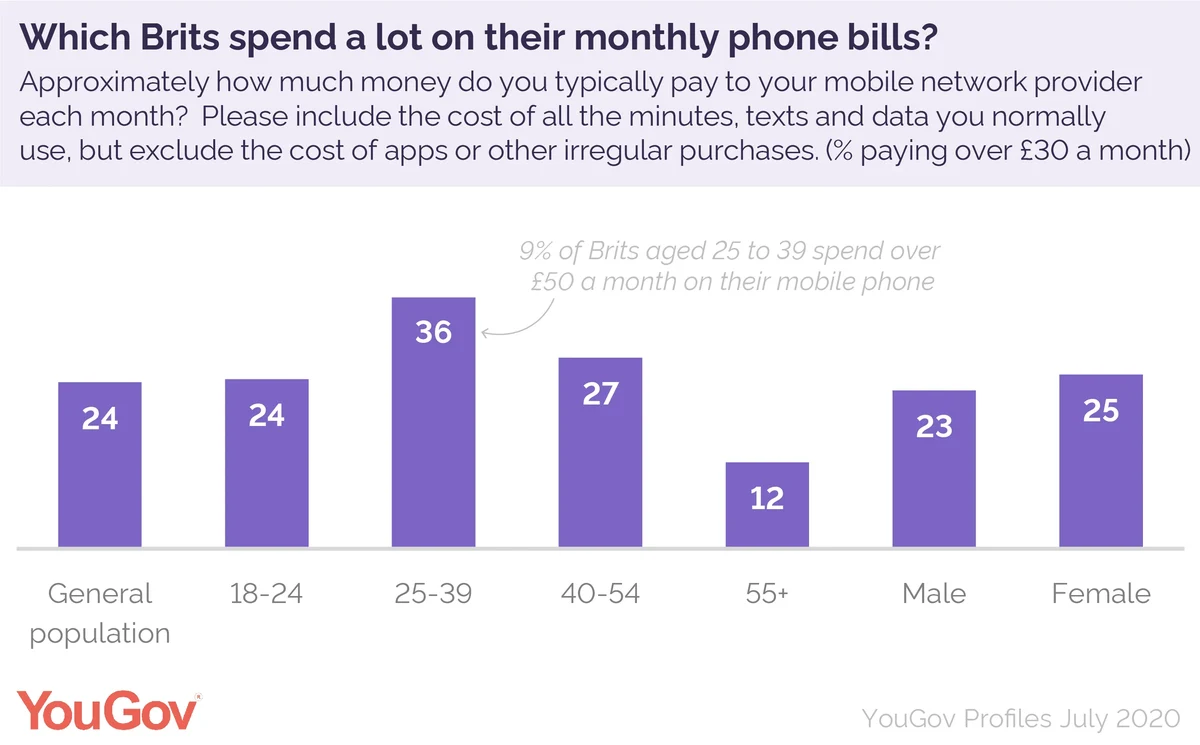 Older Brits are the least likely, with only 12% spending over £30 a month on their phone, while younger adults are no more or less likely to than the average of 24% across the general population.
What features do users look for?
With the major brands developing expensive handsets, what quantities or features are Brits most looking for? Among adults who spend more than £30 a month on their phones, the most important feature for their smartphone is battery life, 67% of whom picked it as a one of the features they think is most important when choosing a smart phone.
The biggest difference between Brits spending a lot on their phones and the general public, however, was the camera - 12% more adults who spend more than £30 a month on their phone say this is an important feature (59%) compared to 47% of the general public.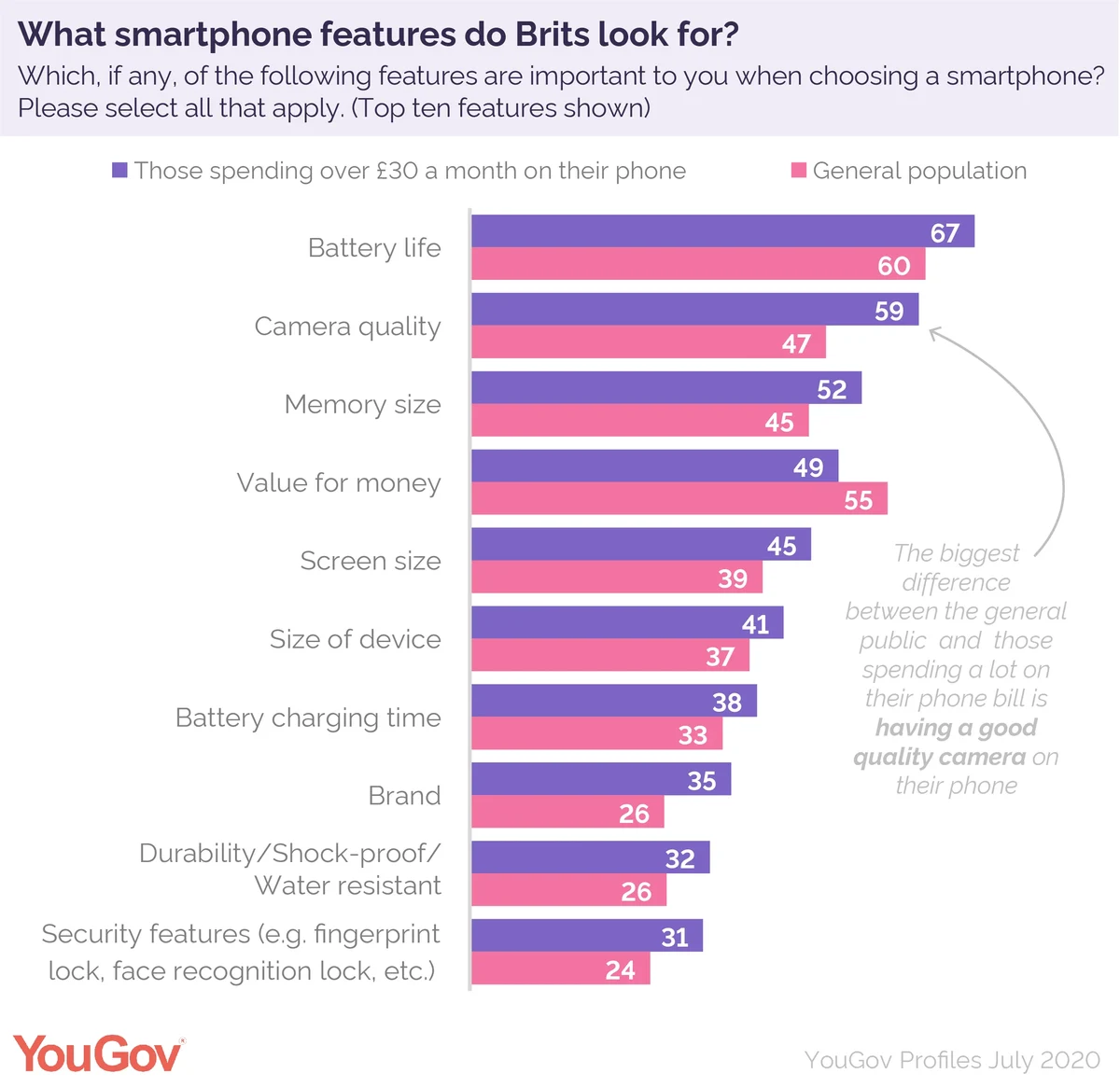 A handset being value for money was the only feature picked as more important by the general public (55%) than those who spend a lot on their phone bill (49%).
Among those spending more than £30 a month on their phone bill, 35% said the brand was important, but which brands are most popular?
Over half (53%) of adults spending over £30 on their phone bill say they have iPhones, compared to 37% of the general population. Samsung is the second most popular brand, among both groups, but there is no major difference between the groups as there is for the Apple iPhone range.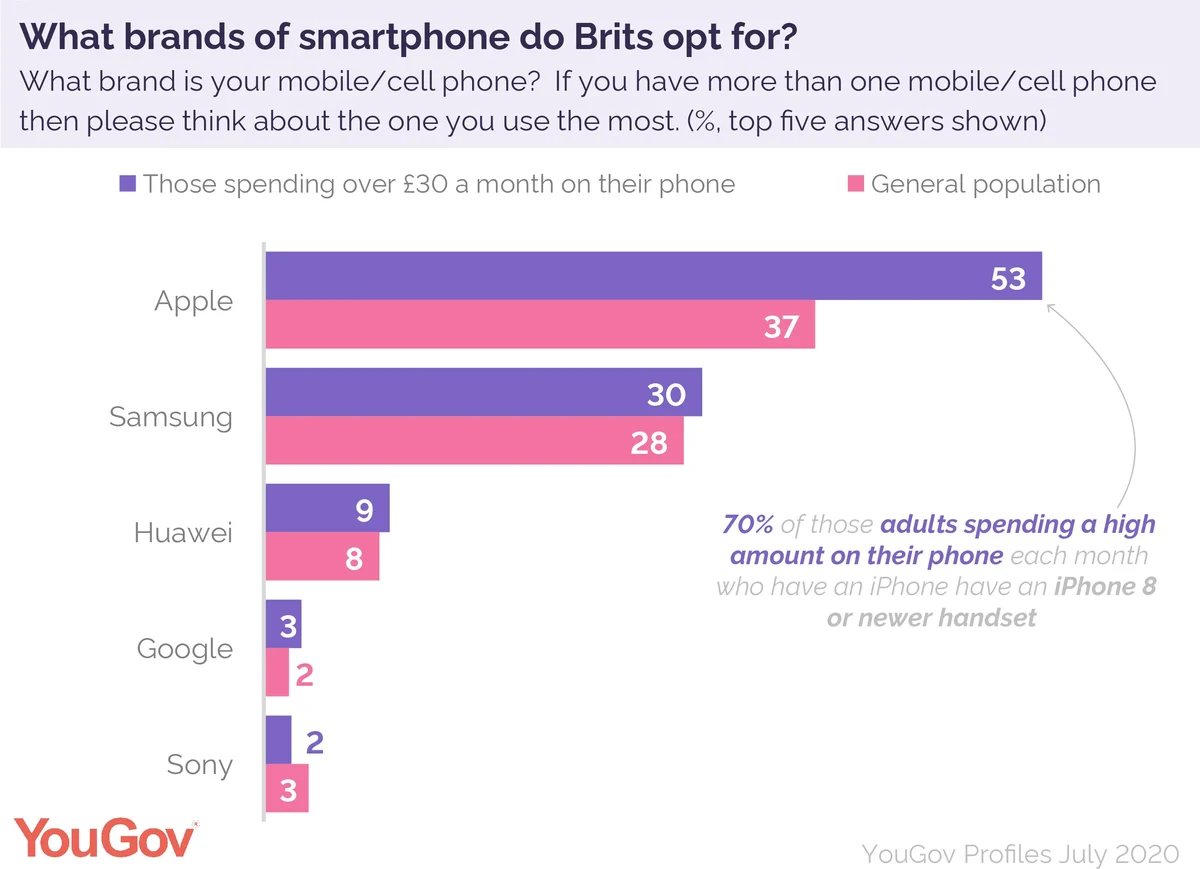 Of those iPhone owners, adults spending more on their phone bills are more likely to opt for the newer iPhone handsets, with 70% have an iPhone 8 or newer model, compared to less than half (41%) of iPhone owners in general population who own an iPhone 8 or above.
Learn more about YouGov Profiles here