But the public is much less likely to think a company's intentions are genuine when it shows support for the LGBTQ+ community during Pride month compared with the rest of the year
The coronavirus outbreak meant that June's Pride celebrations were quieter than usual. Gone were the usual parades, as Britons remained inside on lockdown. Because of this, it was perhaps less visible than usual which companies were backing the celebrations, leading Pride London to warn those remaining silent that the LGBTQ+ community will remember.
But Brits are split on whether they've seen more or less activity from companies supporting Pride this year. One in six people (16%) say brands were less vocal in their support, but a similar figure (15%) believe the opposite. A quarter of the public say it's been about the same, while 43% are unsure.
Younger people aged 18 to 24 are slightly more likely to say they've seen more support of Pride month from brands this year at 27%, compared with 23% who said they'd seen less.
In contrast, 16% of 50- to 64-year-olds said corporate support was less visible, while 12% said it was more visible.
Rainbow logos are the most visible
Nearly half of Brits (48%) have noticed companies making their logos Pride-themed during June – for example by using rainbow colours. Three in ten people (31%) have also noticed social media posts about Pride or LGBTQ+ issues.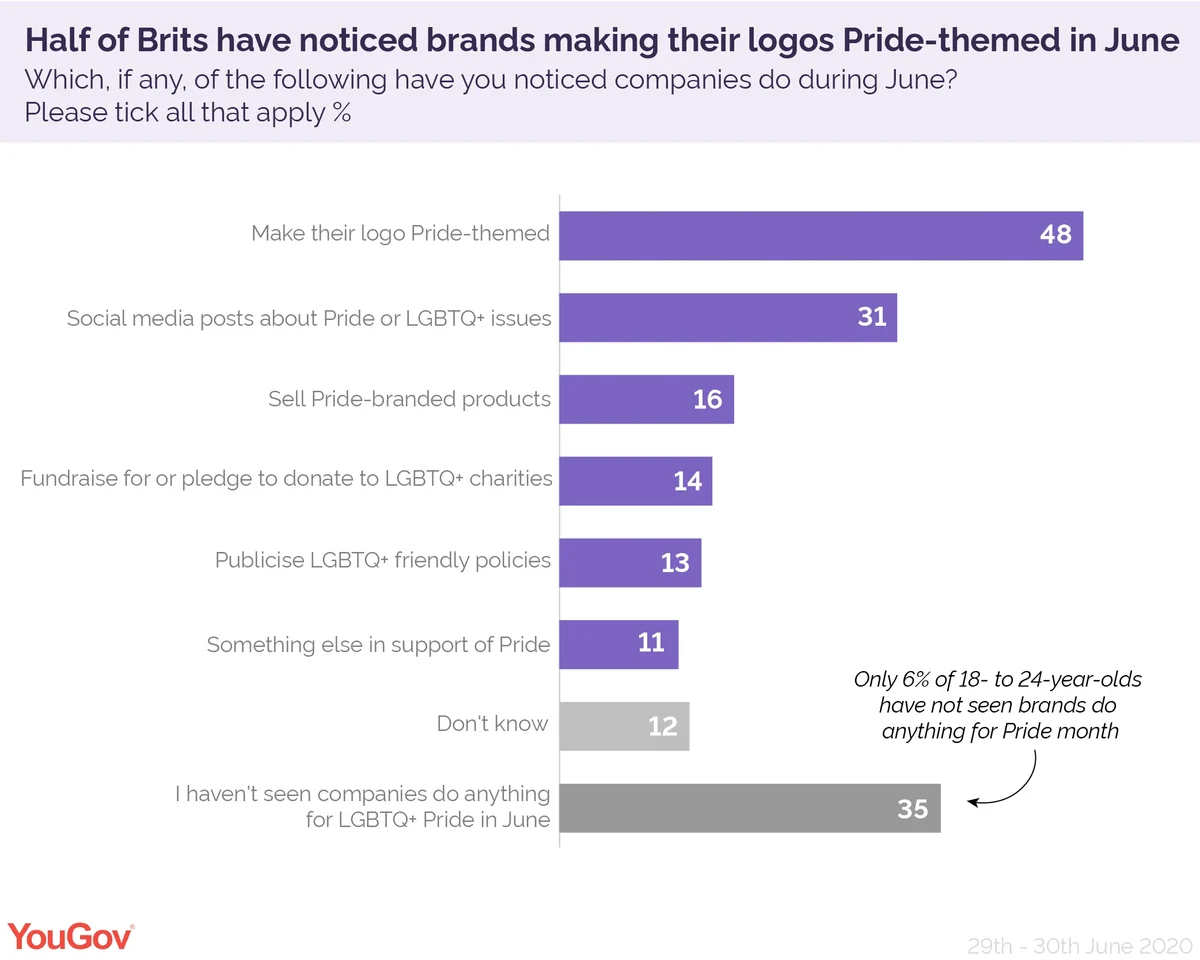 While brands like PUMA, Adidas and Simple have released Pride-branded products, only one in six Brits (16%) have noticed such items. Among 18- to 24-year-olds this figure jumps to 27%, however.
When it comes to making a tangible difference, only one in seven people (14%) say they've seen companies fundraise for or pledge to donate to LGBTQ+ charities. Similarly, only 11% of Brits say brands have publicised LGBTQ+ friendly policies.
In every instance, younger people were more aware of the efforts companies had made during Pride month. Only 6% of 18- to 24-year-olds said they had not seen companies do anything for the occasion compared with 35% of all Brits.
Companies' LBGTQ+ support appears more genuine outside of Pride month
Britons are sceptical of the motifs when brands show their support for LGBTQ+ causes during June. Only a quarter believe it's genuine, while nearly half (47%) say it's not.
However, a plurality (38%) believe that brands backing the LGBTQ+ community outside of Pride month are genuine, while a third (33%) disagree.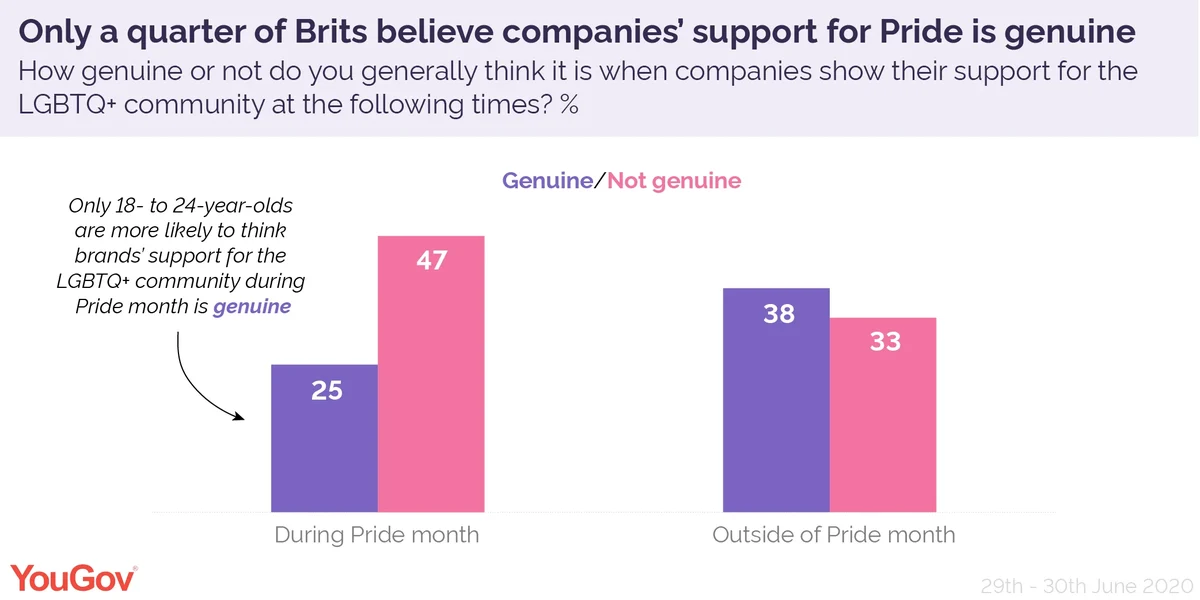 Women are more likely than men to believe the efforts come with good intentions both during Pride month (30% of women vs. 20% of men) and the rest of year (44% versus 31%).
Younger people also tend to be more optimistic. Three in five 18- to 24-year-olds (60%) think companies' support for LGBTQ+ issues outside of Pride month is sincere, while only one in ten disagree (10%).
The same group are tied on whether efforts during June are genuine with 37% believing that is the case versus 36% who say it's not.