The handset market's biggest player is yet to release a device that's compatible with the latest cellular network technology – if it does, how will it change
The rollout of 5G has been a significant story over the past twelve months – albeit not always for reasons that mobile operators may have anticipated. This buzz hasn't necessarily translated to uptake, though.
New research from YouGov shows that adoption grew from 3% of smartphone-owning Brits to 5% between June 2019 and December 2019. But over the same period, intention to get a 5G device declined by three percentage points (28% to 25%).
We're still early in the technology's lifecycle, and major players are set to launch 5G-compatible devices later in the year. Nevertheless, our data shows that public attitudes towards mobile phone ownership have changed over the past few years, and these shifting mindsets could well affect adoption. 2020 may not be 5G's year.
Apple's rumoured 5G iPhone will arrive in a changed market
Apple's delayed entry to the 5G market is likely to have some impact on uptake. In December 2015, it was the single largest player in terms of install base: over a third (36%) of Brits had an iPhone compared to three in ten (30%) who opted for a Samsung device.
By December 2019, it built on this considerable lead, accounting for nearly four in ten (39%) smartphone owners, compared to 32% who chose Samsung. The other brands in the top five – Huawei (8%), Motorola (5%) and Sony (4%) – account for a mere 17% of the overall installed base. While Huawei's share grew between December 2016 and 2019 (2% to 8%) the evidence indicates that it's starting to plateau. Recent YouGov research suggests Brits overwhelmingly distrust Huawei.
So new 5G phones from Apple should certainly have an effect on uptake. But there are a number of reasons to believe that adoption might be slower than expected in 2020, regardless. Most obviously, the COVID-19 pandemic has had a catastrophic impact on consumer confidence around household finances – which may lead people to tighten their belts and put off upgrading their smartphone.
But even if we put the current crisis to one side, trends in the handset market have been moving in a direction that won't necessarily incentivise 5G adoption.
Brits are holding onto their handsets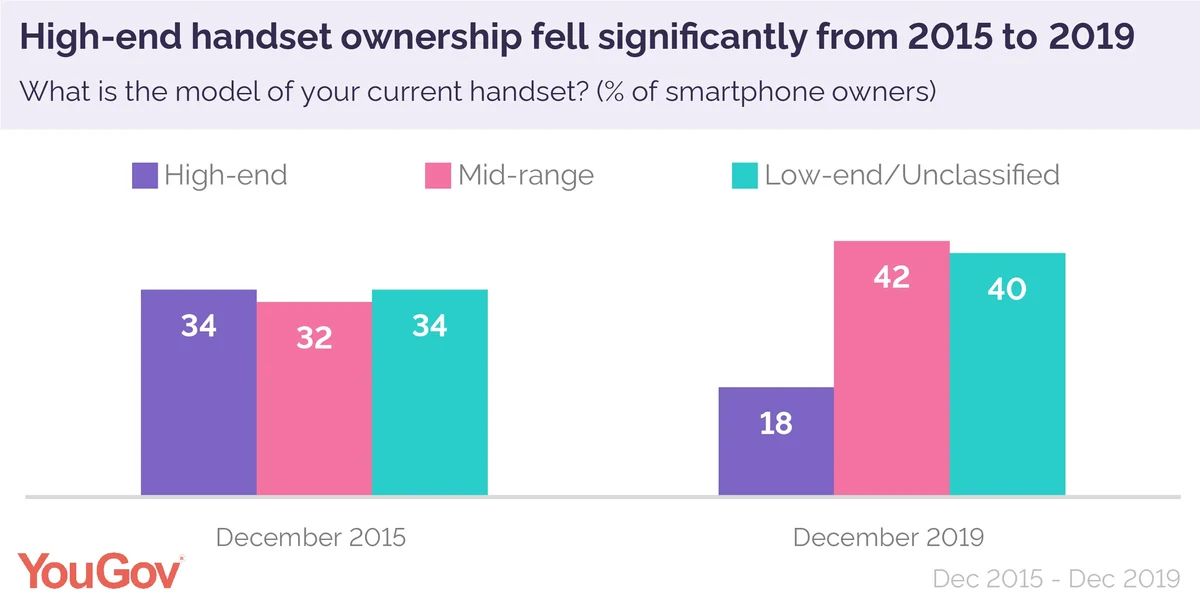 Traditional contracts (whereby a consumer chooses a handset and airtime), for example, have seen a steep decline. In December 2015, two-thirds of smartphone owners (67%) had this type of tariff ; by December 2019, they accounted for fewer than half (48%) of the mobile market. Over the same period, there was a 20 percentage point rise in Brits choosing a SIM-only (SIMO) contract (16% - 36%).
Our data also suggests that the majority of those that switched network in the last year, held onto their handsets when they left. While four in ten (39%) said they'd acquired their handset as part of their contract when they joined their provider – and 14% said they'd bought their phone outright (either SIM-free or directly from a manufacturer) – 45% said they did not get a new handset when they changed provider.
This decline of contracts is largely related to a perceived lack of innovation in the market place. This presents an opportunity for 5G technology to re-vamp the market and which is likely to result in a rise in those on traditional contracts (buying directly or sim-free aside).
Lack of innovation has caused high-end handsets to significantly decline
This reduction of contracts has impacted the number of high-end handsets in the market now. Consumers see contracts as a good way of ensuring they have the latest handset split out over several months (usually 24 months). In fact, we've seen a ten percentage point increase in consumers who hold on to their handsets for over 24 months.
In December 2015, 34% of the installed base had a high-end handset, but most recently 18% of the smartphone owning base has one of these devices. This large reduction is due to the proportion of consumers moving to a SIMO tariff and holding onto their handset for longer due a this lack of innovation in the market.
Meanwhile, the percentage of Brits owning mid-range phones increased by ten percentage points (32% to 42%) while the proportion owning low-end phones went from a third (34%) to four in ten (40%). The new iPhones are expected to debut at the higher end of the range.
Whilst Brits are still likely to hold on to their handsets for longer, Apple in particular could do well if it releases a 5G version. iPhone form factors (screen size changes, or new stand out features such as 4G) have had wide appeal amongst its loyal base and those upgrading their device.
Whilst the coronavirus crisis and its associated economic consequences may also make consumers less inclined to pick up a new phone, Apple may just get the edge.