Over half of the nation are spending less money than they normally would – but groceries, alcohol and books all have seen large increases
A majority of Britons (54%) say the coronavirus pandemic has caused a minor, moderate or major decrease in their spending. The figure is highest among 25- to 34-year-olds (62%), while people aged 18 to 24 are most likely to have made a 'major' cut back (16%).
But YouGov research shows that while most people are spending less overall, certain categories have loosened the purse strings during the pandemic.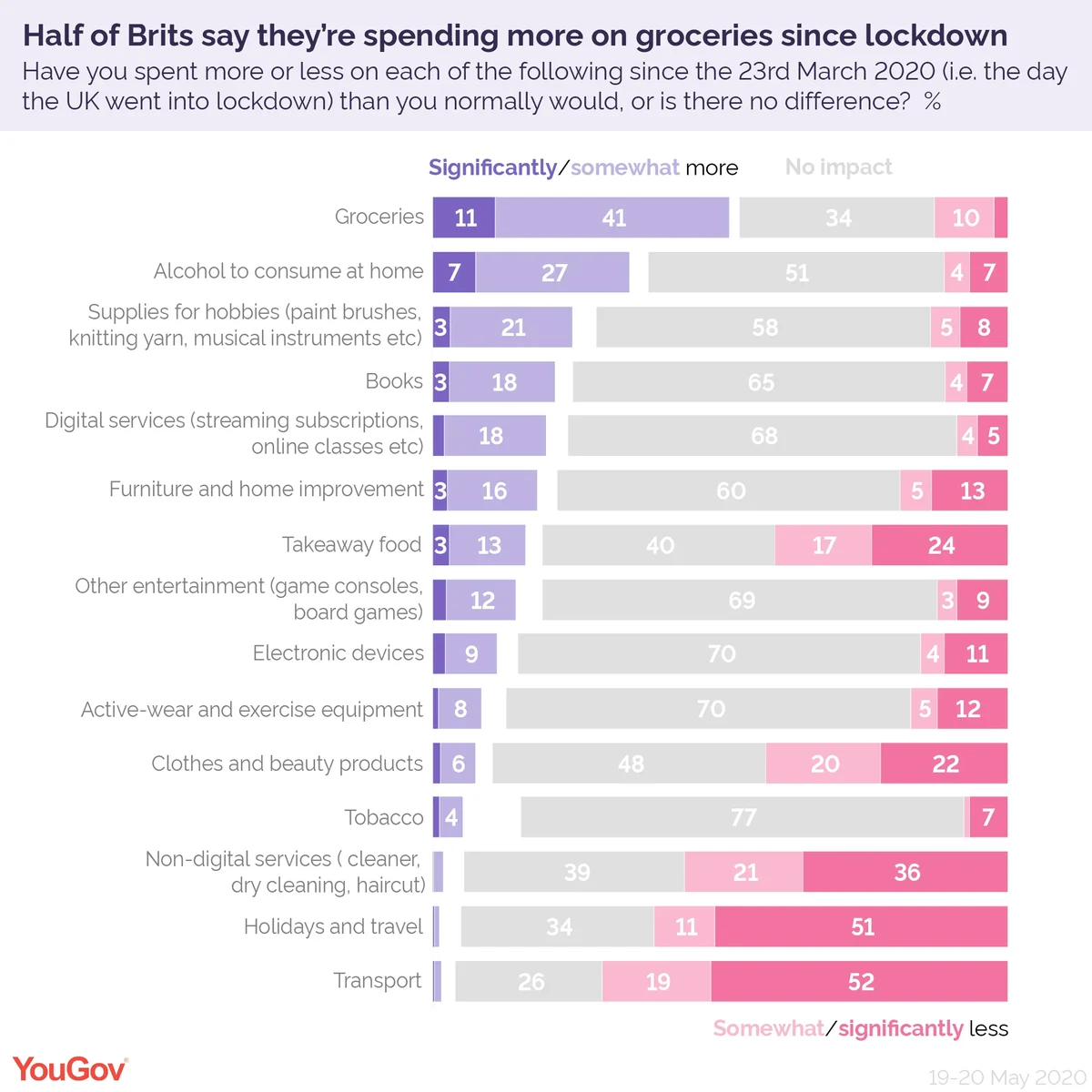 The largest increase is in groceries, with about half of Brits saying their outgoings have increased since lockdown started on March 23rd (52%). This includes 11% who are spending significantly more. A minority (12%) say their grocery expenses have gone down.
The second largest increase is in alcohol to consume at home (34%). Hobby supplies (24%) and books (21%) come third and fourth respectively.
Digital services like streaming platforms and Zoom classes have also seen an uptick, with a fifth (20%) of Brits saying their spending has increased since lockdown, while 9% say the opposite.
Generally, spending patterns among women and men are similar but there are some exceptions. Women are more likely to say they've spent more on groceries (58% of women vs 45% of men), hobby supplies (29% vs 19%) and books (26% vs 17%).
Activewear, retail and takeaways are down
A separate YouGov survey found that clothes and beauty products are the most popular online lockdown purchase after groceries. But online shopping offers little respite across the retail sector, as 42% of the public say their spending on apparel is down. Only a small minority (7%) say it has gone up.
Overall, Brits are also spending less on activewear and exercise equipment during the coronavirus outbreak – 17% say their expenditure has gone down while 9% say it has gone up.
The figures may seem counterintuitive with many online retailers reporting shortages of items like kettlebells and yoga mats. But there's a large age divide, with younger people spending more than previously and older consumers spending less. For example, a fifth of 18- to 24-year-olds (20%) say they've spent more on activewear and exercise equipment, while a tenth have spent less (10%). In contrast, among people aged 65 and older 3% have spent more while 21% have spent less than they normally would.
And in another blow to the restaurant industry, spending on food delivery has also dropped. Two in five (40%) say their takeaway outgoings have dipped during the coronavirus outbreak, while 16% say they have increased
Transport, holidays and non-digital services largest decreases
Unsurprisingly, the category that has seen the largest decrease is transport, with seven in ten people saying their expenses have somewhat (19%) or significantly (52%) decreased. ABC1s are more likely to report a decrease at 72% compared with 62% of C2DEs.
A large majority also say they've decreased their outlay on holidays and travel (61%) and non-digital services such a dry cleaning and haircuts (56%).