Updating the iconic, often-parodied 1999 ad led to notable bumps in the brand's scores across several key metrics
When Budweiser's "Whassup" campaign debuted in 1999, the UK was a very different place: Tony Blair was Prime Minister; The Spice Girls were yet to break up; The Matrix had been out for less than a year and cinemagoers were excited for a sequel.
In 2020, the national mood is somewhat different – but that hasn't stopped the beer brand from reviving the ad as "Whassup Bud?" and giving it a quarantine-flavoured twist.
Though the campaign is intended to encourage people to check on their friends and family, YouGov Plan and Track data reveals that it may have had some commercial advantages for the company. It shows that since Budweiser resurrected "Whassup", ad awareness scores more than doubled – going from 3.1 on the day the revival was announced (23/04) to 7.3 by May 14.
Buzz also rose from 0.8 to a peak of 3.0 (23/04 – 28/04) while attention scores went from 2.8 to a peak of 5.7 (15/05). Plan and Track data also shows that "Whassup Bud?" got UK consumers talking: word of mouth went from 3.3. to 6.1 between April 23 and April 29.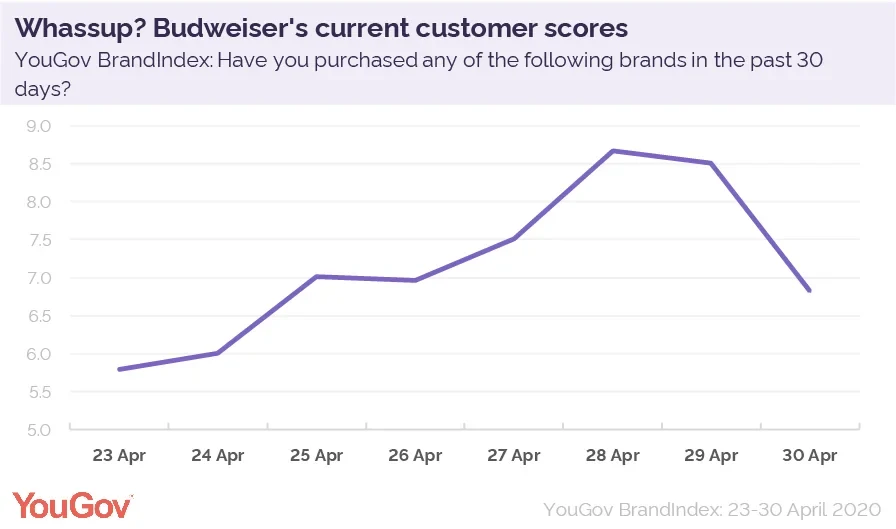 More importantly for the company, the ad seems to have corresponded with a rise in consumers buying Budweiser. Current customer scores – which track if anyone's bought a product from a brand in the past 30 days – improved from 5.8 to 8.7 within a few days (23/04 – 28/04).
"Whassup Bud" was in some respects well-placed to succeed. A 2019 YouGov white paper indicated that nostalgia can be a powerful in marketing, and the COVID-19 lockdown has made the ad's central scenario – featuring friends listlessly sitting at home, watching TV, and having inane phone conversations – unusually resonant with many consumers' current day-to-day reality. It's also much easier for Budweiser to re-record dialogue for an old ad than it is to shoot a new one in the current circumstances.
Whether the positive reception of "Whassup Bud?" eventually leads the brand to update its other famous '90s ad with socially distanced frogs remains to be seen.