Brits believe their spending habits will change after lockdown, with a third expecting to eat out more often than they did before the coronavirus outbreak
New YouGov research reveals that the coronavirus outbreak is likely to impact leisure spending patterns for some time.
About a third of Brits (32%) expect to spend more on having meals out than they did before lockdown, while one in seven (15%) believe they will spend less.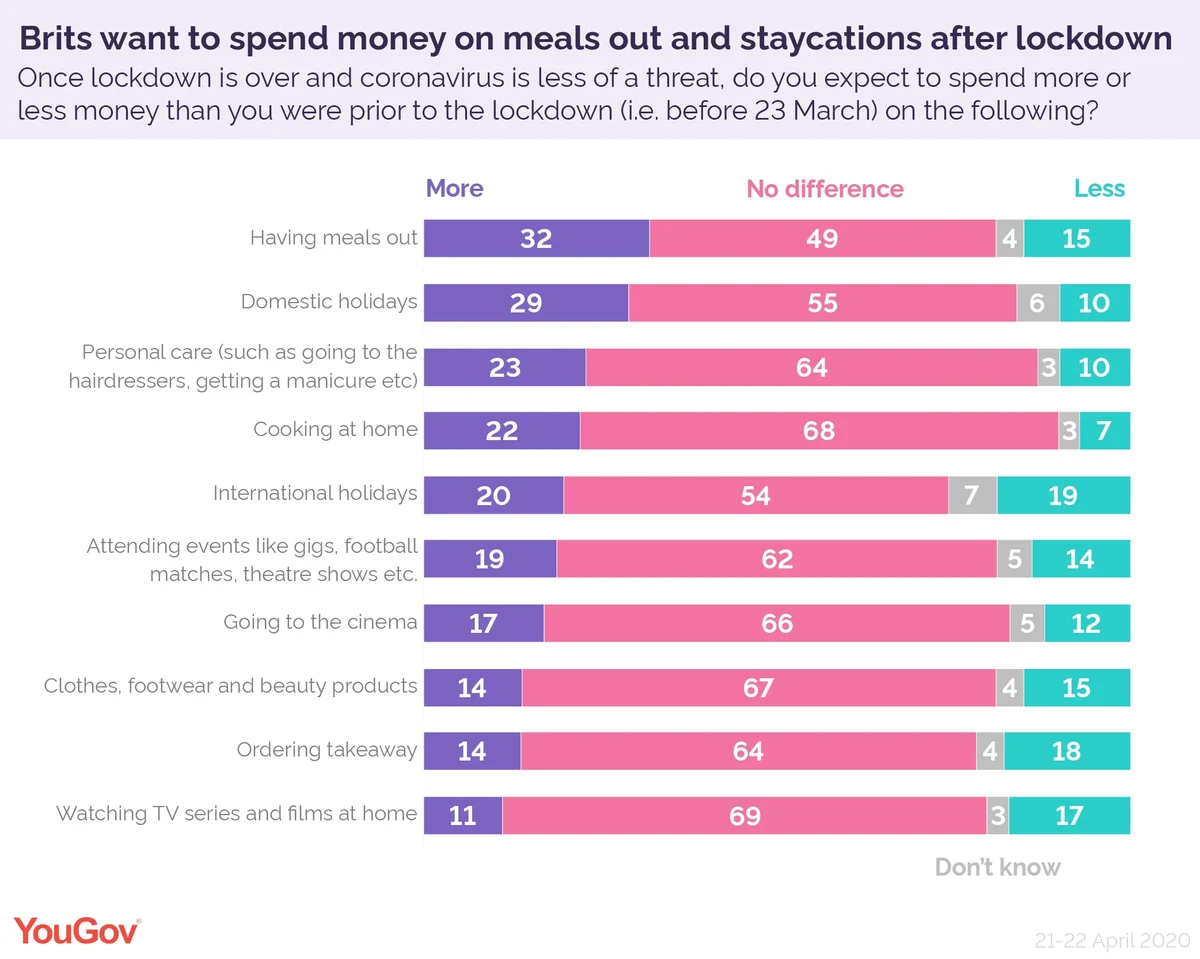 This does not necessarily signal the end of banana bread and homemade pasta dominating Instagram feeds, as over a fifth expect to spend more on home-cooked meals than they did before the lockdown. The figure suggests that lockdown has influenced some Brits to cook more than previously and they intend to keep it up. Meanwhile, 7% have had enough and plan to spend less on home cooking.
While there have been reports of takeaways apps struggling to stay afloat during the lockdown, the figures suggest Brits will be reluctant to order more food once we come out on the other side. Close to a fifth (18%) say they will buy fewer takeaways than before lockdown, while 14% reckon they will buy more.
Domestic holidays set to increase amid international travel uncertainties
Airbnb landlords may find some comfort in the fact that 29% of the public plan to spend more than they did previously on domestic holidays, while only 10% intend to spend less. This is the largest net surplus (+19) across all of the categories.
International travel will take longer to recover, it appears. A fifth of Brits expect to spend more on travelling abroad than they did before the pandemic but this is offset by a similar number (19%) who say the opposite. The figures could indicate that even after the threat of coronavirus subsides, consumers will not immediately feel comfortable travelling.
Brits are keen to get back to the hairdresser
Hairdressers and beauty salons are likely to see increased traffic. Nearly a quarter of people (23%) believe their spend on personal care will be higher than before lockdown. A small minority (10%) appear to have had more luck with the home-styled haircuts and expect their outgoings to decrease.
In contrast, Brits are not planning to change their consumption of clothes and beauty products compared with before lockdown - 15% expect it to decrease while 14% say it will increase. But it appears many people are continuing to buy apparel during the pandemic. A separate YouGov survey found that fashion and beauty items are the second most common online lockdown purchase (after groceries).
Brits want to cut back on their TV subscriptions after lockdown
Watching films and TV series at home is the category that sees the largest net loss (-6). One in six Brits (17%) say they will pay less for subscriptions after lockdown than they did before, while 11% expect to spend more.
In contrast, cinemas may see increased revenues compared with before the pandemic, with 17% of consumers expecting to spend more on going to the pictures, while 12% say they expect to spend less.
Similarly, 19% of Brits say their outgoings on events like gigs, theatre shows and football matches will be higher than before lockdown, compared with 14% who expect to be lower.