YouGov Plan and Track data shows that while pubs and restaurants are closed, the demand for alcohol among Britons persists
The continuing COVID-19 outbreak has turned the world on its head, with no sector or market left untouched. The alcohol sector has changed dramatically, with beloved pubs closed due to the national lockdown. But are Britons drinking at home instead, or simply giving up the booze?
YouGov Plan and Track data shows that the desire for alcohol itself has not changed, despite the closure of pubs and restaurants. The number of Brits saying they are likely or very likely to purchase beer and cider brands, and alcoholic brands as a whole, remain relatively steady.
Comparing the first quarters of 2020 and 2019 reveals no change in the level of consideration for alcohol, at 5.4 for alcoholic drinks and 8.3 for beer and cider brands in both 2019 Q1 and 2020 Q1.
This is supported by other YouGov data, which shows most Brits are either drinking the same amount as before the lockdown, or in fact, more than before. Of those who do drink, 75% say they are drinking the same amount or more since the lockdown began, with 57% drinking as normal, and 17% drinking either a bit or much more. On the other hand, a quarter of British drinkers (25%) say they have cut down on their alcohol content.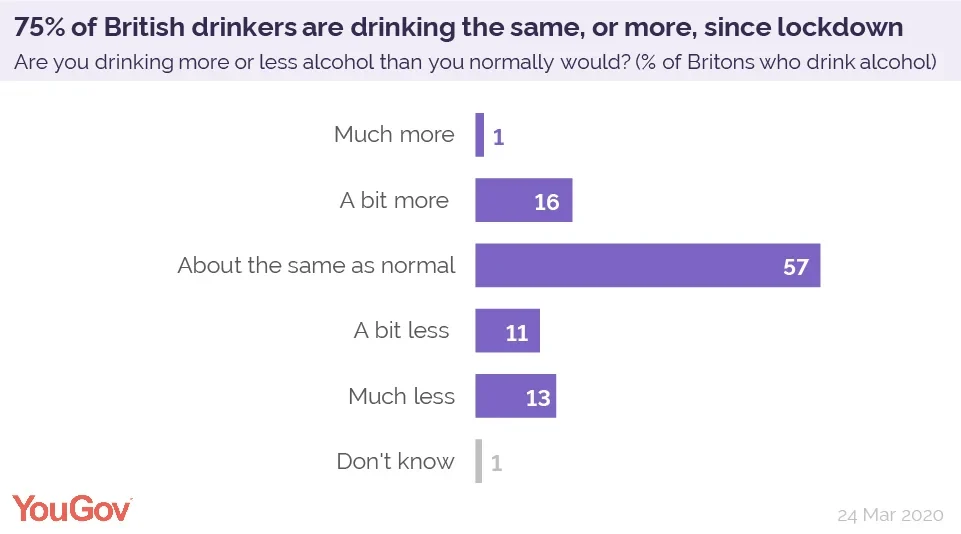 Interestingly, it is younger Britons who are most likely to be changing their alcohol intake, with those aged between 18 and 24 the most likely to be both drinking more (25%), and drinking less (28%) when compared to the other age groups.
Our data also shows, that of those who are drinking about the same amount, 64% say they had purchased an alcoholic drink in a pub in the last four weeks, with the most popular reasons being catching up with friends (21%) and celebrations (10%). The most popular reasons for purchasing alcohol from supermarkets among those who are drinking the same is staying in with their partner or spouse (22%) and a regular everyday drink (13%).
Are pub-goers drinking the same brands at home?
With on-premises alcohol trade shifting to off-premises, has this resulted in changes to what Britons are buying? Comparing the last 30 days to the previous period, gins, beers, and ciders are on the rise among Britons who say they spend money in pubs. Bombay Sapphire, Strongbow, Heineken, and Thatchers have all seen increases in their consideration score.
Mexican beer brand Corona has also seen a boost in its Consideration Scores despite it recently suspending production. Corona has also seen a drop in positive Buzz (whether someone has heard something positive or negative about a brand in the last two weeks) in the United States. Elsewhere, Guinness has also seen a positive change in Consideration Score, possibly due to its social distancing St Patrick's Day promotions.
Inversely, spirit brands are more likely to have seen lower consideration scores among those who drink out, with Advocaat, Cointreau, and Martini among brands seeing the largest negative changes in their Consideration Scores.
How can brands react to the changing situation?
In this unprecedented situation, some brands have been handling the ever-changing situation better than others.
For example, BrewDog have seen a rise in their Buzz Score (+3.5 points since the beginning of the outbreak) the announcements that the company's founders have forgone their salaries, and that the company has started to produce hand-sanitiser by adapting its existing production lines.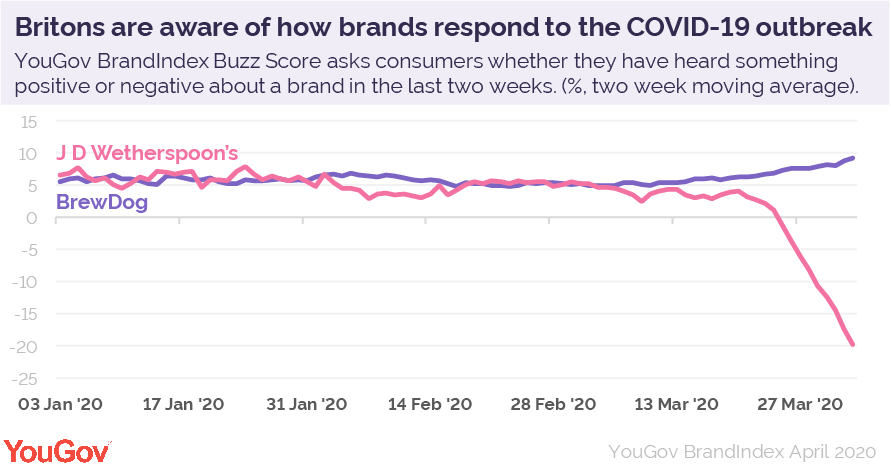 Click to enlarge
J D Wetherspoon's, on the other hand, has seen its Buzz Score drop dramatically, by 13.9 points to -19.7 since the beginning of the outbreak. This change follows owner Tim Martin suggesting pubs should be allowed to remain open during the lockdown, and announcing staff would not be paid until the government stepped in to pay them on furlough, and suggested they could get jobs at Tesco instead.
Image: Getty
Learn more about YouGov BrandIndex here