Coronavirus is forcing dramatic lifestyle changes throughout the UK, including some obvious changes in consumer behaviour. Images of bare supermarket shelves and stories of consumers panic buying toilet paper have proliferated widely.
YouGov BrandIndex data indicates that Andrex's current customer scores – calculated by asking people if they've bought anything from a company in the past 30 days – more than doubled the week after the government announced its COVID-19 action plan, rising from 8.4 on March 3rd to a high of 17.5 on March 10th. Word of mouth scores also increased from 1.2 to 7.9.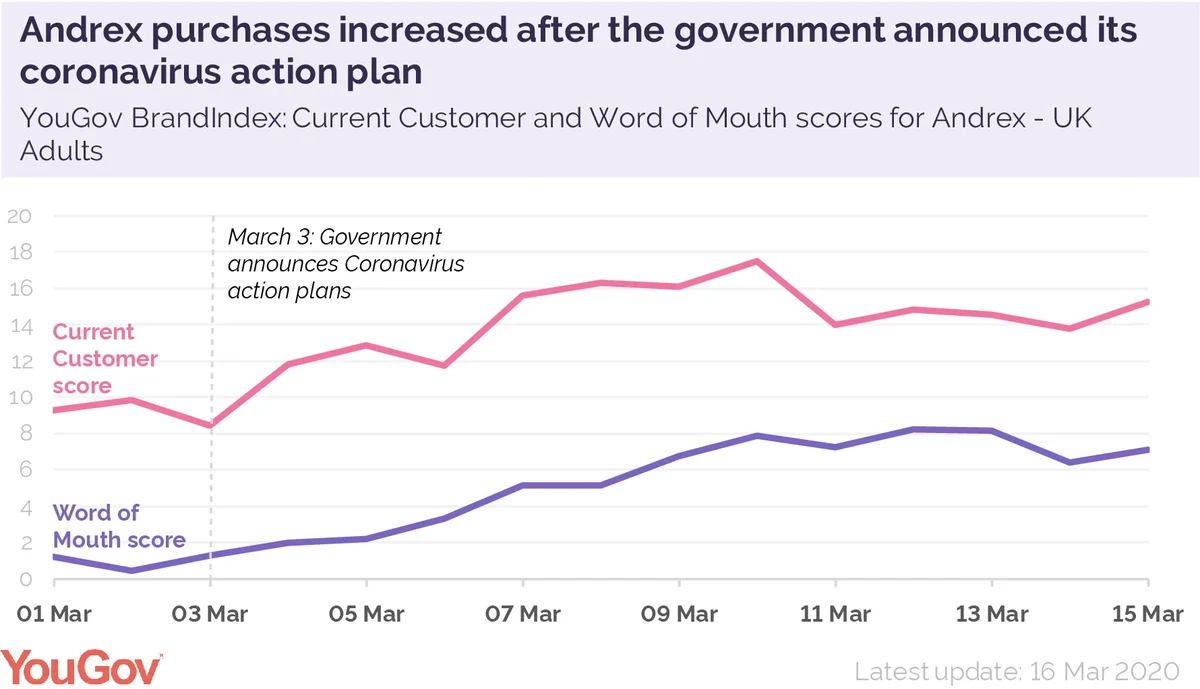 Grim as COVID-19 may be for public health, some have suggested that it represents an opportunity for entertainment brands such as Netflix. The platform has seen an uptick in consideration – rising from a score of 51.3 on March 1st to a peak of 56.7 on March 8th – but one small enough that it could also be attributed to content releases or a general upward trend. This may change as more people stay home.
There's also been talk of the UK becoming more reliant on food delivery services. London – said to be a few weeks ahead of the rest of the country in terms of infection – has already been using Deliveroo more than usual, with a Current customer score that rose from a low of 6.1 on March 3rd to 18.1 on March 15th. Recommendation and satisfaction have both increased, and consideration rose from 12.8 on March 1st to 24.5 on the 15th.
Aviation is expected to take a major hit. Consumer reluctance to fly and international travel bans have led Virgin Atlantic to reduce services and ask staff to take eight weeks of unpaid leave.
Since March 1st, its buzz scores have steadily declined (from 6.0 to 2.6), while the wider sector has seen a more modest decline (from -0.1 to -1.8). But Virgin Atlantic scores higher than average across several metrics: consideration was at 27.0 at the start of March, and actually rose to 31.8 by the 15th. The company may be in for some turbulence – but it could yet have a smooth landing.
This article previously appeared in City A.M.