YouGov data reveals a comfortable lead at the head of the table for the budget chain
YouGov analysis identifies Aldi as the supermarket UK consumers are most likely to recommend to their friends and colleagues. Overall, 78% of current customers say they'd be willing to spread the good word about the brand.
The top ten list is based on YouGov's Recommend scores, which represent the percentage of a brand's customers who would recommend it to a friend or colleague. Every brand in our Rankings has a minimum sample of 100 and has been tracked for at least 12 months, with all scores being rounded to a single decimal place.
Already the most popular and the most famous supermarket brand in the UK, Aldi's Recommend placing is another in a string of accolades for the chain. Ocado, the online grocery retailer, took second place with 74%. The delivery service, which has partnered with Waitrose for over a decade, will be collaborating with Marks & Spencer from September 2020 – which could well affect its score next year.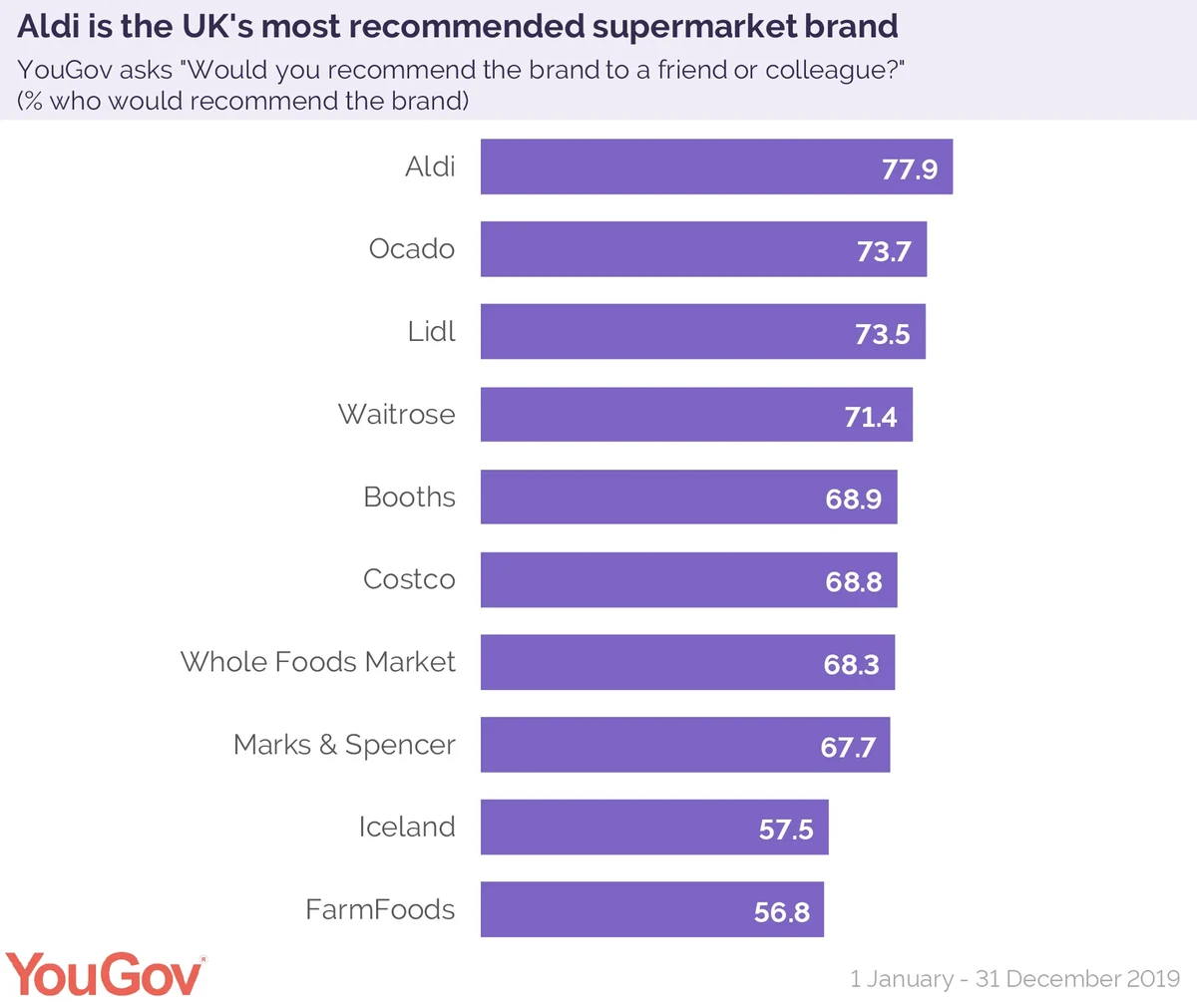 Lidl, Aldi's chief competitor in the budget supermarket space, finished third with 73%. The company's brand mascot, Kevin the Carrot, recently came second in a YouGov poll that revealed the nation's favourite Christmas characters. And while the upmarket retailer Waitrose came first in that poll (in partnership its parent company John Lewis), it finished fourth in terms of consumer recommendations.
The remainder of the list saw a mix of higher and lower budget retailers: sixth-placed Costco, the bulk-buy specialist store, was adjacent to seventh-ranked Whole Foods – with the supermarkets scoring 69% and 68% respectively. A significantly wider gap opened up between eighth and ninth, with Marks and Spencer recommended by 68% of consumers and Iceland earning potential recommendations from 57% of current customers. FarmFoods, which placed tenth, also scored 57%.
Image: Getty