YouGov Recommend data highlights a strong showing for the currency exchange and money transfer service – with PayPal running a close second
Analysis from YouGov Recommend reveals that Fairfx.com, the online foreign exchange platform, is the UK's most-recommended credit card or payment services provider in the UK.
The service narrowly tops the list, with 68% of its current customers endorsing it to people they know in our 2020 rankings.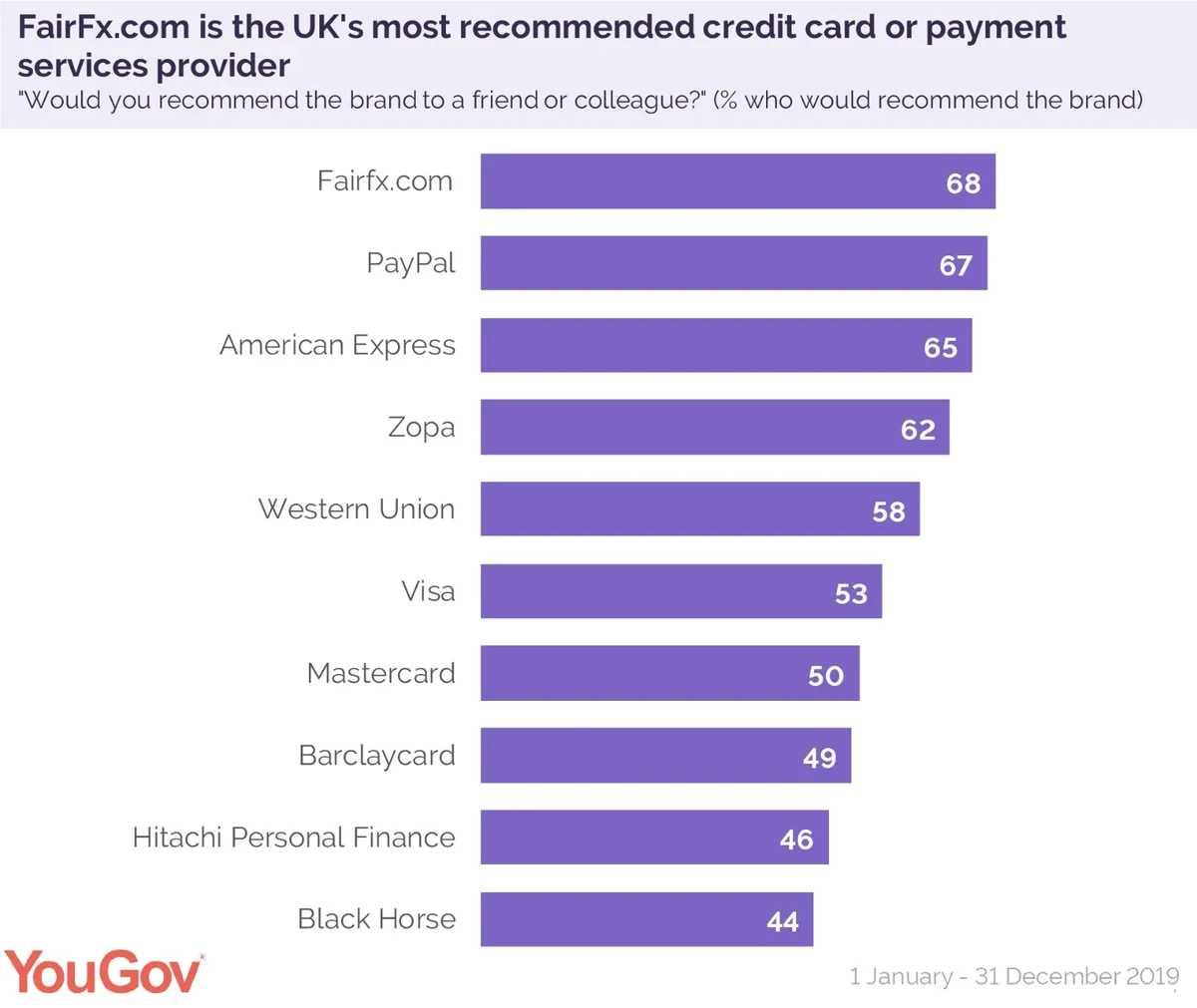 The top ten list is based on YouGov's Recommend scores, which represent the percentage of a brand's customers who would recommend it to a friend or colleague. Every brand in our Rankings has a minimum sample of 100 and has been tracked for at least 12 months, with all scores being rounded to a single decimal place.
Fairfx.com's strong performance comes as the company is rebranding to Equals.co. The new-look service promises to expand its core offering beyond FX and international transfers. Whether the change of identity helps consolidate Fairfx.com's lead at the top of the table will be a key question for the brand in the coming year.
PayPal, the global online payments system, comes a close second with 67% of its current customers endorsing it to people they know. The platform, co-founded by Elon Musk and Russell Simmons, has built on its core offering over the last few years – acquiring iZettle and launching a Buy Now Pay Later service in the UK. American Express completes the top three with a score of 65%.
Zopa, the P2P lending platform, comes fourth with 62%. The company is currently pursuing a full UK banking licence and intends to offer other financial services in the near future. It remains to be see whether this affect their Recommend performance in the next year.
Meanwhile, Western Union, the nearly 170-year-old financial services and communications company, sustained its positive reputation among customers in 2019 with a score of 58% – a fifth-placed finish that reflects the brand's enduring strength. Card and payment services occupy the next three places, with Visa (53%), Mastercard (50%), and Barclaycard (49%) ranking sixth, seventh, and eighth respectively. Hitachi Personal Finance (46%) and Black Horse (44%) – the vehicle finance provider – complete the top ten.
Learn more about YouGov Recommend+
Image: Getty