The Czech automotive brand continues a UK turnaround decades in the making
Decades ago, Škoda vehicles were a byword for low quality; to the point where the company's own advertising routinely poked fun at its product.
It's an image that the brand has occasionally embraced and occasionally struggled to shake off. But YouGov's Recommend Rankings reveal that, among its customers, Škoda's reputation hasn't just recovered: with a score of 83%, it's the best performing car brand in the UK.
The top ten list is based on YouGov's Recommend scores, which represent the percentage of a brand's customers who would recommend it to a friend or colleague. Every brand in our Rankings has a minimum sample of 100 and has been tracked for at least 12 months, with all scores being rounded to a single decimal place.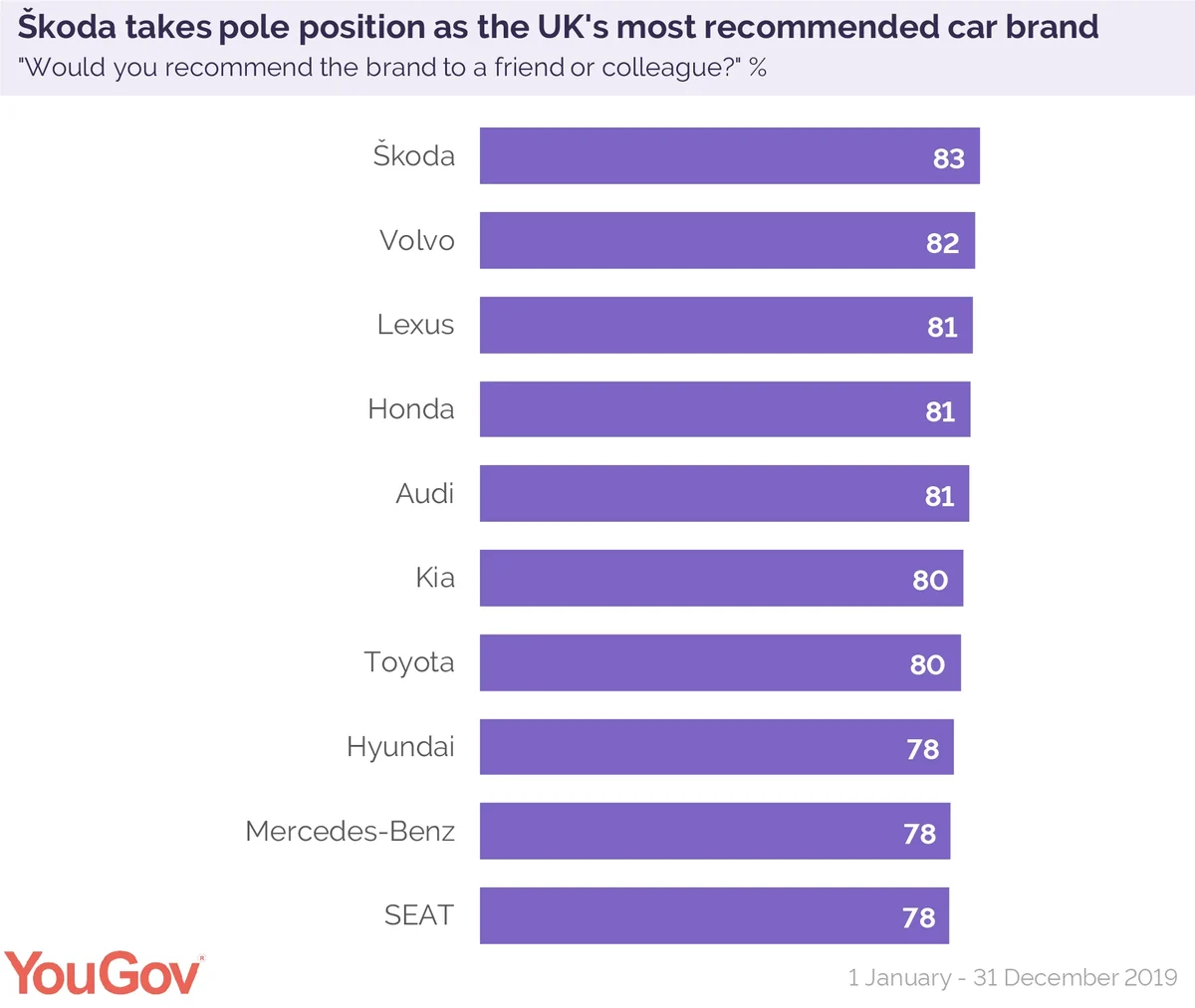 Volvo, the Swedish sedan, station wagon, and luxury vehicles manufacturer, came a close second with 82%. The brand released several new models in 2019 and reached a 29-year high for new car sales in the UK. Meanwhile, Lexus – Toyota's luxury vehicle subsidiary – beat its parent company (which ranked seventh with a score of 80%) in the Rankings, scoring 81% to complete the top three. Honda, the third Japanese brand in our list, placed a close fourth, also scoring around 81%.
German and South Korean car manufacturers were equally well-represented, with each country occupying two spots: Audi ranked fifth (also with around 81%) and Mercedez Benz came in ninth with 78%; while Kia finished in sixth with 80% and Hyundai earned eighth place (79%).
Every score in our Recommend tables falls within a five-percentage point range, with six brands earning between 80 and 82%. All in all, it's a close race – and even small increases or declines in score could change who takes pole position next year.
Image: Getty