The messaging service opens up a comfortable lead in an otherwise close-run race
YouGov analysis reveals that WhatsApp, the Facebook-owned communications platform, is the UK's most-recommended Online brand. With a score of 62%, the IM service enjoys a comfortable lead over every other brand featured in our 2020 Rankings.
The top ten list is based on YouGov's Recommend scores, which represent the percentage of a brand's customers who would recommend it to a friend or colleague. Every brand in our Rankings has a minimum sample of 100 and has been tracked for at least 12 months, with all scores being rounded to a single decimal place.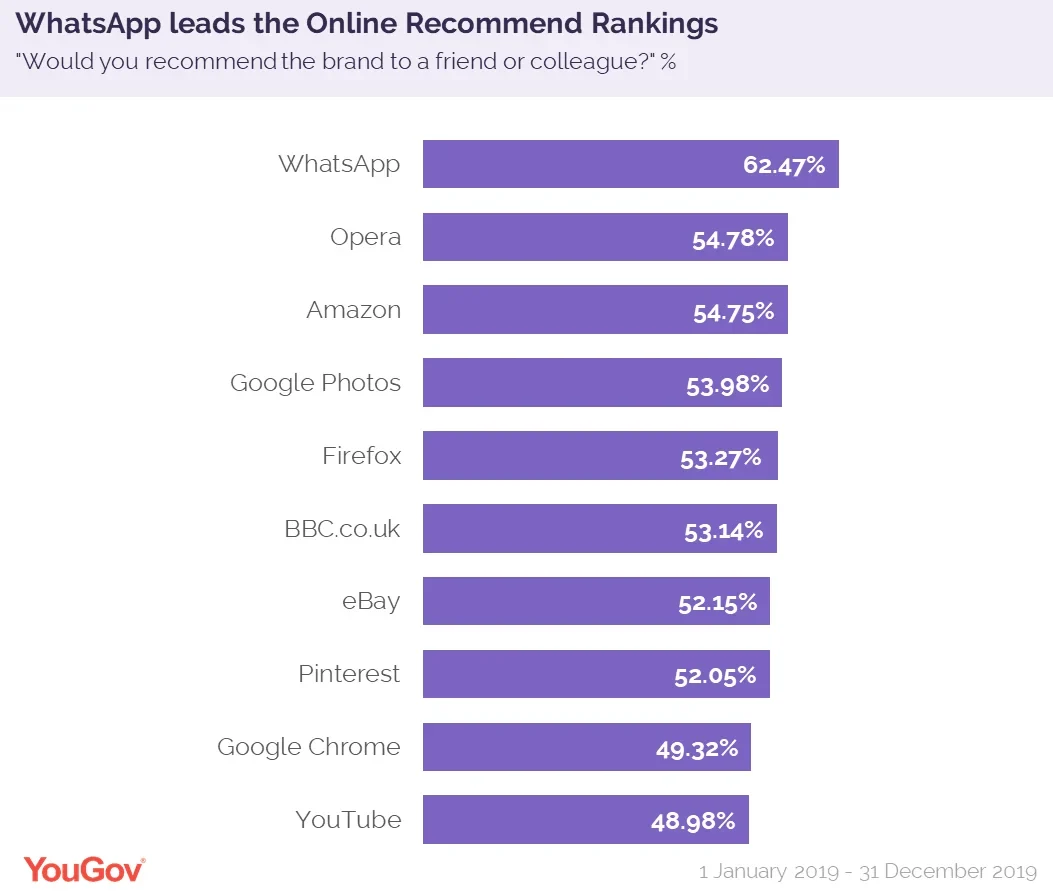 Opera, the free web browser, came in a somewhat distant second with 55%. The brand released its Reborn 3 desktop product in 2019 to general acclaim – and, as our data shows, broad customer satisfaction. Two other web browsers also featured in our list: Firefox, which scored 53% and placed fifth, and Google Chrome, which came ninth with 49%.
In fact, three Google/Alphabet family brands were represented in the top ten: alongside the aforementioned Chrome browser, Google Photos came fourth with 54%, and YouTube placed tenth with 49%.
Amazon ranked third with 55%. The company hasn't been complacent in its efforts to continue winning over customers, and it has reaped the commercial rewards: its 2019 Prime Day was the largest shopping event in its history.
Learn more about YouGov Recommend+
Image: Getty