YouGov data reveals that the South Korean tech giant comfortably wins the mobile computing melee – with its rival Apple taking second place
Samsung tablets are the UK's favourite mobile computing devices, according to new analysis from YouGov. The brand's Galaxy Tab and Book products earned a total score of 72%, while its major competitor in this category, the Apple iPad, came in second with 69%. It's an emphatic showing from the two biggest players in the market – who comfortably outperform the rest.
The top ten list is based on YouGov's Recommend scores, which represent the percentage of a brand's customers who would recommend it to a friend or colleague. Every brand in our Rankings has a minimum sample of 100 and has been tracked for at least 12 months, with all scores being rounded to a single decimal place.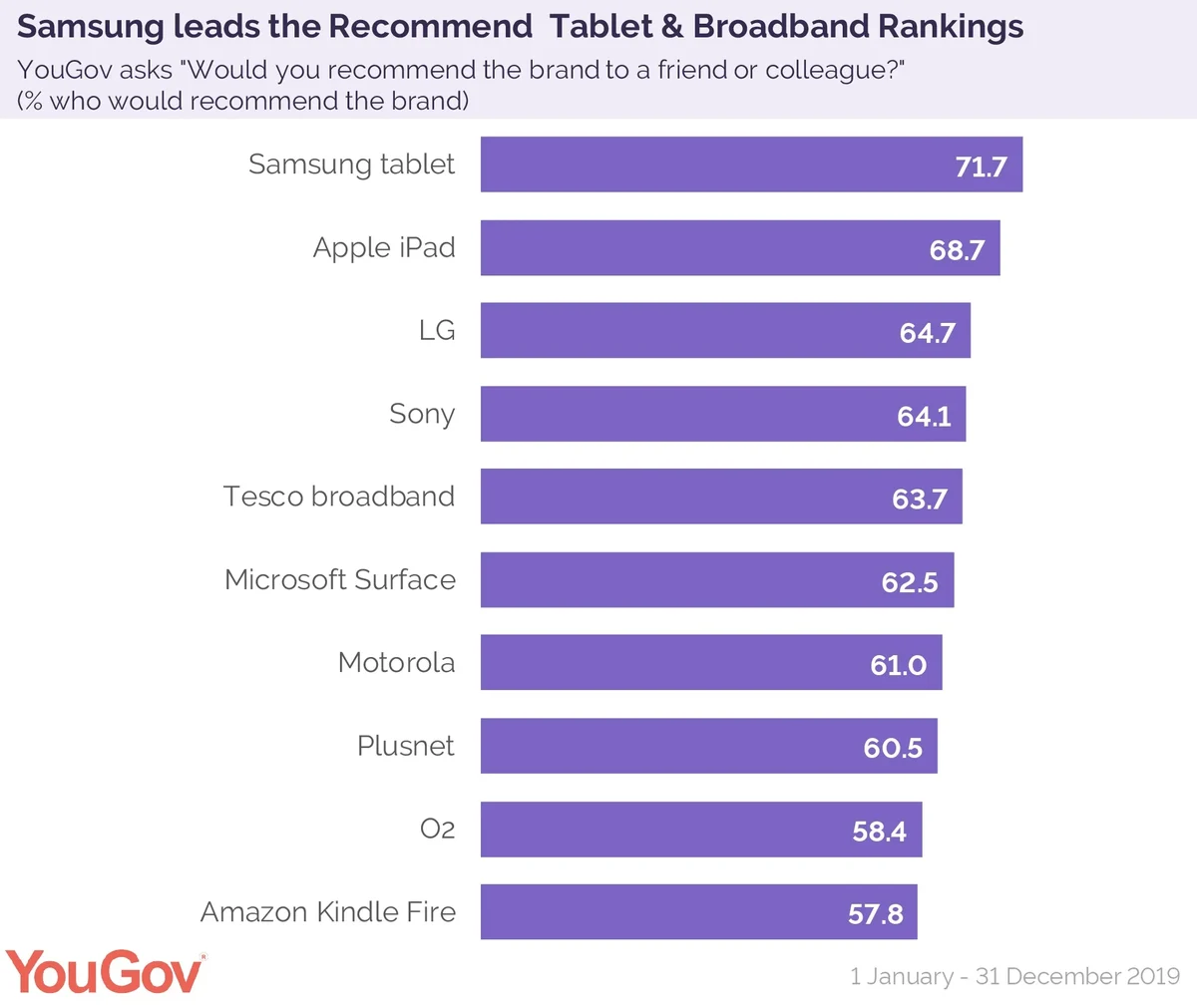 Beyond Samsung and Apple, LG (which launched its G-Pad 5 tablet in 2019) rounded out the top three with a score of 65%, and Sony's lightweight Xperia devices were close behind in fourth (64%). Microsoft's Surface range, which encompasses both lower-end and higher-end mobile computers, impressed consumers enough to place fifth with a score of 62% – and while Motorola may be better known as a handset provider, its tablets still won acclaim from 61% of customers. Amazon's budget Kindle Fire scored 58% and came in ninth, while Dell (which manufactures both windows and Android Tablets) completed the top ten with 54%.
Broadband providers also made a distinct impression on the Recommend Rankings. Plusnet's high-speed internet offering ranked seventh with 60%, with O2 coming right behind it in eighth (58%).
Learn more about YouGov Recommend+
Image: Getty