Streaming giants take the top two spots, but satellite TV and set-top boxes also feature prominently
Netflix had an eventful 2019, winning Oscar nominations, signing several original content deals, and becoming the UK's most buzzed-about brand. YouGov analysis reveals that it's also the UK's most endorsed TV & Radio provider.
The brand heads our Recommend Rankings with 77% of its current customers endorsing it to people they know. Netflix tops the list by some distance, standing 15 percentage points ahead of any other brand operating in the sector.
The top ten is based on YouGov's Recommend scores, which represent the percentage of a brand's customers who would recommend it to a friend or colleague. Every brand in our Rankings has a minimum sample of 100 and has been tracked for at least 12 months, with all scores being rounded to a single decimal place.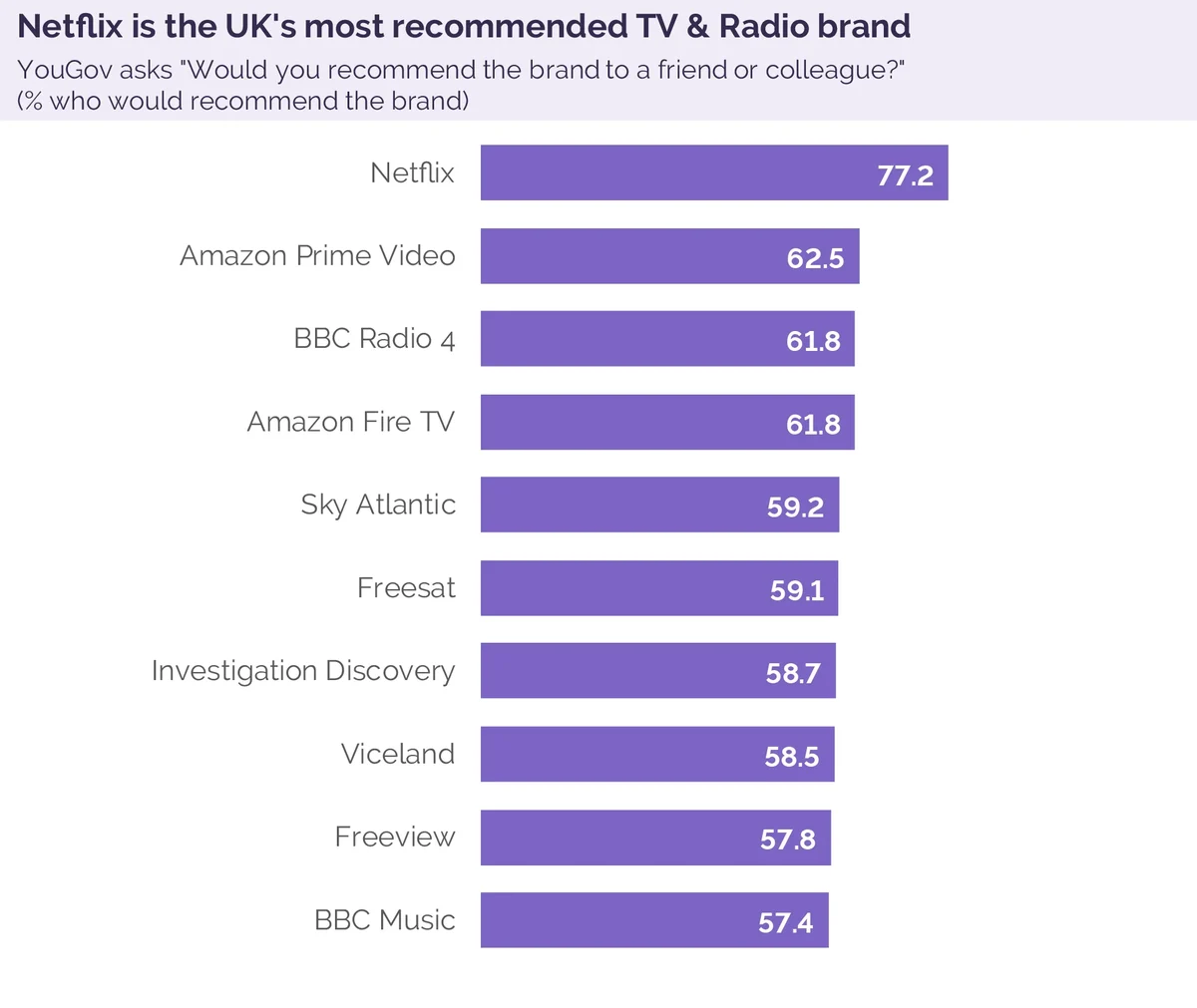 Netflix's emphatic performance is underlined by the fact that the top ten is otherwise a close-run race; every other brand in our Recommend Rankings falls within the 57% to 62% range. The streaming service's immediate runners-up included Amazon Prime (widely considered its most significant industry rival), BBC Radio 4, and Amazon Fire, which all earned scores of 62%.
Satellite TV channels also feature throughout the top ten, with Sky Atlantic coming in fifth (59%) and specialist channels such as Crime + Investigation and Viceland taking the seventh and eighth spots with 59% and 58% of their consumers respectively recommending them. Set-top boxes Freesat and Freeview also performed well, with 59% of customers recommending the former and 58% recommending the latter.
BBC Music, which covers an eclectic range of stations including Radio 2 – the most popular station in the UK – and the alternative-focused Radio 6, completes the top ten, earning recommendations from 57% of its current consumers.
Learn more about YouGov Recommend+
Image: Getty