In YouGov's Recommend Rankings, Miller & Carter is the highest-scoring pub brand, while health-focused fast food brand Leon takes third place
For many Brits, food is the tasty highlight of a stressful workweek or a dreary weekend. But new YouGov data reveals that the UK's most recommended brand in this sector isn't a bar chain, a takeaway or a quick-service restaurant at all: it's Gousto, which delivers ingredient boxes to customers who then assemble their own meals.
The brand tops our Recommend Rankings with 82% of its current customers endorsing it to people they know. With every other organisation in the top ten being traditional restaurant, fast food, or pub brands, it's an especially strong showing for the meal kit manufacturer.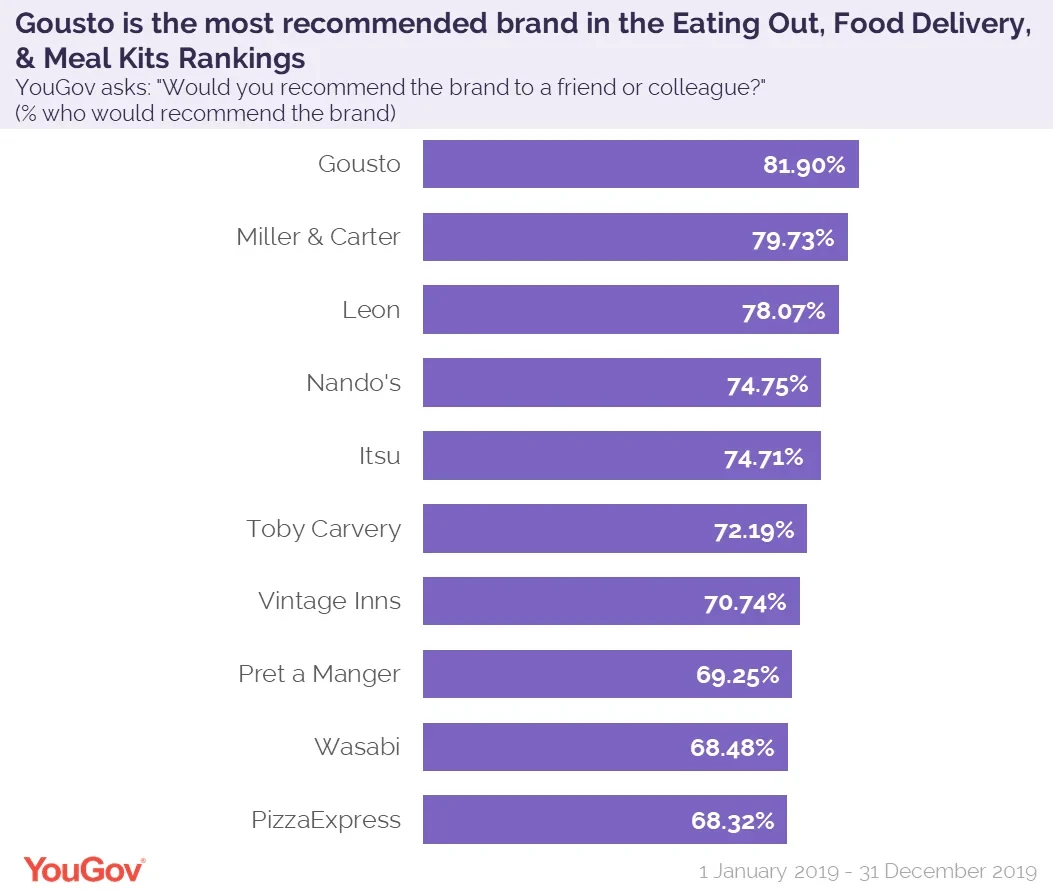 The top ten list is based on YouGov's Recommend scores, which represent the percentage of a brand's customers who would recommend it to a friend or colleague. Every brand in our Rankings has a minimum sample of 100 and has been tracked for at least 12 months, with all scores being rounded to a single decimal place.
The second-placed brand is steakhouse chain Miller & Carter, which sees 80% of its customers recommending it to others. The brand was recently revealed as Wales and the West Midlands favourite restaurant brand and the Recommend rankings suggests it's also favoured nationwide. Leon, the health-centric quick-service restaurant ranks third with a score of 78%.
Our Rankings indicate a gap between the top three brands and the rest: fourth-ranked Nando's performs peri-peri well with 75%, while sushi restaurants Itsu and Wasabi take fifth and ninth with respective scores of 75% and 68%. Alongside Miller & Carter, pub dining is represented by seventh-placed Toby Carvery (72%) and eighth-placed Vintage Inns (71%).
Finally, Pret a Manger scores 69% to earn eighth place, and Pizza Express brings up the rear as the sole representative of Italian food in tenth (68%).
Learn more about YouGov Recommend+
Image: Getty