Finance, tech, and travel companies dominate the lists – with Monzo taking second place and Trailfinders ranking third
YouGov analysis reveals MoneySavingExpert.com as the UK brand most recommended by its consumers.
The top ten list is based on YouGov's Recommend scores, which represent the percentage of a brand's customers who would recommend it to a friend or colleague. Every brand in our Rankings has a minimum sample of 100 and has been tracked for at least 12 months, with all scores being rounded to a single decimal place.
MoneySavingExpert.com tops the list with 91% of its consumers recommending it to others.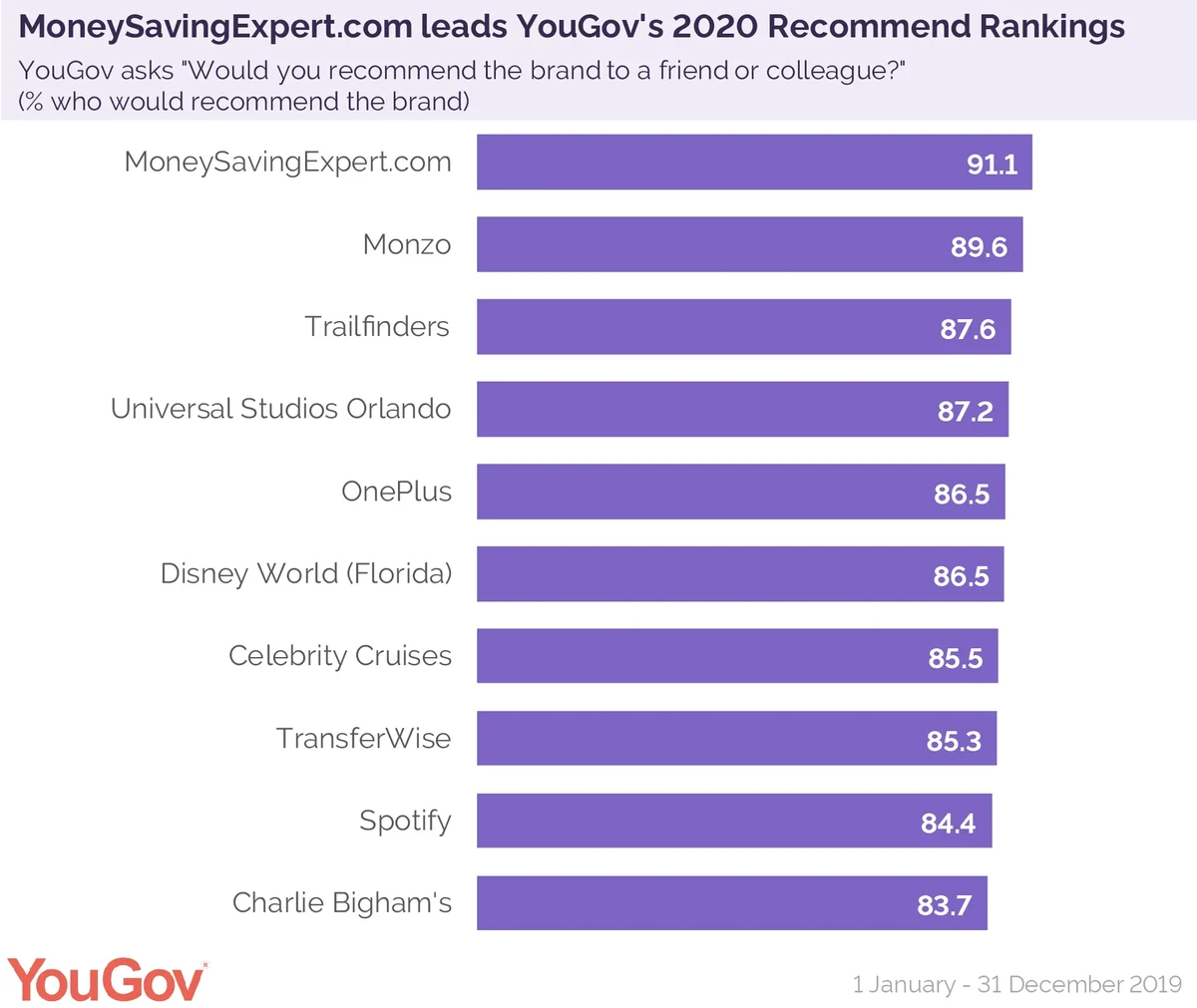 The site has built a robust brand on simple, wide-ranging financial advice that covers topics from cutting monthly bills to reclaiming PPI (among many other things). The website's top-ranking comes on the heels of strong showings in YouGov's annual Buzz Rankings where it placed fourth.
Monzo, another brand that found success through an alternative approach to finance, came in second with 90%. This follows the challenger bank's first-place finish in 2019's Advocacy Rankings. If mobile-only services are yet to fully win over the public, Monzo has certainly won over its customers. Another fintech brand, TransferWise, ranked eighth (85%).
The rankings data is drawn from YouGov Recommend+, a fresh approach to understanding consumer advocacy. YouGov Recommend+ is a highly cost-effective NPS® diagnostics approach that gives marketers the full picture on what drives existing and potential promoters. It provides brands with more actionable data about the attitudes and behaviours of consumers and will initially be available in the US, UK and Germany, rolling out into other markets in due course.
Travel companies make up four of the top ten brands most recommended by their customers. Trailfinders, which celebrates its fiftieth anniversary this year, placed third (88%); Universal Studios Orlando was close behind in fourth (87%); and Disney World Florida ranked sixth (86%), with Celebrity Cruises taking the seventh spot (86%).
Technology companies were also well-represented. Alongside fintechs such as Monzo and TransferWise, OnePlus – the Chinese smartphone company known for its curved-screen devices – came in fifth with a score of 87%, with the music streaming giant Spotify in ninth place (84%). Charlie Bigham, the upmarket ready-meal provider, rounded out the top ten (84%) as the only representative of the food & drink sector.
Learn more about YouGov Recommend+
Image: Getty