The streaming giant leads the table in the UK – knocking Aldi off top spot for the first time since 2013 – while Northern Rail has the most improved Buzz score after a turbulent 2018
In 2019, Netflix pursued a high-risk, high-reward strategy – investing in big-budget original films and TV series such as The Irishman, The Witcher, and The Umbrella Academy as well as a range of smaller projects for niche audiences. It's an approach that seems to have paid off from a PR perspective: the streaming service's efforts have spawned popular memes, earned 24 Oscar nominations, and sent it to the top of YouGov's 2019 Top Brand Buzz Rankings with a score of 21.4.
Buzz scores are calculated by asking members of the public daily if they've heard anything positive or negative about a brand in the past fortnight - subtracting the percentage of negative responses from the percentage of positive responses. YouGov's BrandIndex Buzz Rankings are the average of these scores between January 1st, 2019 and December 31st, 2019.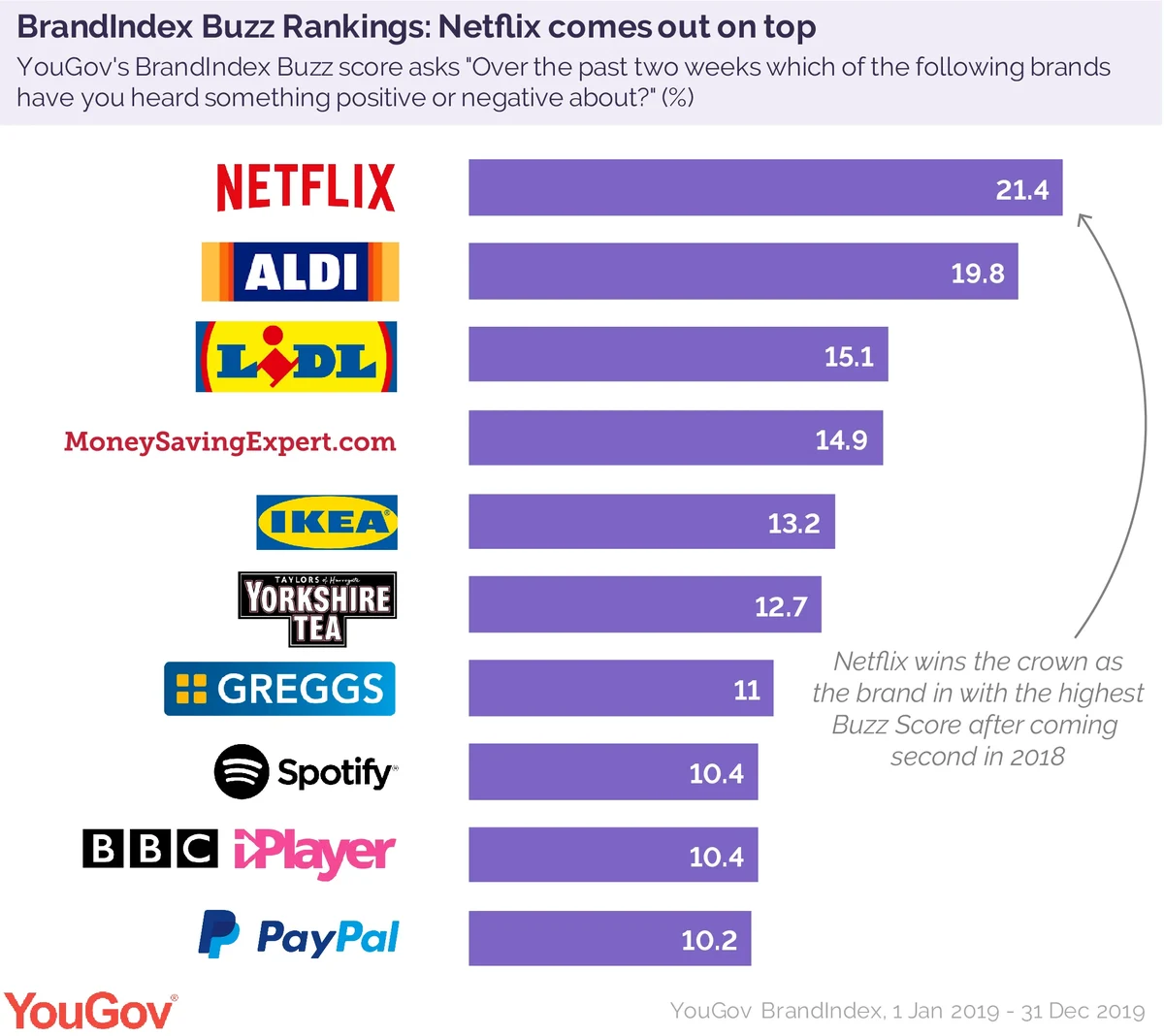 Netflix, which first entered the rankings in 2016, saw an increase of +5.0 on last year: enough to dethrone five-time winner Aldi. With a score of 19.8, the discount supermarket is not in top spot for the first time since 2014 – while still improving its year-on-year performance (+1.1) – as Lidl moved back into the top three with 15.1.
Meanwhile, MoneySavingExpert.com also saw gains (of +0.9) on 2018, which weren't enough to prevent it from slipping into fourth place. BBC iPlayer continued its downward trend from sixth in 2018 and fourth in 2017, scoring 10.4 (compared to 11.8 last year) and falling to ninth place overall.
Northern Rail is 2019's biggest buzz improver
While our Buzz Rankings highlight the year's best brands, our Buzz Improvers tell a different story. It's often possible for a brand to top the table while still having a negative public perception overall.
This is the case with Northern Rail, which has endured another year of relatively unflattering headlines and could be on the verge of losing its franchise – but nevertheless "won" most improved in 2019 with a Buzz score of -5.5. This represents a +8.0 improvement on 2018, where amended timetables and cancelled services brought the brand to lows of -13.6.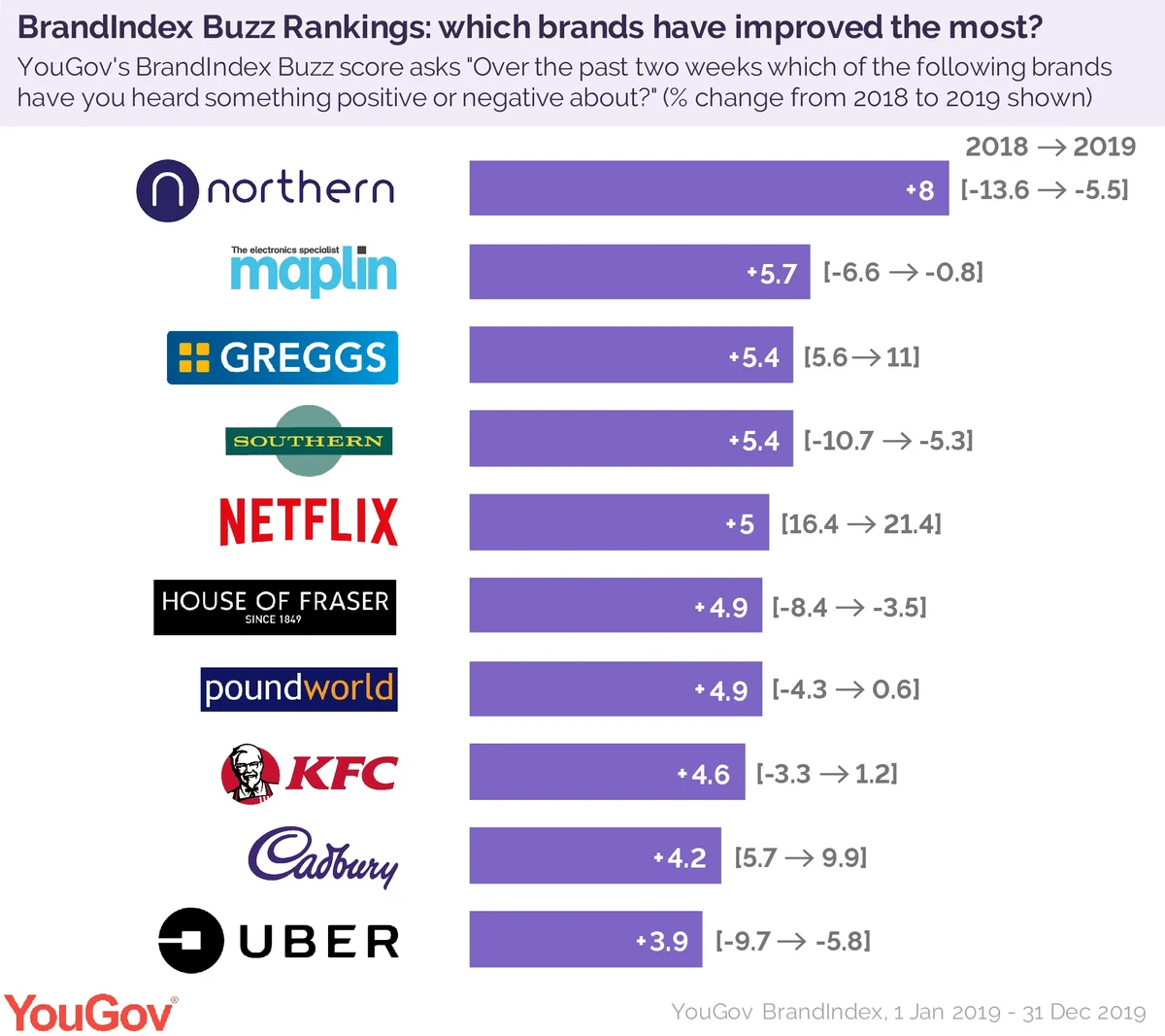 It's a similar story with second-placed Maplin, which went from -6.6 to -0.8 after its 2019 relaunch – improving substantially on a troubled 2018 which saw the brand enter administration and close before relaunching as an online retailer. In fact, half of the top ten buzz improvers are brands that have gone from worse to bad, and a further two (KFC and Poundworld) have just about clawed their way out of the negative zone.
Only Greggs, Netflix, and Cadbury managed to build on positive buzz from 2018 – with the former benefitting from its vegan sausage roll campaign and increasing its total score by 5.4. Whether it can recapture the meat-free magic in 2020 with its vegan steak bake remains to be seen.
Image: Getty