John Lewis had a tough 2019 - forced to merge its management with that of Waitrose in order to save £100 million, having reported a half-year loss for the first time in its history.
The department store has a strong brand, topping the YouGov brand health rankings for two years in a row, and many eagerly await the release of its yearly Christmas advert in November. This year was no exception, with Excitable Edgar the young dragon increasing John Lewis' Ad Awareness scores by 27.6 points – the ad with the highest uplift in December.
However, while John Lewis is undoubtedly a staple of British high streets, the brand is struggling to appeal to a younger demographic, leading to an ageing customer base. There isn't much difference between the age groups when it comes to positive perception: two fifths (43%) of 18 to 34-year-olds have a positive view of John Lewis, compared to almost half of those aged over 50 over (48%). However, 16% of this younger group are not aware of the brand compared to just 3% of those aged over 50.
Since the advert was released on the 12th December, YouGov data shows that it created the most positive buzz amongst 18 to 34-year-olds. Buzz scores (a net measure of whether consumers have heard anything positive or negative about the brand in the last fortnight) increased by 8.6 points with this group compared to a 6.4 increase nationally.
Yet despite this, Consideration (whether someone would consider purchasing from the brand in future) amongst millennials dipped by 4.7 points since the release of the advert, while increasing by 1.7 among over 50's, and remained steady nationally. Equally, Impression scores (whether someone has a positive or negative impression of a brand) although increasing after the release by 4.3 points, then declined 14 points.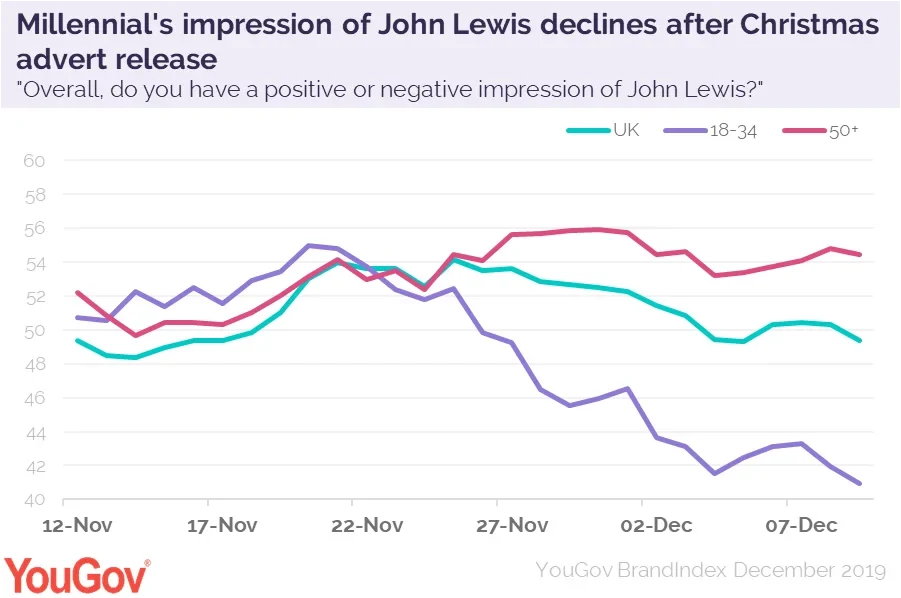 These scores suggest that although the advert was positively received by everyone, and even more so by 18 to 34-year-olds, the desired impact potentially wasn't achieved. John Lewis runs the risk of creating amazing, memorable Christmas adverts that make John Lewis synonymous with Christmas, but have little or even negative impact on their business goals.
The data suggests that although millennials enjoy the annual Christmas advert, there might be more effective and possibly cheaper methods to appeal to this crucial target market.
Image: John Lewis
This article previously appeared in City A.M.