This month John Lewis achieved the highest uplift in Ad Awareness of any brand in the UK with a +27.6 change
Releasing its much-awaited Christmas advert early has earned John Lewis the top spot as this month's most improved in YouGov advert rankings.
YouGov BrandIndex data shows John Lewis's Ad Awareness score (whether someone has seen or heard an advert by a brand in the past two weeks) has improved by +27.6 points, giving a score of 41.9 by the end of the month.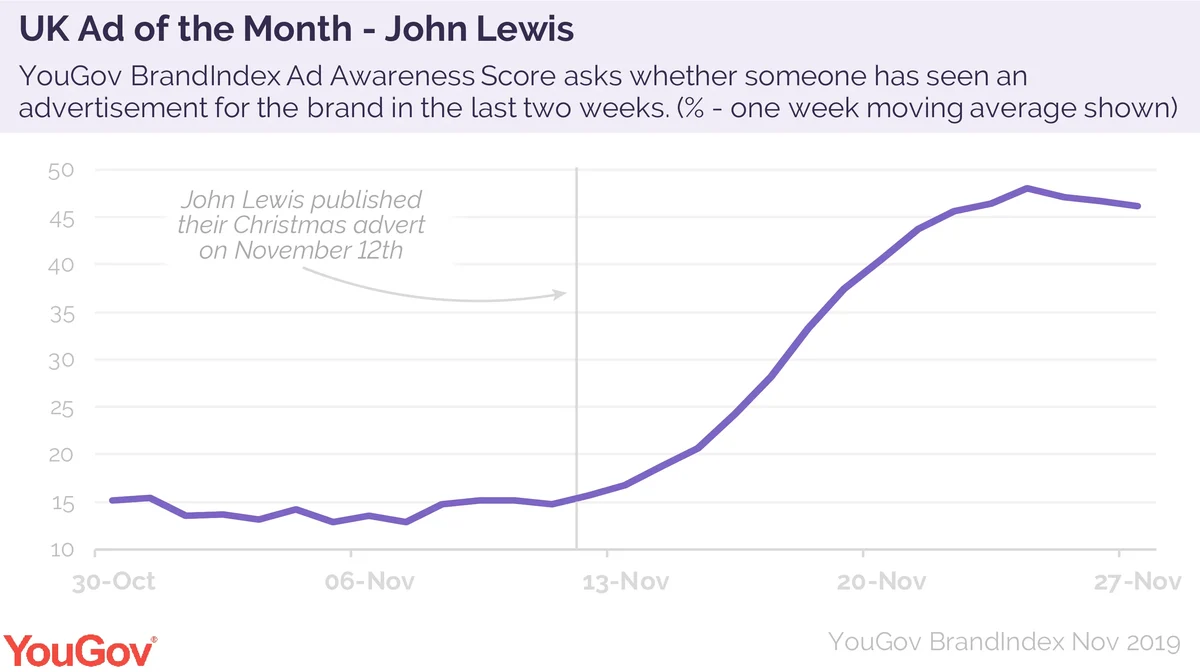 The advert features an "adorable young dragon" known as Excitable Edgar. Indeed, he is so excitable he can't control his own fire and burns down the town Christmas tree – but all ends well with him receiving a special present from his best friend.
The release of its festive advert has also seen John Lewis's Buzz score rise. Buzz measures whether consumers have heard anything positive or negative about the brand in the last fortnight and the brand's score has improved from 10.2 to 15.4 over the course of the month.
Using YouGov Profiles data, we can see that among Britons who say they like Christmas John Lewis's Word of Mouth score (whether someone has talked about the brand with family or friends in the past two weeks) peaked at 37.3. This is compared to 25.5 among UK adults as a whole.
Other highly improved brands in terms of Ad Awareness Score this month included rival high street chains, Marks and Spencer which grew its ad awareness by +15.7 as well as Sainsbury's who saw a jump of +11.9.
This article previously appeared in WARC