Australian conglomerate Wesfarmers, which own Australian DIY retailer Bunnings, bought the British home improvement brand Homebase in 2016 in what was dubbed 'the most disastrous retail acquisition in the UK ever' by analysts.
Only two years after purchasing the longstanding British brand for £340m, Wesfarmers sold Homebase for £1 in 2018. Losses and costs brought their total bill to about £1 billion, with management decisions and a "misguided perception of the UK market" to blame.
Since the sale, Homebase has launched a turnaround plan and started to convert Bunnings warehouses back to their original Homebase shops.
YouGov data shows that since the start of this year, Homebase's BrandIndex metrics have improved significantly among current customers suggesting that Homebase's loyal customer base, who were the reason for the brands original success, are returning.
Homebase's Impression score (whether someone has a positive or negative impression of a brand) among current customers has increased by 7.3 points since January, while its Recommend score (whether someone would recommend a brand to a friend or not) has increased by 7.4 points. Its Satisfaction score (whether someone is a satisfied or dissatisfied customer) improved by 6.6 points and its Consideration score (whether someone would consider purchasing from the brand in future) also improved by 6.2 points, demonstrating an improvement across the board for the brand.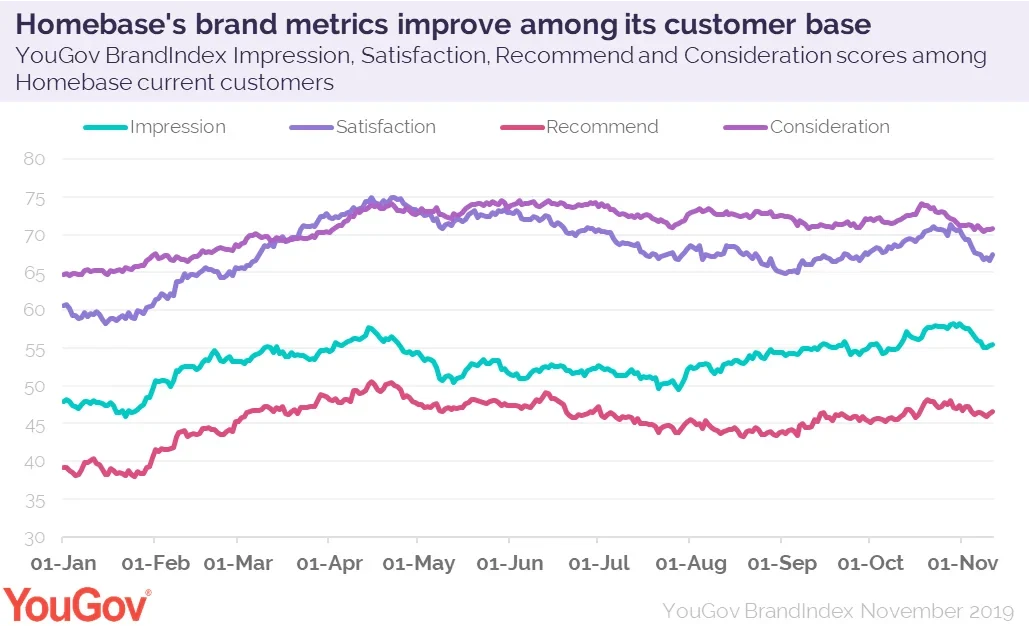 Satisfaction, Recommend and Consideration scores have now more or less reached pre-Wesfarmers takeover levels, suggesting that the turnaround plan so far has been successful in regaining Homebase's loyal customer base.
Not only are Homebase's own customers perceiving the brand more positively but so are the customers of rivals such as DIY and home improvement company B&Q. The Impression score of Homebase among B&Q's current customers increased by 7 points, Consideration score by 5 points and Recommend score by 9.9 points.
Homebase's scores among this audience are now higher than where they were before the Wesfarmers takeover and significantly higher than where they were at the start of the year, presenting the real risk that B&Q customers could defect to Homebase if its successes continue.
Image: Google
This article previously appeared in City A.M.