Supermarket giant Sainsbury's has confirmed that it will not be selling fireworks this year in its 2,300 stores, a move that's been praised by those who argue that they are a danger to young children, pets and people with disabilities.
Sainsbury's announcement comes after more than 750,000 people signed a petition earlier this year to ban shops from selling fireworks to the public. Currently they can only be bought by those aged over 18 and between certain dates. There are also rules that forbid them being set off between 11pm and 7am.
It is certainly a popular opinion. YouGov data shows that the majority of Brits (54%) support a ban on the sale of the fireworks to the public (54%), and just a third (35%) are against a ban.
Those aged 60 and above are twice as likely to support a ban as those aged between 18 and 24 (61% versus 29%). In fact, the number of 18 to 24 year olds against a ban (59%) almost matches the number of people over 60 who would, showing the issue is highly polarising.
Although Sainsbury's revealed the decision not to stock fireworks is due to product sales performance rather than safety concerns, almost a third of those who class Sainsbury as their main supermarket are aged 60 and over. Therefore this move will be positively received by a large portion of their customer base, considering the large level of support a ban has among this age group.
Since the announcement that they would not sell fireworks, Sainsbury's Buzz scores (a net measure of whether consumers have heard anything positive or negative about the brand in the last fortnight) among those aged 60 and above have increased from +9.1 to +16.9, a 7.8 point rise, suggesting that the news has been perceived positively by Sainsbury's largest customer demographic.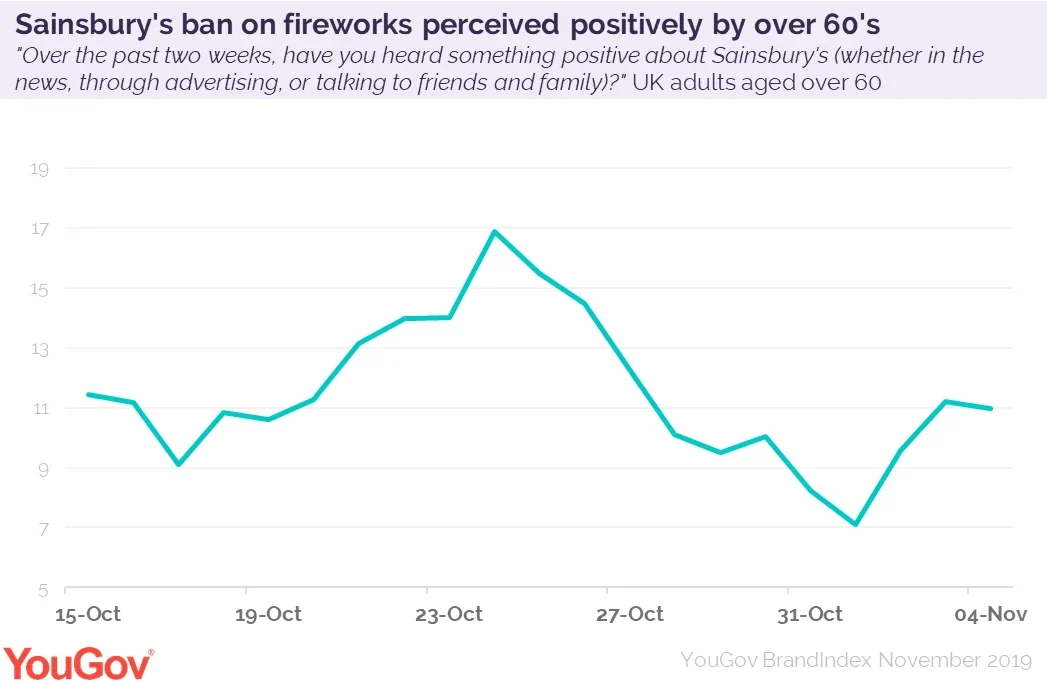 Sainsbury's Impression score (whether someone has a positive or negative impression of a brand) increased among the general public by 4.8 points, implying that a move that was originally just a stocking decision has inadvertently improved Sainsbury's brand health.
This article previously appeared in City A.M.