With roots as the young fashion section of iconic 60's department store Selfridges, Miss Selfridge should be a successful asset for the multinational retail empire Arcadia. But last year the chain posted a £17.5 million loss after sales fell more than 15%.
Since then Miss Selfridge has cut back on staff and closed its Oxford Street flagship, with the intention of focusing on online sales. Arcadia's own troubles have only increased during 2019 as other brands within the group also face huge cuts and possible administration under CVA plans.
It could have been seen coming. YouGov data shows that two-in-five Brits prefer to buy things online rather than in stores (44%). This increases to almost six-in-ten among 18 to 34 year olds (58%), the very demographic which Miss Selfridge targets. On the other hand, it demonstrates that the most recent strategy is a wise one, and how important it is for Miss Selfridge to have a strong online presence.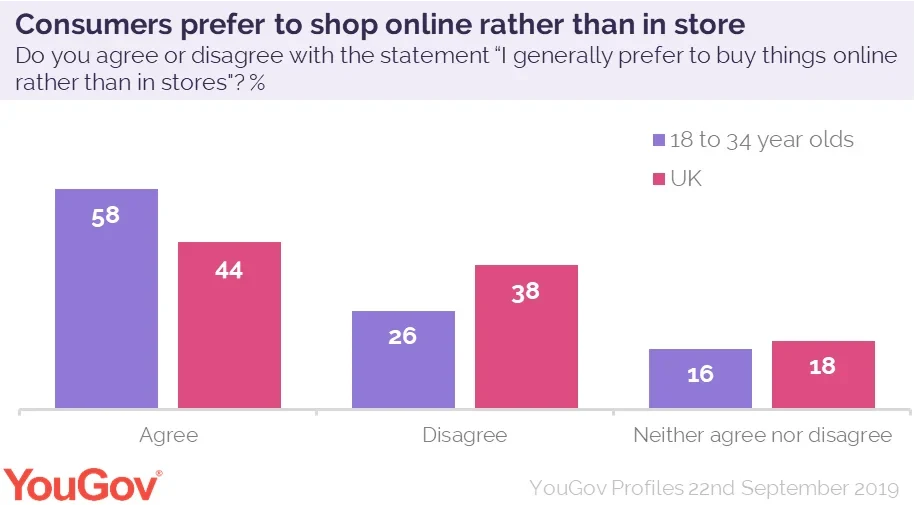 Almost a third (30%) of this younger age group say they mostly buy clothes and shoes online, while five percent do so exclusively. But despite Miss Selfridge moving to cater for these shoppers, only 2% of 18 to 34 year olds have bought something from the brand in the last three months. The brand is somehow missing its target.
Among 18 to 34 year olds, the most common motivator (28%) for choosing where to purchase clothes, accessories and shoes is price, and the best special offers (10%). Highest quality attracts just 14% of shoppers.
Miss Selfridge's Value score (a net measure of whether consumers think the brand represents good or poor value for money) should make for worrying reading; the chain ranked 24th in September among 18 to 34 year olds with a Value score of +1.9. This is much lower than other online rivals and major high street players such as Primark (+20.4), H&M (+28.6), ASOS (+17.4) and Zara (+6.5).
Similarly, Miss Selfridge ranked 32nd on Consideration (whether someone would consider purchasing from the brand in future) in September with a score of 7.1.
If Miss Selfridge is to succeed it needs to fully adapt to an online-first model and re-evaluate pricing, in order to win over its key demographic on what matters to them most: value for money.
This article previously appeared in City A.M.