Music and film retailer HMV has revealed that it will be opening an experiential flagship store named 'The Vault' in Birmingham's city centre. The vinyl-focused concept store will let customers see and try out physical products and also include a space for bands to perform live.
The opening of The Vault comes after the brand was rescued from administration this year by Canadian retailer Sunrise Records. The opening of a store focused around vinyl sales is in line with plans the new owner laid out in February.
Vinyl has seen a resurgence in popularity over the past few years, with sales of records and players gradually increasing. But will this one format – obsolete for decades - be enough to keep the shops going?
YouGov data shows that current customers of HMV are much more likely than the average Brit to purchase vinyl records, and other music formats in general. One in 10 of HMV's current customers have bought a vinyl album in the past 30 days, while almost a third have bought a CD album.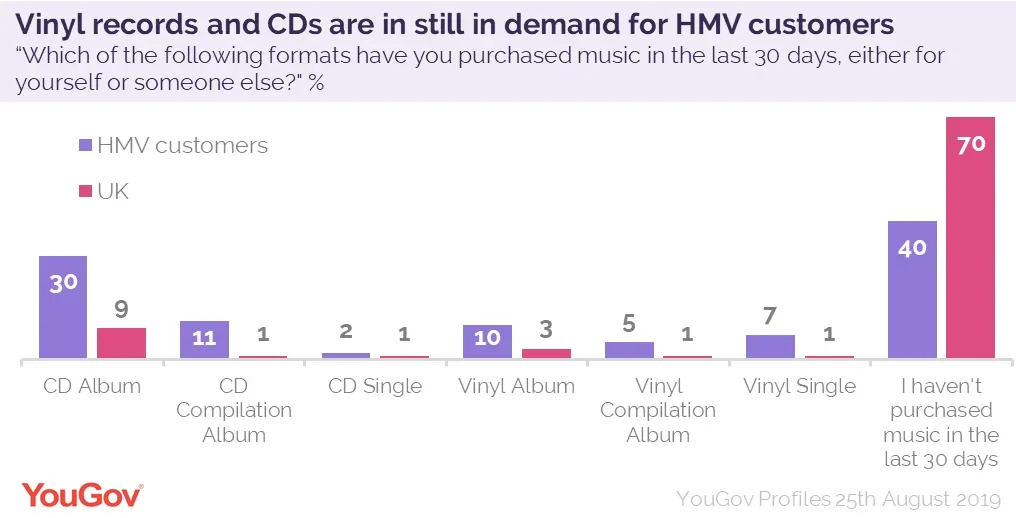 Comparatively, only 3% of the UK has bought a vinyl album and 7 in 10 haven't purchased any music at all in the last 30 days.
This is also seen in the difference in willingness to pay for music on vinyl; two thirds of HMV customers would be willing to pay for a vinyl record (61%) compared to just 38% of the UK as a whole.
Since HMV was purchased Consideration scores (whether someone would consider purchasing from the brand in future) for the brand have increased among current customers from an average of +64.3 over the month of February, steadily increasing to +76.3 over May, dipping to +65.8 in July then finally increasing to +78 over August.
This suggests, along with the fact that the music buying habits of HMV customers seem to support vinyl sales, that HMV's new venture will see good footfall among fans of the brand.
This article previously appeared in City A.M.