The high street may be struggling, but YouGov's latest brand health rankings is still topped by retail brands
Beloved department store John Lewis tops YouGov's brand health rankings in the UK for the second year running, with a robust score of +41.2.
Retail also dominates the rest of the podium, where Swedish furniture retailer Ikea stands on the second step with a score of +38.9 and Marks and Spencer takes third with +38.9.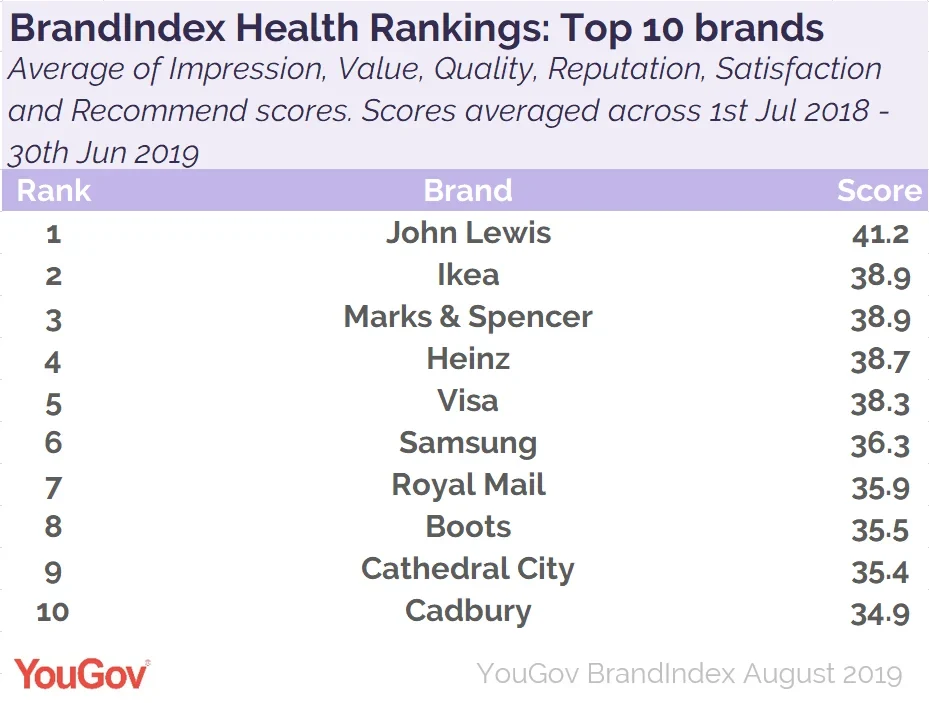 The rankings are drawn from interviews in Britain conducted between July 2018 and June 2019. Each day consumers are asked their view on 1,500 brands in the UK, which allows YouGov to build a picture of how different brands are perceived by the general public through comparing Index scores – an average of a brand's impression among Brits, value, quality, reputation, satisfaction scores and whether people would recommend the brand.
The top three placement of these retail brands runs contrary to news reports throughout 2018 and 2019 of the 'death of the high street', suggesting that companies need more than beloved brand to secure a long-term future.
For instance, our 2018 whitepaper, Is there still hope for the high street?, showed that although John Lewis is well regarded among Brits and tops this year's rankings, many don't see it as particularly good value. While second-placed Ikea has a Value score (a net measure of whether consumers think the brand represents good or poor value for money) of +43.4, John Lewis's score is a much lower +17.0.
John Lewis only retains its position at number one through its heritage and history – boasting a high Reputation score (whether someone would be proud or embarrassed to work for a brand) of +45.4 compared to Ikea's +24.1.
Although John Lewis consistently scores highly in our rankings, financial figures haven't necessarily reflected this in recent years. John Lewis' number one score this year is also 0.7 points lower than last year (41.9) meaning they may well be challenged in the near future. Ikea's score has in fact increased by 2.5 points (36.5) suggesting their positions may well be switched next year.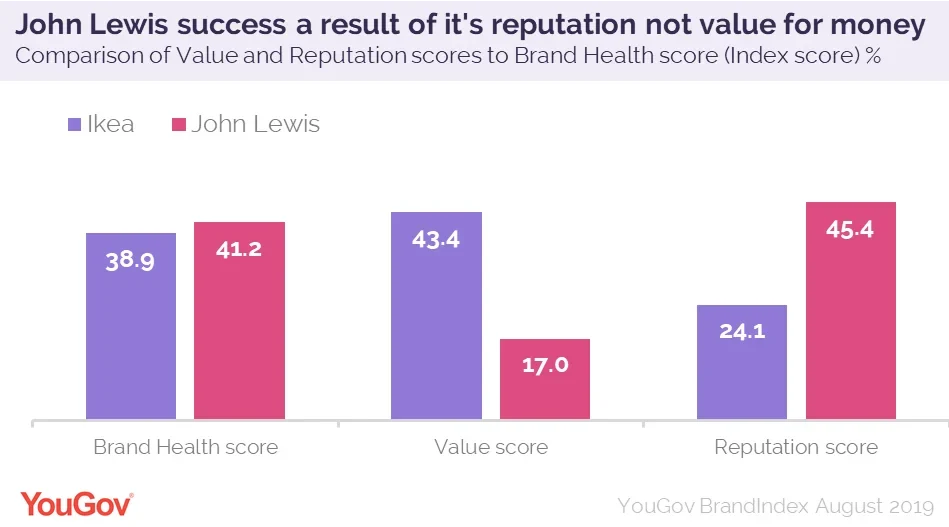 Ikea's place in the top three has potentially been earned by their focus on sustainability over the past few years, with many of their recent furniture ranges using completely recycled or renewable materials when possible. Their ambition to only use these materials by 2030 is aligned with the attitudes of consumers - 49% of shoppers try to only shop from companies who are socially and environmentally responsible. With more people becoming aware of the impact of their shopping habits, these environmental changes may have played a role in achieving second place.
There are also some new entrants in this year's top ten that share a rich history, such as Royal Mail and Cadbury. British brands like this have traditionally performed well in our rankings, indicating that consumers retain affection for brands with long and rich histories. Reputation scores for these two brands are almost identical, with Cadbury scoring +28.3 and Royal Mail scoring +28.2.
Interestingly, BBC iPlayer and BBC One both disappeared from the top ten this year. Last year overall, the BBC as a brand itself had a health score of +32.6 which then decreased by 2.4 points to +30.2 this year. However, scores decreased more among those aged over 50, decreasing by 3.2 points to +29.4, potentially as a result of the axing of free license fees for those aged over 75.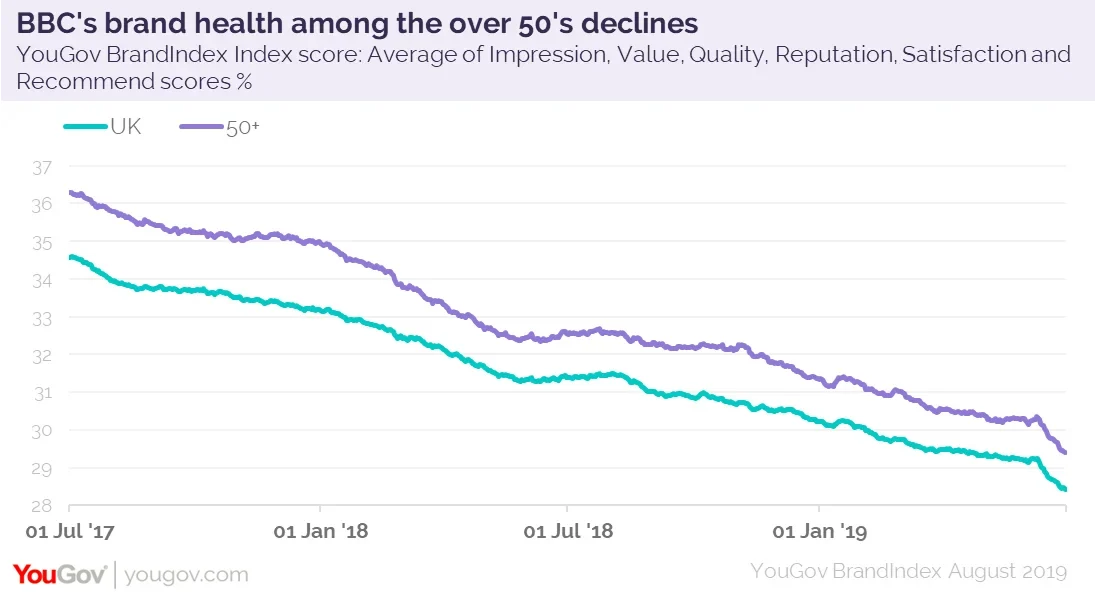 YouGov's analysis also looked at which brands have seen the biggest increases in brand health in the last year. First position is taken by last year's second place Netflix with a change in score of 7.9, followed by new entries Uber (5.3) and British Airways (4.1).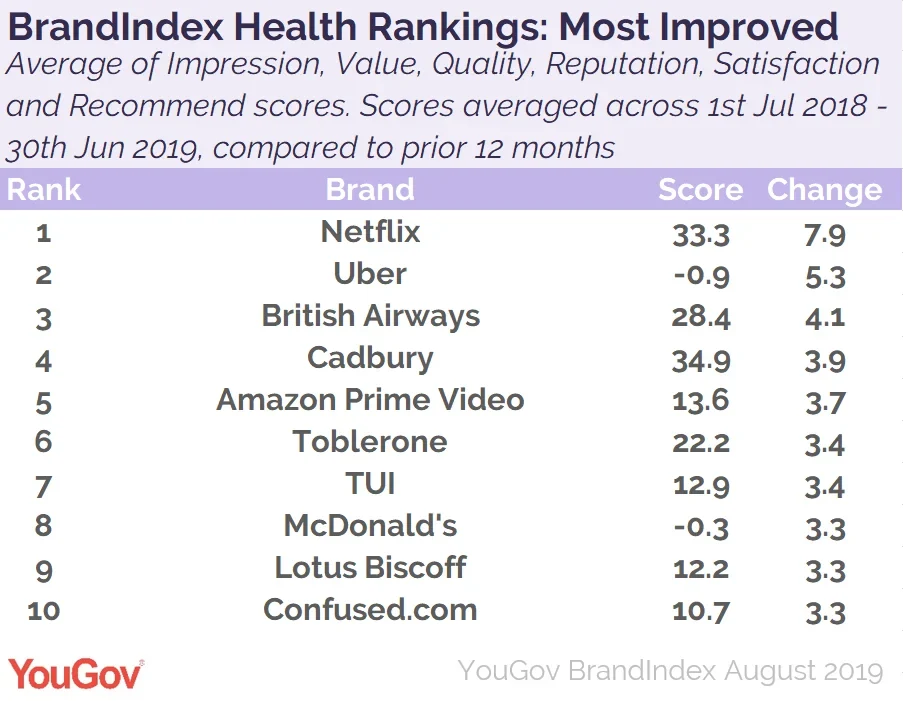 For several brands, entry onto this list will be due to strong improvement despite coming from – and remaining with - a negative score. This includes McDonald's, who take eighth place scoring -0.3 (which is a 3.3 point increase from last year's score of -3.6) and Uber, which saw a huge increase of 5.3 points (from -6.2 to -0.9) making it the second most-improved brand.
Uber had a difficult 2018 when TfL revoked its license over driver safety concerns. Improvement this year may be as a result of their successful appeal to overturn the ban.
McDonald's recent adverts have been particularly emotive, and their success can be seen in improvements of their Recommend scores (whether someone would recommend a brand to a friend or not) and Impression scores (whether someone has a positive or negative impression of a brand). Scores over the 2017-18 period were -5.4 and -1.9 respectively, which increased to -1.9 and +2.6 over following year.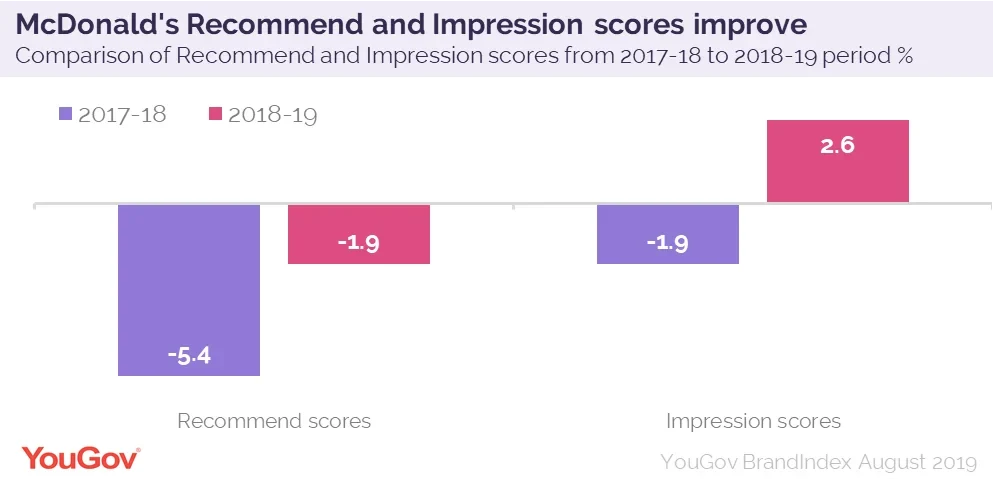 Google tops and tech dominates YouGov's global brand health ranking​
Eight of the top 10 healthiest brands in the world are considered tech companies
Much of the world says that tech brands are the healthiest in the world, according to YouGov BrandIndex's annual global brand health rankings.
Google once again takes the top spot in our yearly ranking, followed by What'sApp, YouTube, Samsung and Facebook.
In fact, the only non-tech brands to crack the top 10 in the annual ranking are Nike, the US shoe company that caused a stir with its advertising campaign in 2018, and IKEA, which remains strong just like last year.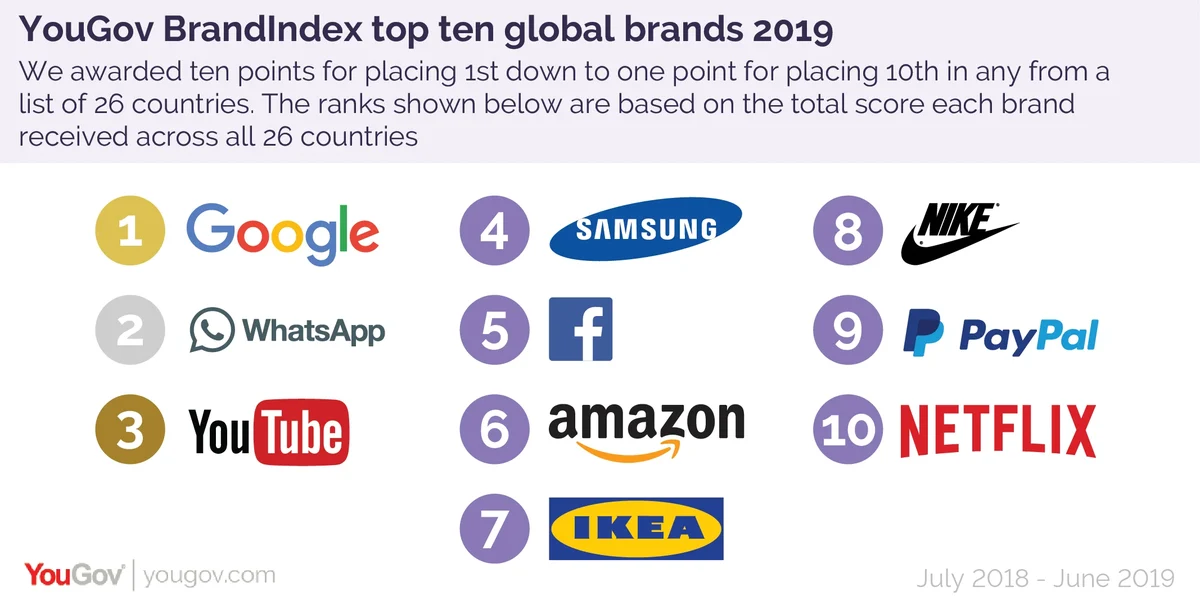 The BrandIndex ranking is based on more than six million interviews with YouGov panellists who answer questions about a company's quality, value and their level of satisfaction with the brand, among other things.
The rankings are based on YouGov BrandIndex data from across the world. BrandIndex operates in 40 countries across the globe, covering markets in North America, South America, Europe, Africa, Asia, the Middle East and Australasia.
For this year's list, YouGov used data from 29 countries – data from markets that cover three sectors or fewer were not counted in the global top 10. The rankings use the Index score which assesses overall brand health. It takes into account perceptions of a brand's reputation and whether consumers would recommend the brand to others, as well as whether it represents good value and quality.
Just like last year, digital brands dominate this global ranking and with good reason. By their very nature the likes of Google, YouTube, and WhatsApp are available in most places on Earth to anyone with internet access. However, while many of the top five have only been around for the last decade or two, classic brands that have been around a good while longer also make the list. Colgate, Uniqlo, and Adidas all still connect with the public and, as a result, have very positive brand health.
To see the full rankings click here