British high street retailer WHSmith has struggled with its reputation in recent years, after scandals where they were found to be selling selling e-books about abuse, and failing to pass on duty-free discounts to customers at airports.
However WHSmith's latest headache comes in the form of Which?'s annual high street shop survey, in which the stationer ranks last for the second year running with an overall customer score of just 50%.
The rankings are based on customer satisfaction and how likely they are to recommend it to a friend. Which? asked the opinions of over 7,000 of their members in January, based on their in-store purchases over the last 12 months.
YouGov's own data shows that WHSmith's Satisfaction scores (whether someone is a satisfied or dissatisfied customer) and Recommend scores (whether someone would recommend a brand to a friend or not) for the past 12 months are roughly half that of the highest scorer, M&S.
WHSmith has a Satisfaction score of +24.8 and a Recommend score of +13.8, compared to M&S's +52.1 and +41.6 respectively. Among current customers (who have made purchases in the past 3 months) these scores improve slightly. Satisfaction scores move by 24.5 points to +49.3 among this group, while Recommend scores improved by 16.4 points to +30.2. Comparatively, by the same measure, M&S had a Satisfaction score of +66.2 and a Recommend score of +53.3.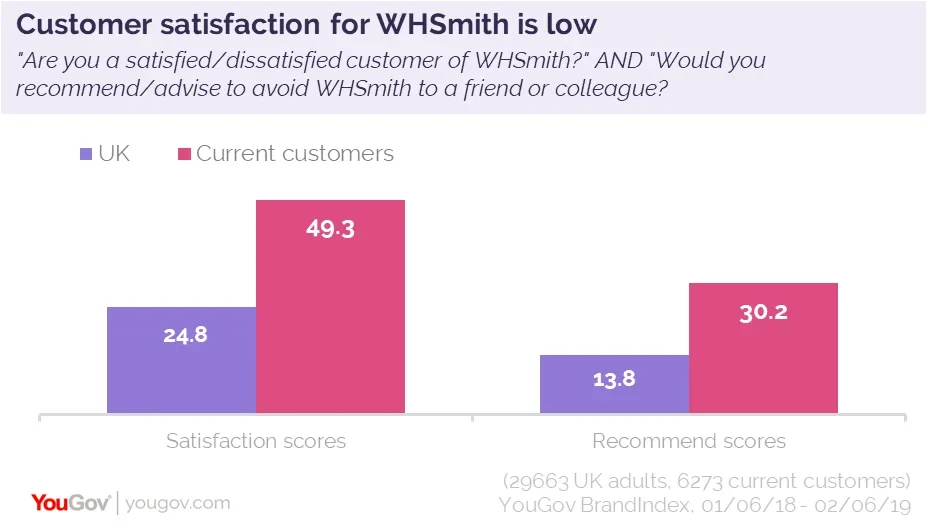 It's clear that WHSmith has work to do in order to bring shoppers back on board, and the impact of the Which? survey will not help. YouGov Buzz scores for the brand (a net measure of whether consumers have heard anything positive or negative about the brand in the last fortnight) suffered significantly after the results were published, both in 2018 and 2019, when WHSmith was declared 'the worst high street shop'.
Scores fell from -4.2 to -18.3 in June 2018 (although admittedly this release also coincided with a scandal after selling toothpaste in a hospital for much higher than other shops) and have again started to fall since the release of this year's data, from +0.9 to -2.7. Although WHSmith did manage to recover from this, the responses show that data on the performance of brands on the high street can themselves have a tangible impact on consumer impressions.
Image: Wikimedia Commons
This article previously appeared in City A.M.