Online fashion retailer Asos has revealed a year-on-year pre-tax profit plunge of 87% year on year over the past six months, despite sales rising 14%. Chief executive Nick Beighton agreed that the company is "capable of a lot more".
It has cited marketing changes for the fall in profits, and has found itself fighting off bad press and customer dissatisfaction more than once over the past six months.
Can Asos recover from this slump? YouGov data reveals the impact these various incidents have had on consumer perception.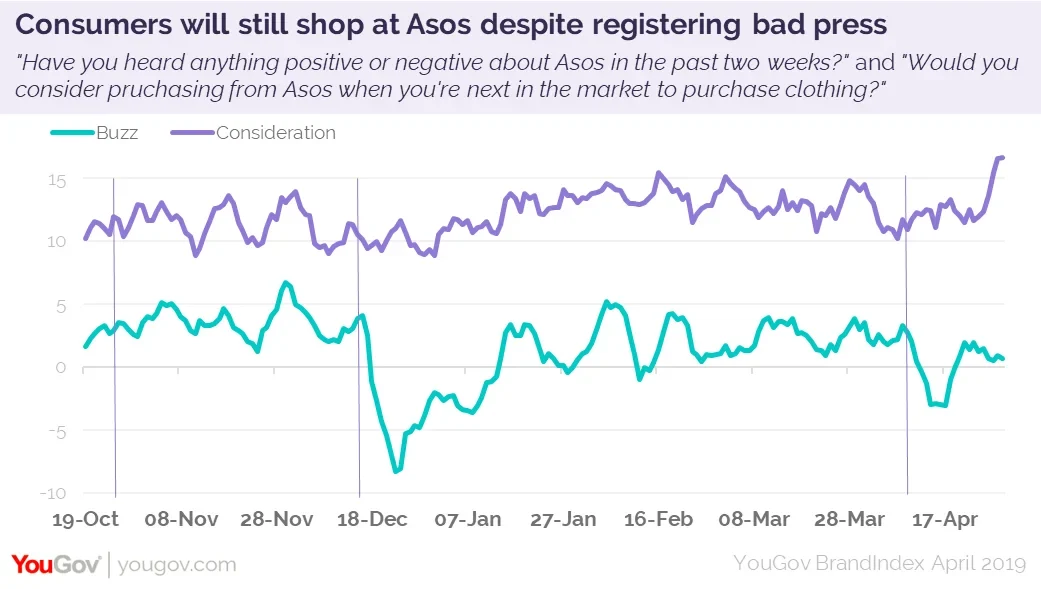 Asos scrapped their 'A-List' loyalty programme in October to the dismay of regular customers, which gave five points for every £1 spent to collect and spent onsite. Afterwards, Asos' Buzz score (a net measure of whether consumers have heard anything positive or negative about the brand in the last fortnight) remained steady at +3.5 increasing to +5.1 the week after, while Consideration scores (whether someone would consider purchasing from the brand in future) briefly declined. Asos was the only one of its competitors to offer such a loyalty scheme, and these scores after it was scrapped seem to imply that it was doing little for customer retention.
In early December Asos issued a sales warning after high levels of discounting created challenging conditions, leading to a staggering 40% fall in the share price. Buzz scores dropped by 12 points (+4.1 to -8.1) although Consideration scores actually increased from +9.4 to +11.7. This suggests customers aren't swayed by a brand's financial performance.
In an effort to stop serial buy-and-returners Asos has announced plans to suspend or blacklist accounts with suspicious purchase histories. This led to a public backlash from customers who felt they should be able to order multiple items then return those that don't fit or suit them. Buzz scores fell 6 points after the news (+3.3 to -2.9) but, despite the negative reaction, Consideration scores again rose from +10.9 to +16.7 – the highest point since September.
The general trend is that consumer perception is fairly robust in the face of negative press, and purchase intent hasn't decreased. Asos customers are more concerned by designs and fabrics than balance sheets and controversy.
Image: Getty
This article previously appeared in City A.M.