Childcare and maternity retailer Mothercare this week reported an 8.8% decline in like-for-like sales since January. The business has had to close 30% of its 137 stores over the same period after admitting it was in a 'perilous' financial situation in May last year.
Despite this, Mothercare executives are optimistic predicting a "sustainable and profitable future", according to chief exec Mark Newton-Jones. The company is on track to deliver at least £19 million in annual cost savings.
But is this optimism well placed? YouGov data suggests perhaps so; Mothercare is still viewed favourably by customers, particularly women, with 52% having a positive opinion of the brand, compared to 35% of men.
Mothercare remains a strong brand in the retail space. Consideration scores (whether someone would consider purchasing from the brand in future) have remained fairly steady since July 2018, with scores ranging from +6 to +10.
However, with parents of both genders, which is obviously the brand's main audience, consideration sees a significant change, increasing by +8.4 from the summer (+8.2) to Christmas (+16.6) for male parents, and increasing by +8.8 (+9.4 to +18.2) for female parents. These scores would suggest that Mothercare is still appealing to its core target market.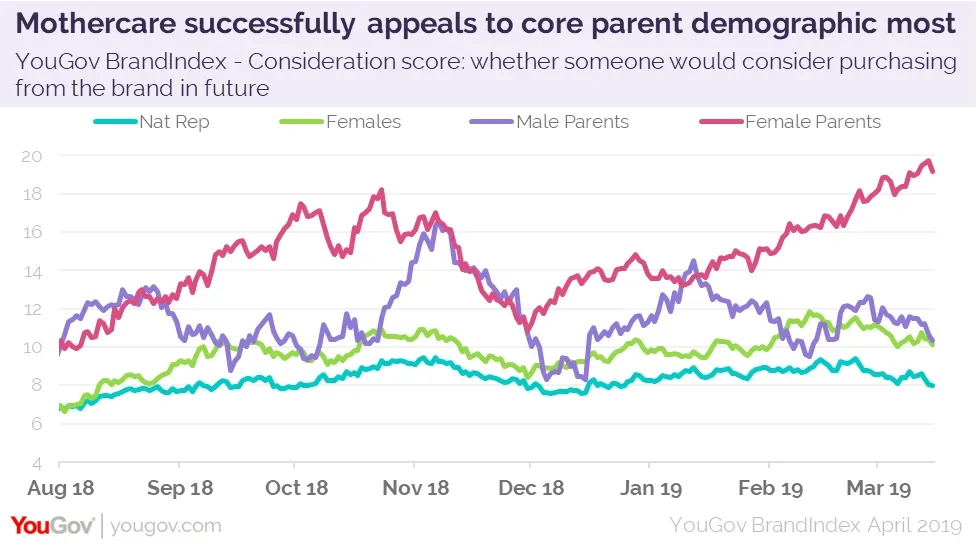 One factor may be the brand's marketing, including the most recent campaign which demonstrates core understanding of their target market. The advert released in February showcases the post-partum bodies of new mums with the slogan; "Beautiful, isn't she" and was praised by consumers and the ad industry alike.
Following the ad's release, Mothercare's Ad Awareness scores (whether someone has seen or heard an advert broadcast by a company in the past two weeks) rose by +1.7 (+1.6 to +3.3) with females after the advert was released, and +5.4 (+0.9 to +6.3) with women who have a child at home.
The data suggests Mothercare understands their core demographic which is reflected by strong consideration scores. Although management have reported sales declines, this data shows that Mr Newton-Jones has reason to be optimistic: his marketing team has managed to target its message very effectively.
This article was previously seen in City A.M.