We reveal which brands have the largest gap in awareness between Londoners and non-Londoners
Londoners are often guilty of acting as though the capital is the centre of the known universe, yet life, business and culture nonetheless thrives outside the M25.
This divide between London and everywhere else was characterised in the Financial Times as a battle between Pret A Manger and Greggs:
"Pret has emerged as one half of a joke on Twitter: that the London-centric chain is Remain, while Newcastle-based bakery chain Greggs is Leave. The north vs London, sausage roll vs quinoa salads, traditional consumers vs the liberal metropolitan elite."
In order to examine this capital versus country cultural divide we've used YouGov Ratings data to look at which brands Londoners are more likely to have heard of than those who live elsewhere – and vice versa.
The most London-centric brands
Topping the list of almost 8,000 YouGov Ratings entities is private hire taxi company Addison Lee, which 83% of Londoners have heard of but for which only 29% of non-Londoners can say the same – a difference of 54 percentage points.
The awareness gap is similarly wide for second-placed shopping mall brand Westfield (which 93% of Londoners know about compared to just 41% of those outside the capital) and third-placed local TV station London Live (which 76% of Londoners know about but only 25% of people elsewhere do).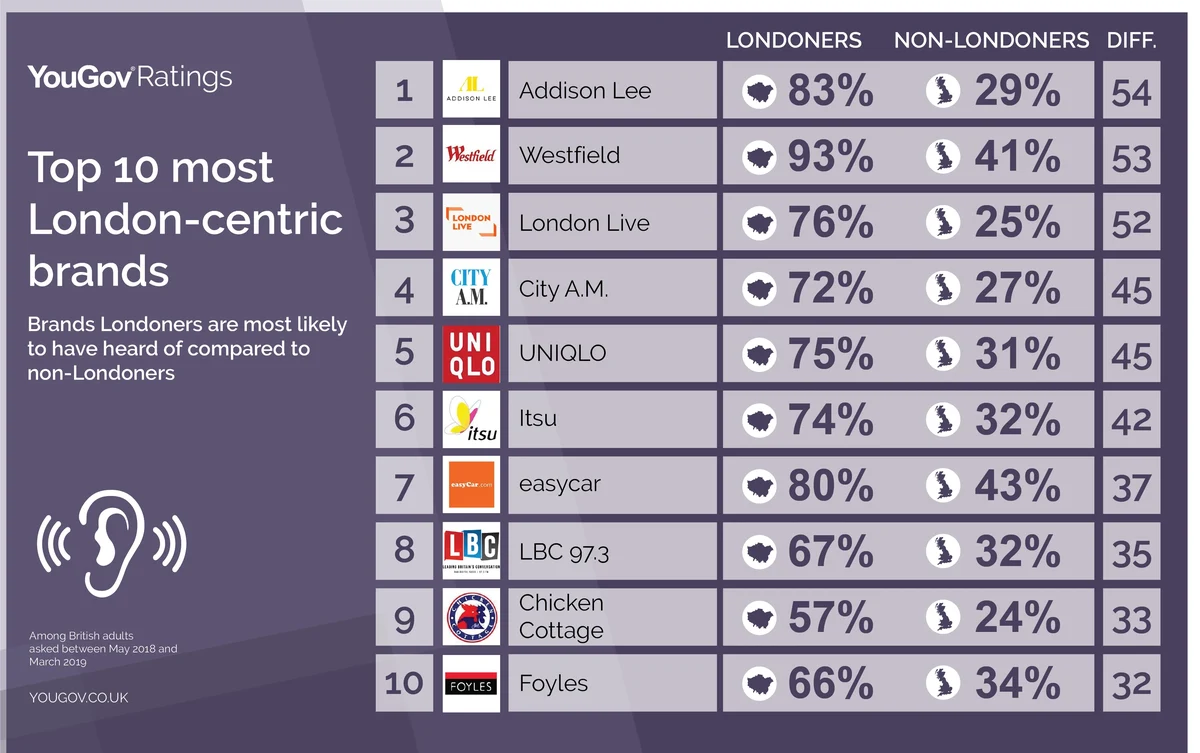 Unsurprisingly, the top ten is filled with brands that exclusively or primarily operate in the capital. Of the top ten brands, only fast food outlets Itsu, Chicken Cottage, car rental portal easyCar and radio station LBC have a substantial presence outside of London (in terms of store locations, availability and listenership, respectively).
The least London-centric brands
Topping the list of brands that non-Londoners have heard of that Londoners haven't is retail chain The Range. While there are 150 stores nationwide, only two are within the confines of the capital. Consequently, while 84% of non-Londoners have heard of the chain, just 52% of Londoners can say likewise – a difference of 32 percentage points.
Car sales retailer Evans Halshaw comes in second, being familiar to two thirds (67%) of non-Londoners but just 39% of Londoners – hardly surprising given that there are no branches in London (and indeed that capital residents are less likely to drive).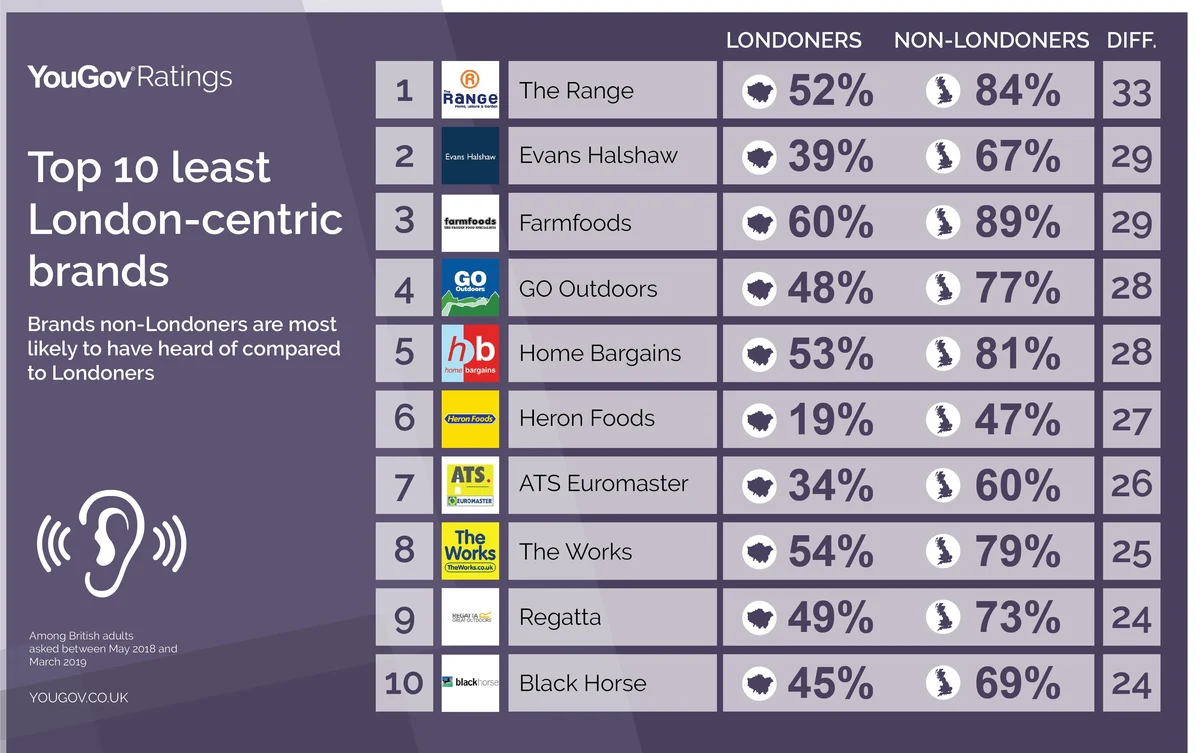 They are followed in third place by supermarket Farm Foods, which has more than 300 shops throughout Britain but just six in London. While a majority of Londoners (60%) have heard of the brand, they are far outnumbered by the 89% of those outside the capital who are also aware.
Pret vs Greggs
The eagle-eyed among you will have noticed that neither Pret A Manger nor Greggs appeared in either top ten. Ultimately there is actually only a very small awareness gap for these two brands, in large part due to them being very well-known across the land.
Almost everyone has heard of Greggs: 98% of Londoners and 99% outside the capital. Nor is the capital versus country gap particularly big when it comes to Pret A Manger: 97% of Londoners know of the sandwich store, while 91% of those elsewhere say the same.
So what high street food shops do best represent London and the rest?
Rather than Pret, the aforementioned Japanese-inspired fast food chain Itsu is the dining brand that Londoners are most likely to have heard of when compared to people elsewhere (74% versus 32%).
Perhaps ironically Pret's key rival EAT is actually a much better example of London-centrism than Pret itself, with 90% of Londoners having heard of it compared to 61% elsewhere (a gap of 29 percentage points between city and country, compared to the mere six point gap for Pret).
When it comes to the reverse, there is not actually a chain among the 84 "dining brands" in YouGov Ratings that is of a similar type to Pret or Greggs that is also substantially more well-known outside the capital than in. Of all dining brands, it is pub chain Hungry Horse that is better known in the country at large (78% vs 58%), but obviously this is not a comparable type of venue.
Photo: Getty