As anxiety about fate of the high street continues to grow, we look for pointers in the post-Christmas trading updates. That is the period that competition is most acute, and the coming results should be most telling.
However, one company has done well over the holidays: fashion and homeware retailer Next. Their Christmas trading results show a 15.2% increase online, which helped offset a less optimistic 9.2% fall in stores. Across the company year on year sales were up 1.5% between October and December.
Next's Buzz Score (a net measure of whether consumers have heard anything positive or negative about the brand in the last fortnight) peaked during the Christmas shopping period at +6.7, almost double their score 6 months ago. It remains stable.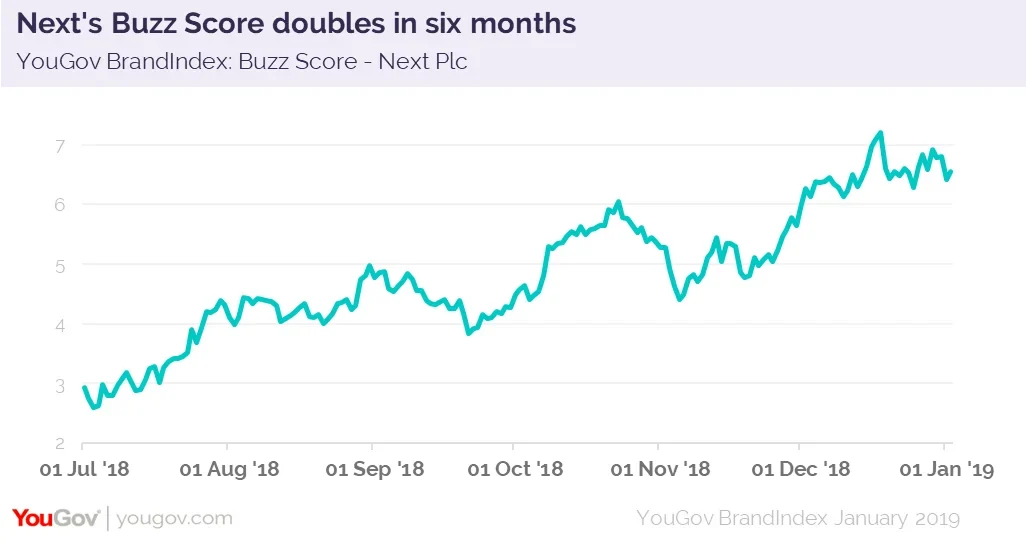 However, despite positive news, the group has since downgraded profit forecasts and is expecting a difficult financial year based on the "previous economic environment experienced and the upcoming uncertainty of Brexit".
Next was the first retailer to report on festive performance and after weeks of retail gloom, such as HMV entering administration, their performance is striking.
YouGov BrandIndex data suggests why Next has performed so well when others have struggled. The brand's purchase intent score (which brand is someone's first choice to purchase from) has followed a positive trend over the year, reaching its peak on Christmas Eve at +13. This is 4 points higher year on year.
Next's consideration score (whether someone would consider purchasing from the brand in future) also reached its highest point this year on the 4th December at +35 points.
YouGov's upcoming whitepaper on retail 'Is there still hope for the high street?' also reveals that Next's customers are recommending the brand more than ever. Next's NPS score (the likelihood for customers to recommend) was on a downward path up until mid-2017 with its recommendation score dropping to an all-time low of +35. However, as of the 1st October 2018 its score jumped to an unprecedented +42.
This suggests that although Next is right to be cautious, their customers are still buying stock and loyal to the brand.
Data gathered using YouGov BrandIndex.
Image: Getty
Article previously seen on CITY A.M.