Last evening (9th October 2018), ASOS was announced as the 'Brand of the Year' at this this year's Marketing Week Masters, held at Tobacco Dock in London.
The other brands nominated for the award were The Guardian, Harry's, Heineken, Ikea, KFC, Lloyds Bank, Quorn and JD Wetherspoon.
YouGov BrandIndex data fed into the decision making process, which also included public votes and the thoughts of a panel of judges.
YouGov data underlines how the fashion brand has succeeded over the past few years.
If we examine ASOS's Purchase Consideration score among the public as a whole firstly, we see it has improved from 6% in July 2013, to 11% in July 2018.
Among ASOS's crucial target demographic – 62% of its customer base is aged 18-34 – Purchase Consideration continues to rise. If we look back over the past five years, we get a clear picture of progress on this front.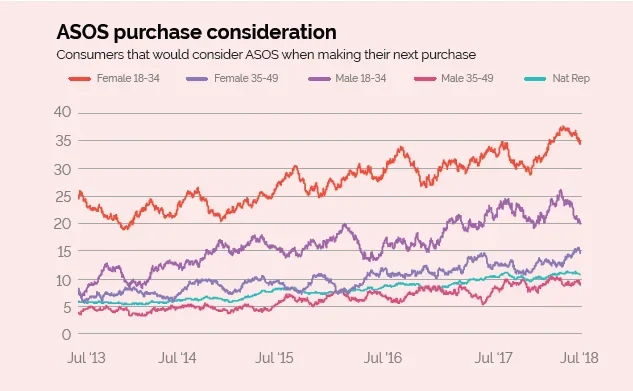 Among women aged 18-34, its score among this group has grown from around 25% to 35% now. Similarly, among men in the same age group, its rating has jumped from around 8% to 20%.
Instagram is of course crucial to the success of the brand among younger consumers. On this front YouGov brand tracking data indicates that heavy Instagram users (i.e. people that visit the four or more times a week) have a higher perception of ASOS across all brand health metrics, compared to non and low users.
Added to this, heavy Instagram users are also more than twice as likely to consider purchasing from the brand; 26% vs. 11%.
In short, ASOS continues to make great strides in an extremely competitive and hard-fought industry, appealing to its core-consumers with a mix of great prices and the latest must-have fashion items.
Image Getty