News emerged this week of potential plans to oblige restaurants in England to put calorie counts on menus. The Department of Health wanted to make it a requirement as part of its wider childhood obesity strategy.
However, according to the BBC, Chief Secretary to the Treasury Liz Truss has said the policy would be a burden on 26,000 small businesses and could lead to job cuts.
New YouGov data reveals that 42% of the public believe restaurants should have to display the calorie count of every meal on their menus, while 42% think they should not. A further 16% don't know.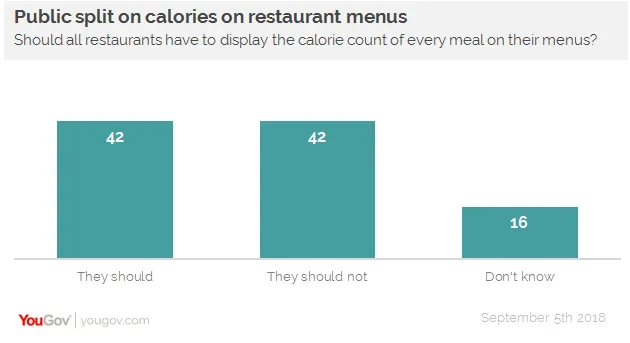 There are notable age splits on this policy idea. For example, close to half of 18-24s are think restaurants should display calories on menus, against 33% of the same age group that do not. In comparison, 36% of those aged 65+ support it, against 47% of that cohort that are in opposition.
Those living in London are most likely to be behind the proposal with 48% of those residing in the capital in favour.
Of course, there will be questions around how practical this proposal is – particularly for smaller restaurants that regularly change their menus. Added to this, it may be asked whether people who are perhaps treating themselves one day a week necessarily want to be reminded of their calorie intake while they're out enjoying a meal.
On the other hand, many will welcome any initiative that pledges to tackle obesity and help people make healthier eating choices. These two opposing views perhaps explain why the public was so split in our survey.
Image Getty