New YouGov Custom research underlines how important the World Cup has been in attracting new customers to betting companies.
YouGov's research reveals how the scale of excitement and enthusiasm generated by the tournament has translated into involvement into betting, whether that was in a fun office-based competition, or with an established betting organisation.
The study shows that 14% of Brits (around 7 million people) took part in a World Cup sweepstake with their friends, family or workplace, including almost a quarter (24%) of full time workers.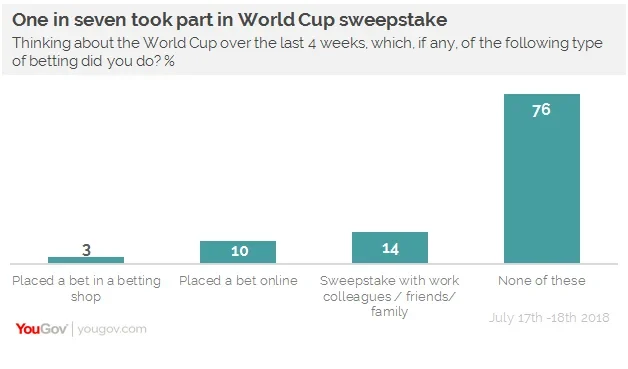 Outside of the work environment, YouGov data suggests that 6million people in the UK placed a bet on the tournament, either in a traditional high-street betting shop, or online (equivalent to 12% of the adult population). Crucially for online brands, more than three times as many people placed their bet online than in a physical bookmaker.
The exciting element of this for betting brands – aside from the general willingness to gambling on the competition – is that more than 1million of these people were 'new gamblers', i.e. they had not placed a bet on sport in the previous year.
Introductory offers sometimes been derided by industry critics. But their importance can't be overestimated in this case. One third of World Cup bettors (around 2million people) opened up a new account in order to take advantage of free bets and offers.
The challenge for gambling brands is to sustain interest in the industry now that the hope and hype of the tournament has dissipated. With the next World Cup an agonising four years away, gambling companies can't rely on the 'Three Lions' to bring customers in, so marketing campaigns concentrated on new but infrequent consumers are crucial.
Image Getty