Recently, 888.com was fined a record amount for failing vulnerable customers. Our brand tracking data underlines why the company, and perhaps the industry more generally, should be aware of how consumer opinion can change following negative new stories about how they go about their business.
YouGov's Buzz score measures whether someone has heard something positive or negative about a brand in the last fortnight. Looking at 888.com since the start of August it is clear that the public have increasingly heard bad things about the brand. Its Buzz score declined fairly rapidly among all respondents after news of the fine broke at the end of last month, falling from -2 prior to the scandal, to -9 in mid-September.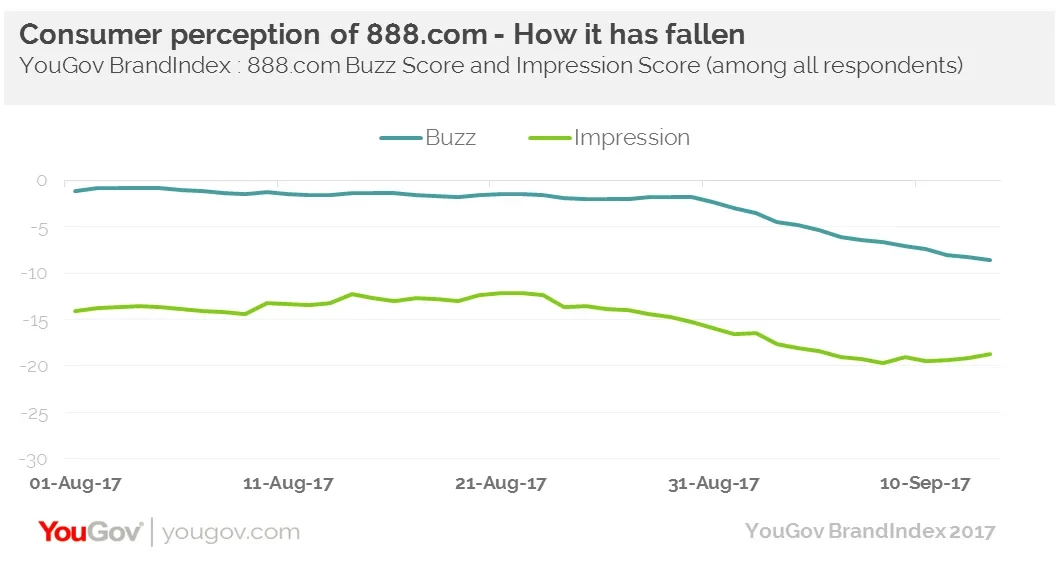 Of course, it is one thing to see negative headlines, and quite another for this to have an impact on a brand's perception more widely. The bad news for 888.com is that its perception has taken a hit, in the short term at least. Its Impression score (whether someone has a positive or negative impression of the brand) has also declined in recent weeks, falling from -14 to -19. The score appears to have levelled out, meaning the worst seems to be over for now and it can begin to recover.
Our data also allows us to look deeper and ascertain how gamblers' perceptions specifically have changed following the fine. Looking at those that have placed at least one bet online in the last six months, 888.com's Impression score declined, albeit by a slightly smaller amount, from -8 to -12.
Of course, 888.com has not been the only brand caught up in the customer welfare scandal, with Ladbrokes, Sky Bet and Casumo all being accused of targeting vulnerable people with 'fake news' adverts. However, so far most of the media focus seems to have been on 888.com and none of the other brands that YouGov tracks have seen their Impression scores drop too noticeably among the general public. Of course, this may change as more headlines emerge.
It must be said, though, that many gambling firms are not generally as well-regarded compared to most of the other brands YouGov tracks in other sectors. With the sector under increased scrutiny from press and politicians, our data shows that a brand in the spotlight for all the wrong reasons can see its perception suffer among both the general public and their potential customers.
This article originally appeared in EGR Magazine