The boost in performance at Primark has been attributed to both the weakening of the pound following the EU referendum last June and the brand's work to stem its declining profit margins.
However, this does not tell the full story. Our research suggests Primark's improving fortunes have deeper roots – which points to a bright future for the retailer.
YouGov BrandIndex data points towards other positives for Primark – with several brand perception metrics moving in the right direction.
Among all respondents, Primark's Impression score (whether someone has a positive impression of the brand) has risen from -4 to +1 since the beginning of April. What's more, among those with an income of less that £25K, Primark's Impression score is at +11, higher than it has been at any point in 2017.
This improvement is reflected elsewhere. Low prices, of course, has always been Primark's major selling point. Among all respondents, Primark's Value for Money score has risen by four points since the turn of the year (up from +18 to +22). Among those earning less than £25k, though, it has increased by eight points (from +17 to +25).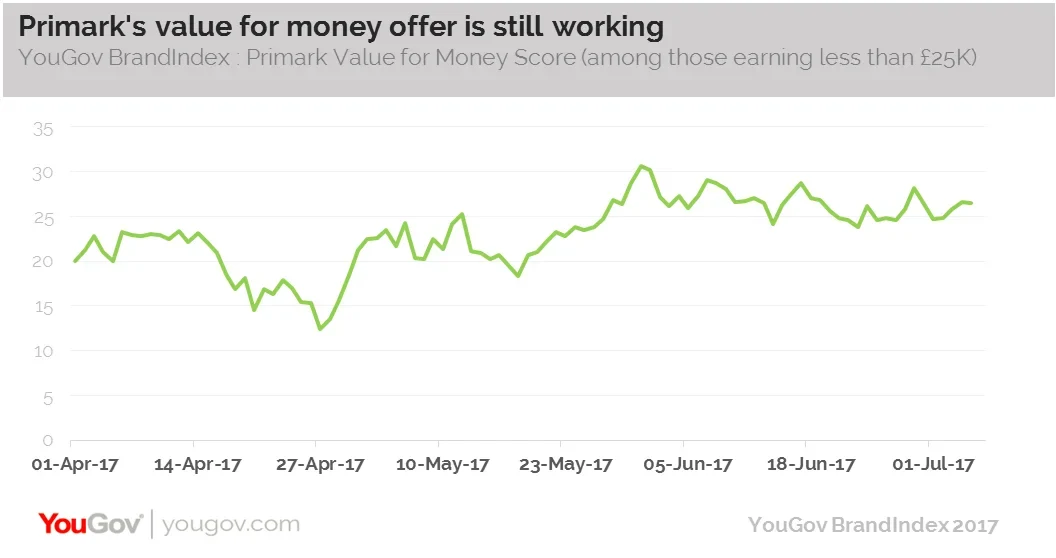 The stereotypical view of Primark shoppers may make it seem as though it is all about value for money. However, YouGov Profiles shows it is more complicated than that. While over half (53%) say they don't tend to choose premium services and products (compared to 43% of the public), the data shows that they are also fashion conscious.
Approaching four in ten (38%) current Primark customers say they like to keep up to date with current fashion trends, compared to 28% of the general public. Over three in five (63%) of its customers like to think of themselves as well-dressed, as opposed to 58% of the public.
As wages stagnate and household budgets are squeezed as inflation rises, Primark seems poised to take advantage.
This article originally appeared in Retail Week
Image PA