In recent weeks, several businesses have announced they will fund the living wage by cutting back perks for staff – something which is causing the public to turn against the brands in question.
One of the best examples where this has happened is Caffè Nero.
The high street coffee chain has reacted by informing staff that wage increases will come at the cost of the free lunches they were given previously.
Caffè Nero defended its decision by stating that it is paying all staff the living wage, not just the stipulated over-25s, and that these changes to pay would have a "significant financial impact on the business.''
The company has also been accused of failing to pay its "fair share" of corporation tax.
It has not paid any of the duty since 2007 despite profits of £23.6million in the 2014-15 tax year.
Caffè Nero is by no means the only company to change their policies in the wake of the wage hike.
Fellow high street food chain EAT will no longer pay staff for 30 minute breaks, while Waitrose has stopped paying Sunday and overtime rates for new shop workers.
YouGov BrandIndex shows the public has reacted negatively to Caffè Nero's decision.
Among those who are aware of the brand, there has been a considerable dip in Caffè Nero's overall Impression score, with it decreasing from +14 to +7 since the story broke.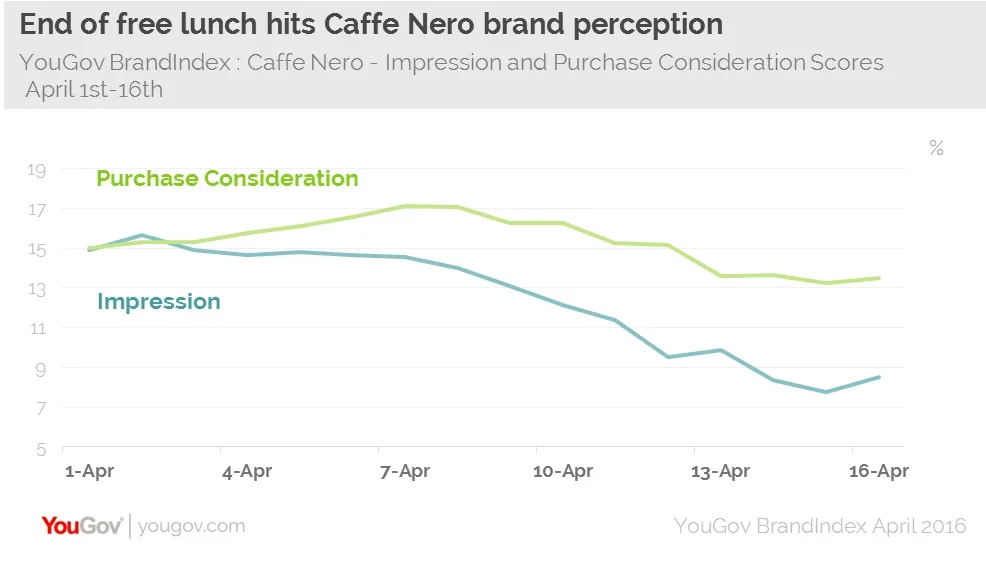 But it has not just suffered a perception blip, the story has also affected whether people say they from the company.
In the past two weeks, Caffè Nero's Purchase Consideration Score (whether a respondent would consider buying from a brand) has dropped by 4 points.
Of course people saying they won't buy their favourite coffee doesn't mean they will stick to that intention – Starbucks' score dipped by 4 points when it was in the news for its tax affairs but recovered that number within 5 months.
Image PA
| Interested in brand tracking? | READ MORE |
| --- | --- |