As The Independent's new 'i' newspaper enters its second week of distribution, our respondents have been debating whether the condensed 20p format is 'great for a busy lifestyle' or if it's actually no better than the free alternatives available.
Many respondents were enthusiastic.
'Sounds perfect for people with busy lives,' said one
Another commented: 'I would like to try it. Currently newspapers pad out real information with unnecessary and irrelevant data'
While another enthused 'I'd definitely give it a look, for 20p what have we got to lose? Couldn't even get a bar of chocolate for that!'
Many people also commented that they would welcome a short newspaper that 'rivals the tabloids.'
However, respondents also raised several factors that would dissuade them from purchasing the paper.
Some worry 'it would be a case of dumbing down the news'.
Others argue that the market is 'already flooded'.
Many people commented that they 'rarely' read newspapers, as they are more likely to 'watch television or go online' to keep up-to-date.
Others said the price, although low, put them off. 'Why pay for a newspaper when you can get two free a day?' pondered one person, referring to the Metro and Evening Standard editions available across London and other UK cities.
And the reaction from those who had already seen the paper was equally mixed.
I like the quick coverage of news in brief column articles, the puzzles and the very good price,' said one impressed reader
Whereas another commented, 'I purchased this paper today. I would not do so again.'
The Independent claims that the daily edition, aimed at 'lapsed readers of quality newspapers' who don't have time to read an entire daily broadsheet, is the first 'quality' daily paper to be launched in the UK since 1986.
The Independent admitted that 'as with any new product, it will take [readers] a little time to feel comfortable with i. But we have tried to make everything as logical as possible, taking seriously our role as your guide through the information overload.'
But while i seems a willing guide, it seems some among the public may not be so willing to be led.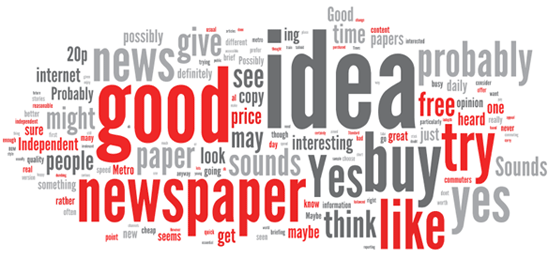 What do you think about i? Have your say on TellYouGov: the topic keyword for this is 'i Newspaper'