Many Britons are concerned about booking trips unless they're in the distant future. But there are ways that travel firms can target their marketing to reach a willing audience, says YouGov's Amelia Brophy
The public are still reluctant to book trips abroad, despite the Government changing its travel guidance nearly two months ago and effectively reopening the borders. Only one in ten people (10%) would feel comfortable booking a holiday within a month of departure, while an overwhelming 84% currently would not.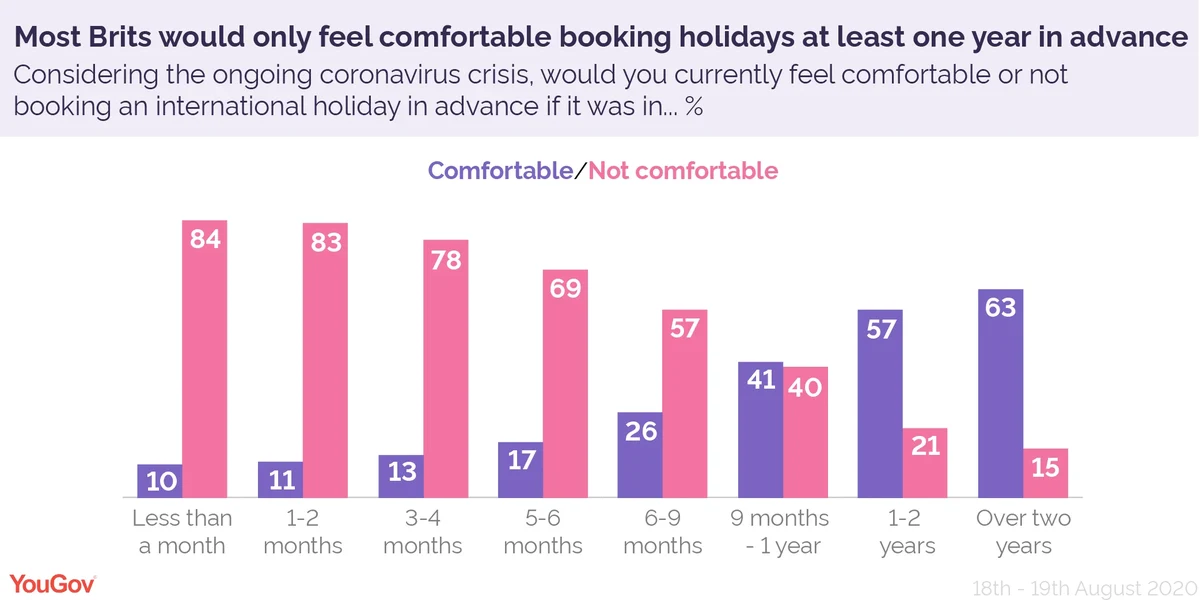 The figures for bookings further ahead are similarly low, but people slowly become more comfortable as the departure date extends into the future: one to two months (11% comfortable versus 83% not), three to four months (13% comfortable versus 78%) and five to six months (17% comfortable versus 69%). Last-minute quarantine policies and sudden spikes in cases in some countries are likely to have increased this sentiment.
Over half of Brits (57%) still find booking a holiday half a year to nine months in advance too precarious, while a quarter (26%) are more at ease. And the public are tied on how they would feel about arranging a trip nine months to a year from now at 41% vs, 40%.
Only if booking one to two years in advance would a majority currently feel comfortable (57%). Similarly, three in five people (63%) say they would feel safe buying a holiday for over two years from now.
Getting consumers to fork out for experiences in the distant future is one big challenge facing operators. Another is that airlines and other providers mostly only accept bookings up to a year before. Adapting to the new normal and offering cheap deals far in advance could provide some leeway for cash-strapped travel companies.
Not all consumers are alike either. In every instance, younger people were more likely to feel comfortable with making a booking. And a higher number of men than woman felt at ease with making arrangements up to nine months before the trip. This kind of insight may inform successful travel marketing campaigns in coming months.
Many people still feel uneasy about tourist activities
While one aspect of booking a trip is risking money and time spent quarantining, the threat of coronavirus means many people simply feel nervous about going to a beach, hotel or restaurant abroad for health reasons.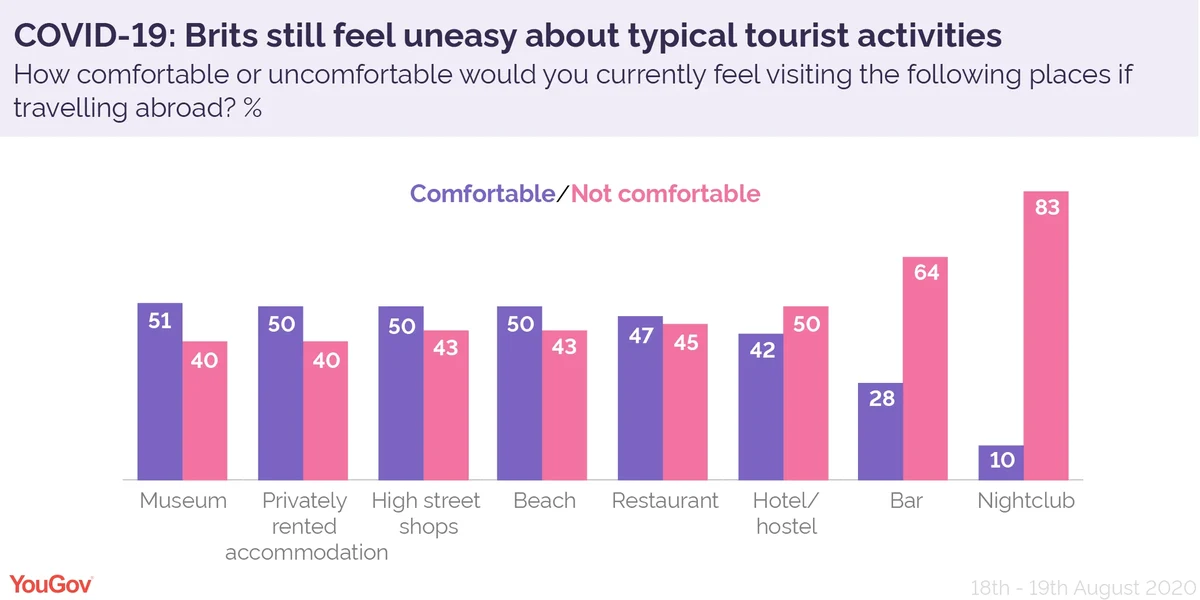 Most travellers are likely to avoid nightlife while away on a trip, with Brits overwhelmingly saying they would feel uncomfortable going to a nightclub (89%) or bar (64%).
Hotels and hostels are also seen at as more precarious (42% comfortable versus 50% not comfortable) than privately rented accommodation such as Airbnb (50% versus 40%).
Consumers are split on how they would feel going to a restaurant while on holiday at 47% versus 45%. Meanwhile, beaches (50% versus 43%), high street shops (50% versus 43%) and museums (51% versus 40%) are deemed slightly safer.
Younger people are more likely to feel at ease in most of these settings. But we're unlikely to see hordes of young Brits flocking to Magaluf, Ibiza and other popular nightlife destinations any time soon, as only a minority would risk going to a nightclub (22%) or bar (34%).