Holiday firm Thomas Cook collapsed this week after 178 years, despite pleas for a Government bail-out. The news triggered the largest ever peacetime repatriation to bring home 150,000 stranded holidaymakers.
YouGov data shows that the majority of Brits (54%) think that Government was right not to intervene, and 63% are of the opinion that the requested £200 million wouldn't have saved it anyway.
Since Thomas Cook's share price crashed in May after its third profit warning in less than a year, the travel company's brand health has struggled to recover. Thomas Cook attributed the crash to Brexit, saying there was "now little doubt" that it had caused customers to delay their summer holiday plans.
YouGov data shows that the brand's Buzz scores (a net measure of whether consumers have heard anything positive or negative about the brand in the last fortnight) plummeted from an already low 0.0 in May to -13.7 in the following weeks. Despite gradually making a partial recovery to -4.3, this then fell again to -11.8 following the failure of the brand to secure a bailout.
The negative coverage shrouding the brand this year had dented Thomas Cook's reputation and, consequently, the likelihood that people would consider booking a holiday with them – not that this is a factor any longer.
Since last month, Reputation scores (whether someone is proud or embarrassed to work for a brand) fell from 10.1 during August to 5.1 in September – falling from 10th position to 20th amongst other travel companies such as Booking.com, Virgin Holidays and Secret Escapes.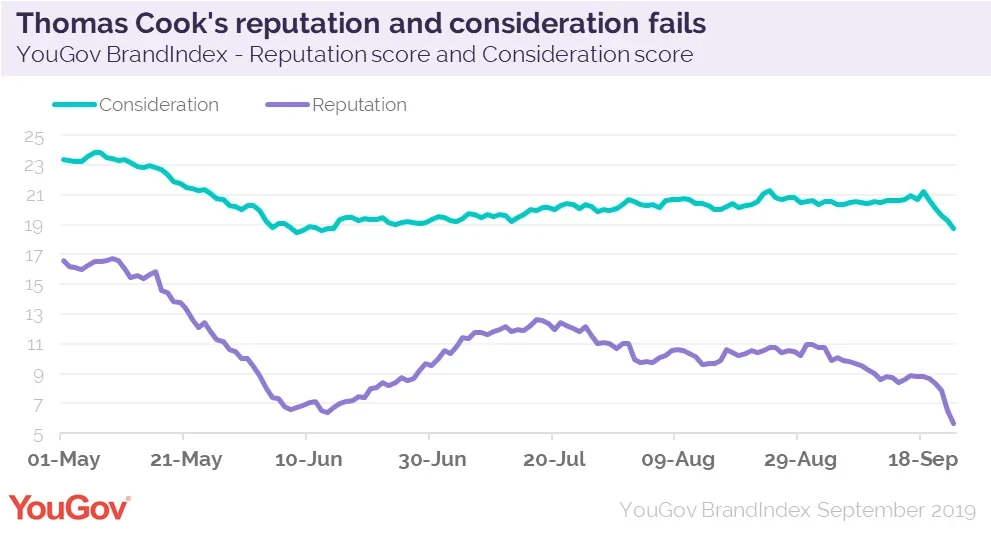 Similarly, Consideration scores (whether someone would consider purchasing from the brand in future) also fell from +23.9 in May to +18.7 this week – a 5.2 point decrease. However, despite this Thomas Cook does still rank 6th among travel companies for consideration, only behind Booking.com, TUI, expedia.co.uk, Jet2holidays and Trivago.
Unfortunately, it appears that Thomas Cook struggled to recover following the profit warning in May, which ultimately lead to the brand's demise. Might the brand be saved in liquidation? Before the news of its financial failure the brand was gradually rising, so there may yet be something to salvage.
This article previously appeared in City A.M.