Nissan chief executive Hiroto Saikawa is stepping down after becoming embroiled in the latest round of financial controversy to rock the Japanese car giant. Saikawa admitted that he had been improperly overpaid in his role, with payments which were not illegal, but were against company policy.
Saikawa has only been in post since February of 2017 when he replaced former chief executive and chairman Carlos Ghosn. Saikawa was seen as the right-hand man of Ghosn, who is facing his own accusations of financial misconduct which led to his arrest last year.
However, despite these swirling accusations of misconduct, YouGov data shows that Nissan remains popular here in the UK and that corporate controversy has little part to play in consumers' car-buying decisions.
Nissan's Buzz score (a net measure of whether consumers have heard anything positive or negative about the brand in the last fortnight) has strengthened among those who are in the market to purchase a new car within the next year, rising 12 points since July, from -8.9 at its lowest to 4.5.
The Buzz score also looks significantly healthier now than during the stark drop Nissan experienced when it announced it was no longer going to manufacture its new X-trail SUV in the UK back in February due to the uncertainty of Brexit, and when it announced job cuts in July. Looking at Buzz scores among Leave and Remain voters we can see little difference, showing that even the most divisive issue in the UK doesn't seem to affect the brand.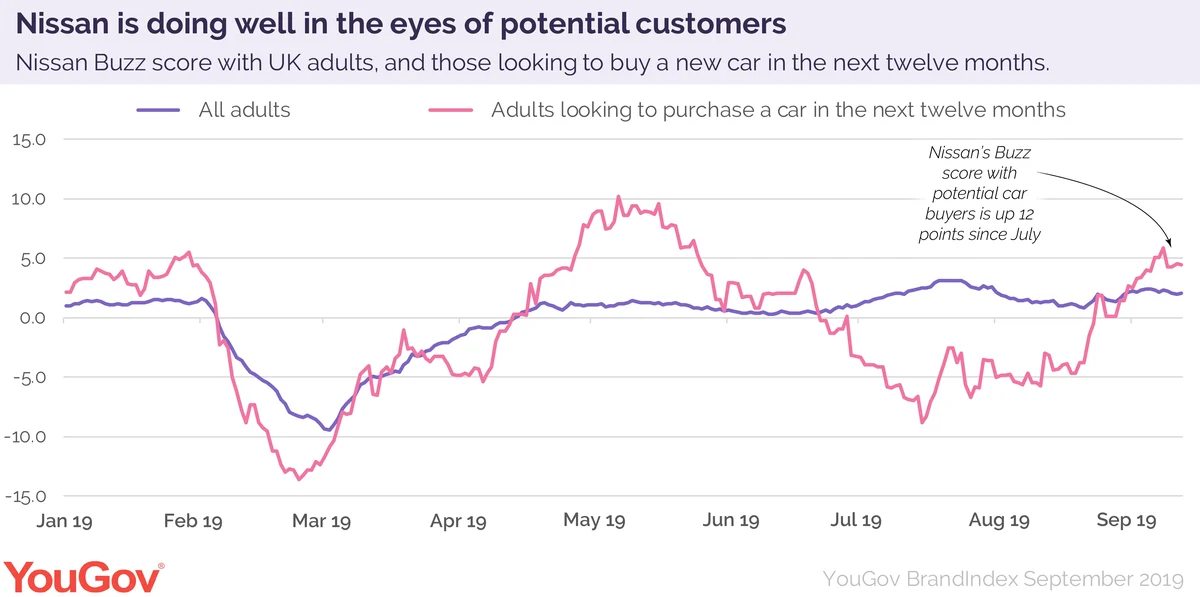 Nissan's impression score (whether someone has a positive or negative impression of a brand) also received a boost, rising from 12 points to 22 among those looking to buy a new car, and once again remaining steady with the wider population, possibly thanks to the reveal of a redesign for the company's Juke range of compact SUV's earlier this month. So even as the company reels from financial scandal to financial scandal, it's clear that the desirability of the cars is the only thing that shifts public opinion.
The company's consideration score (whether someone would consider purchasing from the brand in future) has also remained steady with potential buyers during the bad headlines, staying between 15% and 20% since July.
We've seen time and time again that bad news doesn't stick to the big car brands, with Nissan following a similar path as Volkswagen did following its 'dieselgate' scandal of September 2015. The scandal saw VW's buzz score drop to -70 but quickly recover to normal levels within four months.
This article previously appeared in CityAM.