Despite government efforts to get more people on public transport to cut congestion and pollution, Britons would still rather hop in the car
As governments around the world look for ways to get citizens out of cars and onto public transport for health and environmental reasons, a new YouGov RealTime survey reveals that it won't be easy. Britons would much rather just jump in the car.
When asked whether they have a favourable or unfavourable view of travelling in various ways, 81% expressed a positive view of being a car passenger, and 73% said the same about driving themselves.
But only two thirds of Britons (67%) have a favourable opinion of taking the train, and fewer than half like the idea of having to travel by bus (47%) or coach (42%).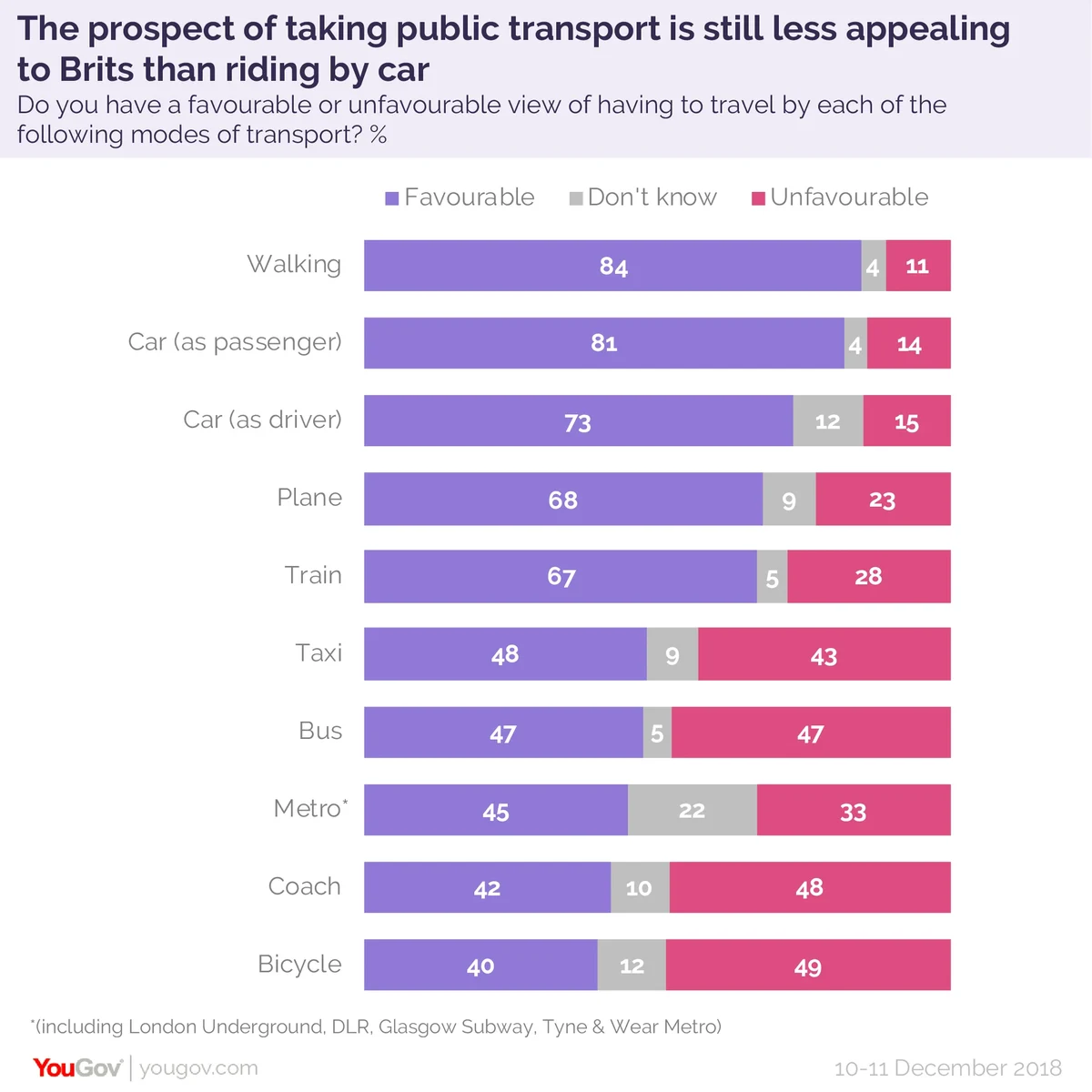 Brits are less keen on the more mundane forms of public transport, being split 47%/47% on buses, while coaches are disliked by 48%, compared to 42% who see them favourably.
I (don't) want to ride my bicycle
At the very bottom of the transportation table come bicycles, which only four in ten (40%) have a positive view of having to ride - compared to half (49%) who feel the opposite.
In fact, having to ride by bicycle was the only form of transport where those who disliked it were more likely to have a "very unfavourable" (29%) view than a "somewhat unfavourable" one (20%).
Women were less enthused by the prospect of riding a bicycle than men (32% had a favourable view, compared to 49% of men).
Despite attempts to boost bicycle use in the capital through Boris Bikes and a smattering of new cycle routes, Londoners are even less keen on travelling by bike than people are elsewhere. Just a third (34%) of denizens of the capital like the idea of cycling to their destination, compared to 40% of all Britons.
But people's aversion to cycling isn't necessarily down to laziness, as walking is seen most favourably of all transport options. Some 84% hold a positive view of taking themselves somewhere with their own two feet, and only 11% of Brits have a negative view of having to put one foot in front of the other.
On the buses
Those over 65 have a higher opinion of buses, with a 66% positive group, compared to just between 36% and 49% among other age groups­ – perhaps because they get to ride them for free.
They are also noticeably less positive towards the idea of having to get on a bike (just 28%, compared to between 41% and 46% among younger generations).
It also shows that women have a much stronger preference for being a car passenger than a car driver than men do. While roughly equal numbers of men are happy with the prospect of driving a car (77%) or being a passenger (78%), for women these figures are 69% and 85% respectively.
Public transport is substantially more popular in London
The same survey run in London reveals different tastes in the capital than the rest of the country.
Londoners are substantially less keen on cars. While 73% of all Brits have a favourable view of driving themselves from A to B, this falls to just 44% among Londoners. Similarly, the proportion of Londoners who like the idea of travelling as a car passenger is much lower, at 67%, than in the nation as a whole (81%).
At the same time, Londoners are much more warm to taking the bus – approaching two thirds (63%) hold them in high esteem compared to fewer than half of all Brits (47%).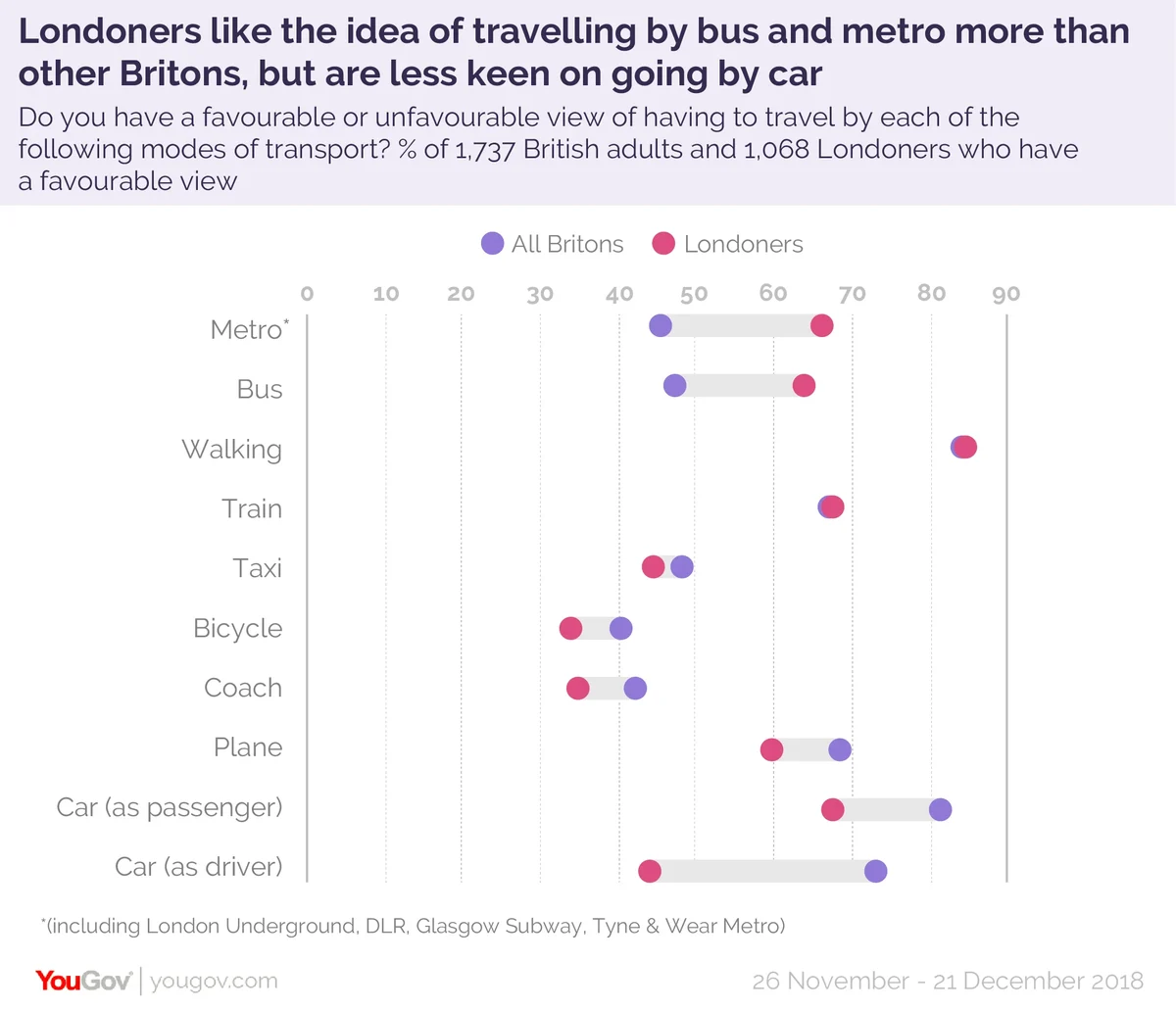 Unsurprisingly, Londoners are more likely to like taking a metro system such as the London Underground (66%) than their counterparts elsewhere. This is not simply a case of being less likely to have answered "don't know" (11% of Londoners compared to 22% of all Brits) – Londoners are also less likely to say they actively dislike the prospect of taking the Tube (23%, compared to 33% in the country overall).
Photo: Getty