Nissan has abandoned plans to build the new X-Trail SUV at its Sunderland plant, claiming that they had taken the decision for "business reasons" but tellingly also warning that uncertainty over Brexit was making it hard for businesses to plan for the future.
The news came after the shock departure of Dyson's headquarters to Singapore, which was covered in my previous column.
The UK's business secretary was also forced to admit that Nissan had been promised a secret package of state aid back in 2016 just after the referendum, potentially worth up to £80m, in return for continuing to manufacture in Britain post Brexit.
All in all, it's fair to say that the uncertainty surrounding Brexit is causing many big businesses to reassess their future in Britain and make difficult decisions. But how have these strategy changes been perceived by consumers?
Data gathered by YouGov BrandIndex shows how public perception of Nissan has altered over the past few weeks following news of former chief executive Carlos Ghosn's arrest then removal, and then the changing of manufacturing plans.
Nissan's Buzz score (a net measure of whether consumers have heard anything positive or negative about the brand in the last fortnight) dipped after Ghosn's arrest as previously discussed, however in the past week it has plummeted from +1.8 to -2.5 following news of Nissan's decision.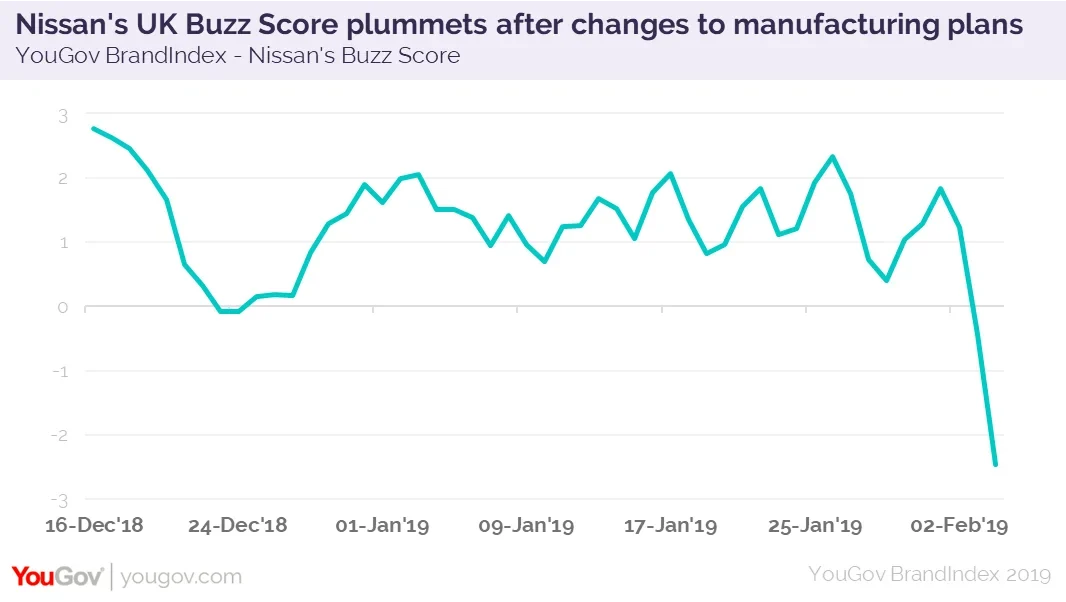 However, this only proves that media coverage of Nissan's plans for the X-Trail SUV has been negative, not necessarily that consumers think negatively of the brand.
In fact, Nissan's Consideration score (whether someone would consider purchasing from the brand in future) does not follow this trend at all, following instead a slight upward trend since the beginning of the month (rising from +14.6 on the 1st of February to +16 on the 4th February).
This suggests that although news of Nissan's manufacturing changes have been reported negatively in the media as a loss for business and as "devastating news" by Sunderland's MP, most consumers who would consider purchasing from Nissan in the future have not be affected.
Data gathered using YouGov BrandIndex.
Image: Getty
This article previously appeared in City A.M.