Last Friday, Marriott International admitted that it had suffered a vast data breach, and that the records of 500 million customers had been jeopardised.
The database in question didn't just contain account information, but also departure and arrival dates and passport numbers.
Several times in this column I have discussed the impact of data breaches on brand reputation. Certainly, breaches appear to be occurring more frequently, with many high-profile brands falling victim to sophisticated attacks made possible by lax digital security and traders have started to react more strongly on the potential impact on shareprice.
In this case, YouGov BrandIndex data indicates that among respondents in the UK, Marriott's Buzz score (whether someone has heard anything positive or negative about the brand) has decreased sharply since news of the breach emerged. Since then it has dropped from +1 to -10.
Over in the US, Marriott's Buzz score has declined in a similar way. In this case its score has dropped from +12 to 0.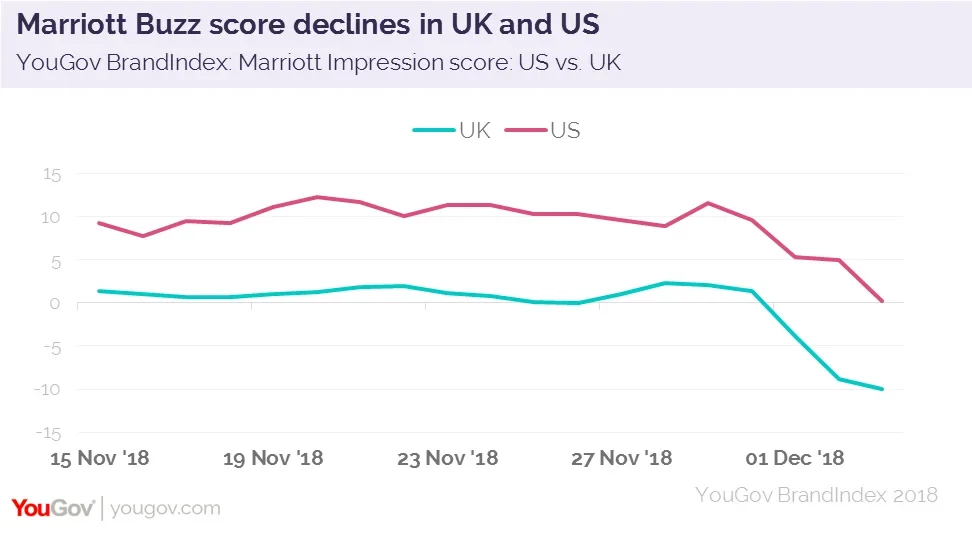 This has had a knock-on effect on the brand's Impression score (whether someone has a positive or negative impression of a brand). On this metric in the UK, Marriott's score has dipped from +21 to +15. In the US, we've observed a decline of 10 points, from +50 to +40.
The good news for the chain on this front is that prior to the leak, its brand perception scores were generally strong. Indeed, YouGov Ratings data indicates that Marriott is the 5th most popular hotel brand. Better-liked brands tend to recover disproportionately well from adverse headlines.
That being said, YouGov's Data Breach Report shows that over two thirds (67%) of people who have stopped using a brand because of a scandal or negative press say that they have never gone back to using that company. While one in four (26%) went back to the brand, they used it less often. Only 1% used it as much as previously.
Foremost among the reasons that people have boycotted a brand is 'tax evasion or avoidance', alongside reports of staff being treated unfairly. However, as data leaks become more prevalent and privacy concerns continue to increase, we can expect an increasing number of consumers to cite them as a reason to abandon a brand for example.
On the other hand, Tesco Bank was able to recover swiftly from its issues – with its Impression score among the public and customers relatively untroubled.
YouGov Profiles figures show that the public is concerned about hacking more generally, with 82% of consumers agreeing that the state needs to do more to protect its citizens from hacking and cyber-crime.
But what about individual companies? New YouGov Omnibus research conducted among senior IT workers indicate that while 84% of this group feel their business is secure against the threat of hackers or cyber-crime, 9% do not.
In this case, Marriott needs to be proactive in its reaction to the crisis – and transparent with customers. If it is, its previous good relationship with consumers should ensure that it recovers quickly from the incident.
Data gathered using YouGov BrandIndex.
Image Getty.