As the TUI group embarks announces a Europe-wide advertising campaign aimed at unifying the brand, we examine how the company has been faring.
The tourism group TUI is launching at multi-country, multi-channel advertising campaign which will look to unify the brand under one master brand.
Recently, the group saw its share price rise following a better than expected outlook for its full-year earnings.  
YouGov brand tracking data suggests that Thomson has performed admirably in the midst of challenging market conditions
Among all respondents, Thomson's Impression Score (whether a respondent has a positive or negative Impression of a brand) is four points higher than it was at this time last year (from +15 to +19).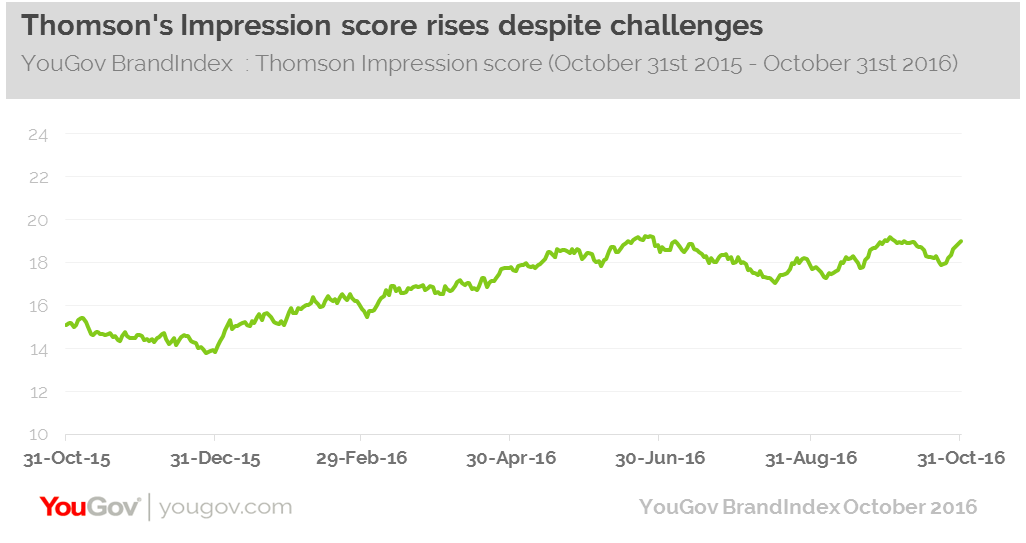 This has been mirrored by its Reputation score improvements. This metric measures whether a respondent would be proud to work for a company. On this front, Thomson's score has also risen by four points compared to twelve months ago (+9 to +13).
YouGov Profiles data indicates which group of people would typically choose to book a holiday through Thomson. They are more likely to be over 55 and say that a beach holiday is their favourite type of break. They are also more inclined to book a holiday well in advance.
Indeed, among those who are 50+ and like a beach holiday, Thomson's Impression score is a healthy +34, indicating that those in the target demographic are generally impressed by the brand.
Turbulent skies ahead?
Despite Thomson's recent success, there are challenges ahead, and not just due to the competitive nature of the sector.
There is a nervousness about how Britain's exit from the European Union will impact on the travel sector; from consumers wondering about prices, and from airlines concerned about profits.
This is underlined in new YouGov data on the subject. We found that over 6 in 10 (61%) expect the price of flights to go up (only 2% think it will go down).
And while just over half (51%) say they are spending (or planning to spend) the same amount on major holiday since the referendum, 15% say they are, (or will) spend less.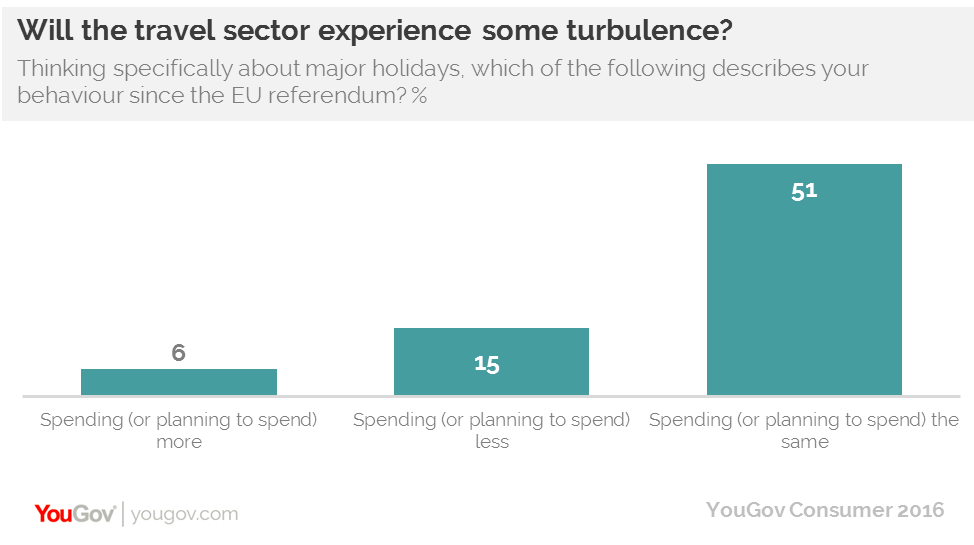 Thinking ahead to 2017, a fifth (21%) say they expect to holiday more in the UK, rather than go abroad – only 6% think they'll do less of this.
Looking specifically at TUI and its business model, 7% say they expect to use all in one travel providers more, compared to 6% that say they will use them less, and 31% that expect to use them in the same way.
There is also opportunity for TUI and indeed other providers; 16% say they will look to plan their holidays earlier than usual in 2017 - so capturing holidaymakers' attention at the opportune moment is key.
How to reach them
Therefore, it is more important than ever to target both existing and potential customers in the right way.
Compared to the average, this group are more likely to trust the advertising that they see on posters or billboards – particularly billboards that show dynamic content to capture attention. If not billboards, then celebrity endorsements would also be an effective tool, 29% of this group enjoy ads featuring their favourite famous faces (compared to an average of 26%).
A targeted message that will help to assuage the fears of those looking to penny-pinch more they ordinarily would have done is one potentially strategy for TUI in the months ahead.
Image PA
This article originally appeared in City A.M.